Impact: Who Pays for Local News?
Innovation and new business models are needed to support sustainable local media that build trust and provide communities with relevant and useful information.
The Problem
The transition to digital environments has undermined the economic underpinnings of news organizations. While digital advertising revenue is steadily increasing overall, little is making its way to the local media organizations who employ journalists and create original news content. Individuals around the world are losing the news and information they need to make good choices for their families, to participate in their communities and hold their governments to account. In every country, local and community media is at risk. 
The Solution
Internews programs offer resources, tools, and peer-to-peer support for journalists, newsroom leaders and community groups looking to revitalize their local news and information ecosystems. Our mentoring and long-term support to local media partners strengthen their financial sustainability while increasing the quality of local journalism. Through the United for News coalition, led by Internews in collaboration with the World Economic Forum, we are working on solutions that direct a greater share of digital advertising dollars to trusted, local media.
Local Matters
A new Poynter Media Trust Survey found that trust in local media is high across the political spectrum. Trust in local outlets is significantly higher than in national television or newspapers, and much higher than online-only sources.
And while newsrooms are suffering – since 2004, 1400 cities or towns across the US have lost a newspaper – local newspapers are still considered the most significant journalism producers in communities, according to a recent survey by Nieman Lab.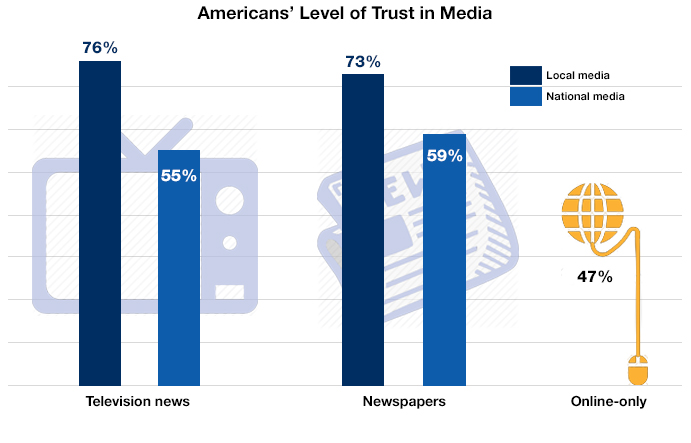 In Focus: Creating Community Media in News Deserts
In 2018, a group of researchers at Duke set out to study the factors that contribute to news deserts — communities with little to no local news. Their research indicated that communities with large Latino populations were particularly likely to be underserved by local media. El Tímpano, a project supported by Internews' Listening Post Collective, was developed to reach and engage Oakland's Spanish-speaking residents with news, including by text. (Photo: Oakland, CA. Credit: Madeleine Bair)
In Focus: Creative Advertising Boosts Subscribers to Investigative Reporting Outlets in Moldova
"In a country where the media is controlled by politicians and oligarchs, to make an independent investigative newspaper is a big challenge. And it is extremely hard to attract advertisers for it. That is why we tried to come up with creative marketing campaigns."
Information Ecosystem Assessments Help Local Communities Understand and Improve their Media Environment
In Eureka and Fresno, CA, Internews conducted assessments to to gain a deeper understanding of how people get local news and information, what sources they trust, what their priorities are, and how coverage of local issues impacts their ability to thrive. The goal is also to find out which communities are left out of the media or underrepresented. The information gathered will inform possible solutions to address information gaps, overlooked audiences and other issues related to news and media access.
"We need a lot more of that grassroots, really place-based information to be in the frontlines more often." —Organizer Germán Quiñonez, Fresno
More about Eureka, CA's Information Ecosystem Assessment
More about Fresno, CA's Information Ecosystem Assessment
(Photo: Vila Xiong and Ka Shoua Thao are two of the four hosts of Gen X, a show aimed at younger listeners of KBIF 900 AM in Fresno)