Reaching equality for all starts with increasing women's participation, inclusion, and leadership in media and technology.
The Problem
Women and girls are disproportionately affected by information inequality. Often ignored or invisible in the media, with far less content featuring their expertise and views, women are vastly underrepresented in journalism and media leadership. Worldwide, women still lag behind men in access to the Internet, and when they do engage online, women and girls experience more intense harassment, including sexual harassment.
The Solution
Internews helps journalists – men and women – produce content that challenges stereotypes, highlights women as drivers of change, and covers critical issues for women and girls. We mentor women leaders in media and technology, design methods to help news outlets increase women as expert sources, and create custom trainings for women, including how to stay safe online. Our Gender Equality & Women's Empowerment Strategy drives our approach.
Women and Media: An Imbalance
Studies show that the disparate experiences between women and men in media is widespread and varied.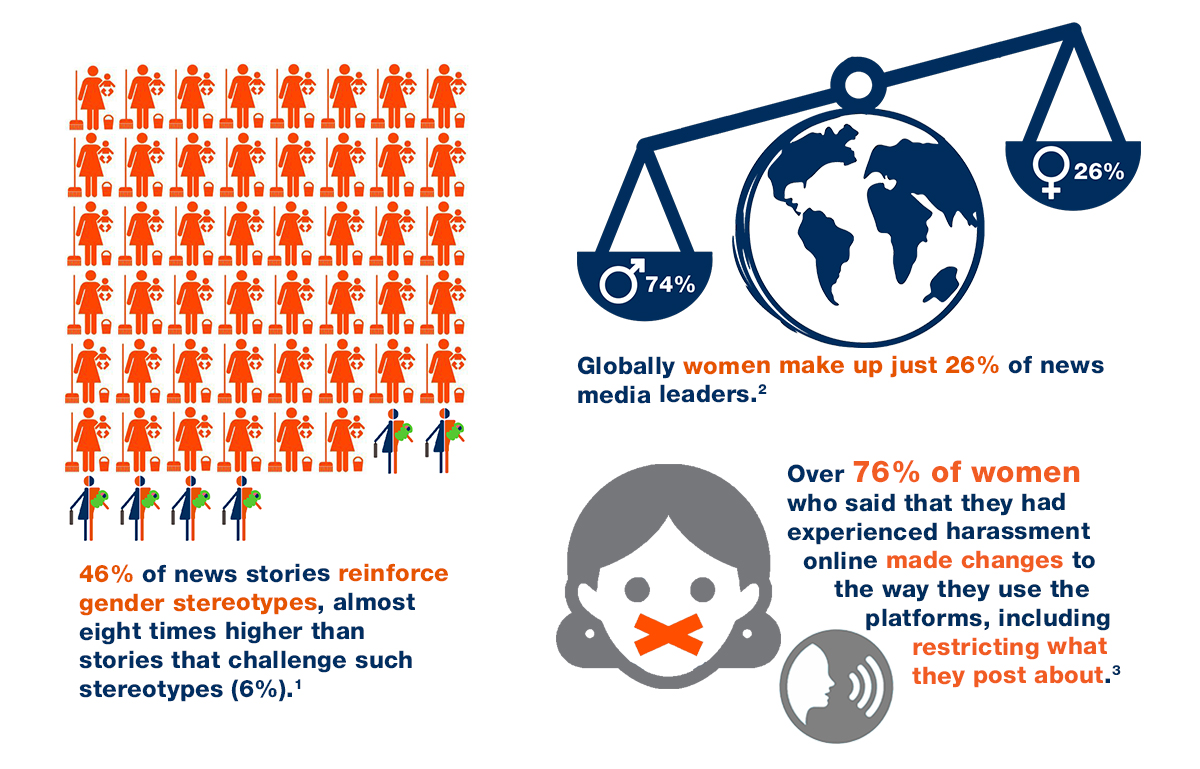 Reflect Reality: Increasing Women's Voices in the News
Globally, only 24% of people heard, seen or read about in the news are women. This gender gap is widest in news about politics and government, where women are featured in just 16% of political news. The United for News coalition launches Reflect Reality, a digital manual to help newsrooms include more authoritative female and diverse voices in their stories. Led by Internews in collaboration with the World Economic Forum, United for News' Reflect Reality incorporates proven strategies and lessons learned from two dozen organizations around the world working to address this disparity.
Internews in Context: Addressing Sexual Harassment in the Media
To address the issue of women journalists who face sexual harassment, Internews in Tanzania produced this Public Service Announcement, based on a real incident of a woman journalist being harassed while interviewing a source:
The unfortunately common, everyday challenges of navigating online spaces as women is the focus of Safe Sisters, a digital safety and empowerment program that has seen enormous success in increasing women's ability to safeguard their privacy, protect their data, and, importantly, share their knowledge with women and girls in their communities.
"I can now recognize online violence for what it is and I have learned to choose which battles I fight and which ones I leave. It's been interesting to see people within my close circles come to realize just how much they have either been victims or perpetrators of violence online and so it's is an ongoing and evolving conversation." —Safe Sister
Read more: Safe Sisters Gives Women the Keys to Protect Their Lives Online
United for News is a non-profit, mission-driven global coalition of media, NGOs and private industry, founded by Internews in collaboration with the World Economic Forum. In this video, Director Jennifer Cobb talks about United for News' program to combat the lack of gender diversity in news reporting:
Read more: New Coalition Aims to Combat Lack of Gender Diversity in News
Saba Rehman is a photographer in Pakistan's FATA region.  She uses her camera to illuminate little-seen and misunderstood corners of her society. Since 2012, when she was one of 17 Pakistani young people selected by Internews to attend an intensive photography training, conducted in partnership with National Geographic Photo Camp, Rehman has been getting herself and her camera into the most unlikely of places.
""I want to do each and every thing and if a boy can do so, why not I?"
Read more: "There is no such thing as a male and female photojournalist. There is only a photojournalist."
Farida Rahim Aziz established her radio station – Radio Saraish – in 2013 in Jowzjan, Afghanistan. Even though the years that followed were burdened with hardship and challenges, she has never looked back. Radio Saraish is one of 17 women-led radio stations in Afghanistan's Salam Watandar Radio Network, launched and supported by Internews. These stations have produced and broadcast more than 400 radio reports and feature stories, covering topics that relate to women in local communities.
"In 2016, the Taliban threatened me and told me to stop broadcasting radio programs about women's right issues, such as violence against women. I was forced to wear a burqa for my own safety and all our female employees left. But I did not give up."
Read more: Profile: Farida Rahim Azizi, Radio Director, Afghanistan
Girl Power!
Girl Power: Little Stories of Big Acts features women from Ukraine's past and present. The book is targeted to children in Ukraine who have been affected by the ongoing conflict. In particular, girls who are especially affected because of their unequal status in society and their sex.
Read more: Ukrainian Women Heroes Inspire Children Suffering from Conflict
When women participate freely online, when women make the news, and when the voices of women and girls are heard, the information we all consume improves.
1UNESCO: Re-Thinking Women's Empowerment and Gender Equality in 2015 and Beyond (A further 48% of news stories were evaluated as "neutral" on gender stereotypes.)
2Global Institute for Women's Leadership
3Amnesty International