South Sudan is the world's youngest and most fragile country, and its media landscape reflects these challenges.
Roughly one in three (34%) of those recently surveyed have never had access to radio, television, newspapers, internet, or mobile phones.
Let that sink in. This week, as we mark World Press Freedom Day, focused on access to information, there remain large swaths of the world where any kind media is out of reach.
Just 1 out of 5 respondents in South Sudan have ever read a newspaper. Fewer than 1 in 10 respondents have ever used the internet. Only 12% have the kind of access most of us take for granted — daily access to a mobile phone, radio, or the internet.
These findings are contained in a national audience survey entitled "We're Still Listening: A Survey of the Media Landscape in the Accessible Areas of South Sudan in 2015," the first detailed analysis of the media landscape in South Sudan since the wide-scale conflict began in December 2013. Although researchers were able to survey in all ten states, the civil war rendered many areas of the country inaccessible, precluding the possibility of a truly nationally representative study. However, the survey is representative of the population that could be safely accessed in April 2015. A follow up national audience survey is planned in 2017.
Those with media access tend to choose radio as their source of news and information, even if they have access to other forms of media. Radio broadcasts are perceived to help reduce conflict and provide vital safety information. Far more of the 3,710 respondents nationwide say radio broadcasts can help reduce conflict (67%) than those who say it can increase conflict (5%).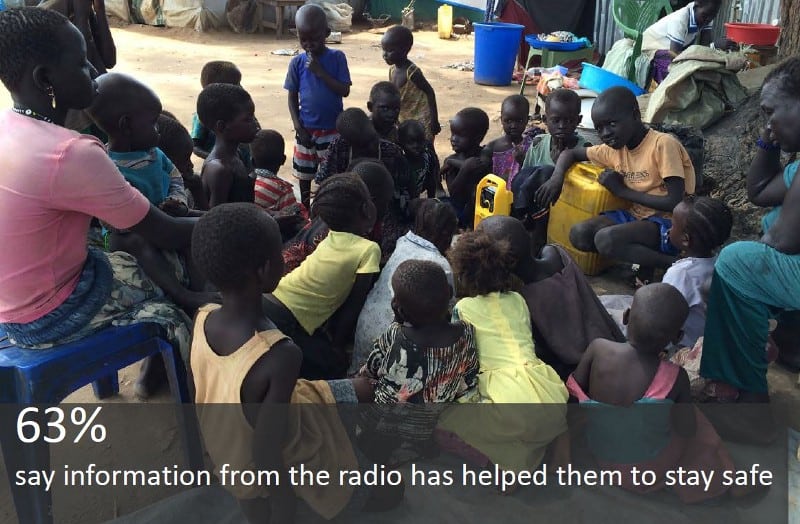 As South Sudanese wait for a sustainable peace, the prominence of radio as a means to reduce conflict is significant.
"This research confirms the prominent role of radio as main news source in South Sudan. And it shows that radio has the potential to play a central role in building peace," says Christoph Dietz of Catholic Media Council (CMC), a media and communications consultancy that supports media assistance efforts around the world.
The survey further highlights a significant gender gap in media access, with all forms of media being less accessible for women than it is for men.
"We need to do more to ensure women and other vulnerable groups have access to information and the opportunity to add their voices to debates on issues of importance to them, their families and their communities," says Anne Bennett from Fondation Hirondelle, a Swiss non-governmental organization which has been supporting independent media in conflict and crisis zones since 1995.