Pah! Pah! Pah! The gunshots roared.
"Wee badilisha magazine! Change the magazine!" ordered the cop.
Pah! Pah! Pah! The police-issue G3 rifles spat in hair-splitting continuity. In the mayhem, the cop tells Ken Simiyu to not fear, to just keep on the ground, to stay still.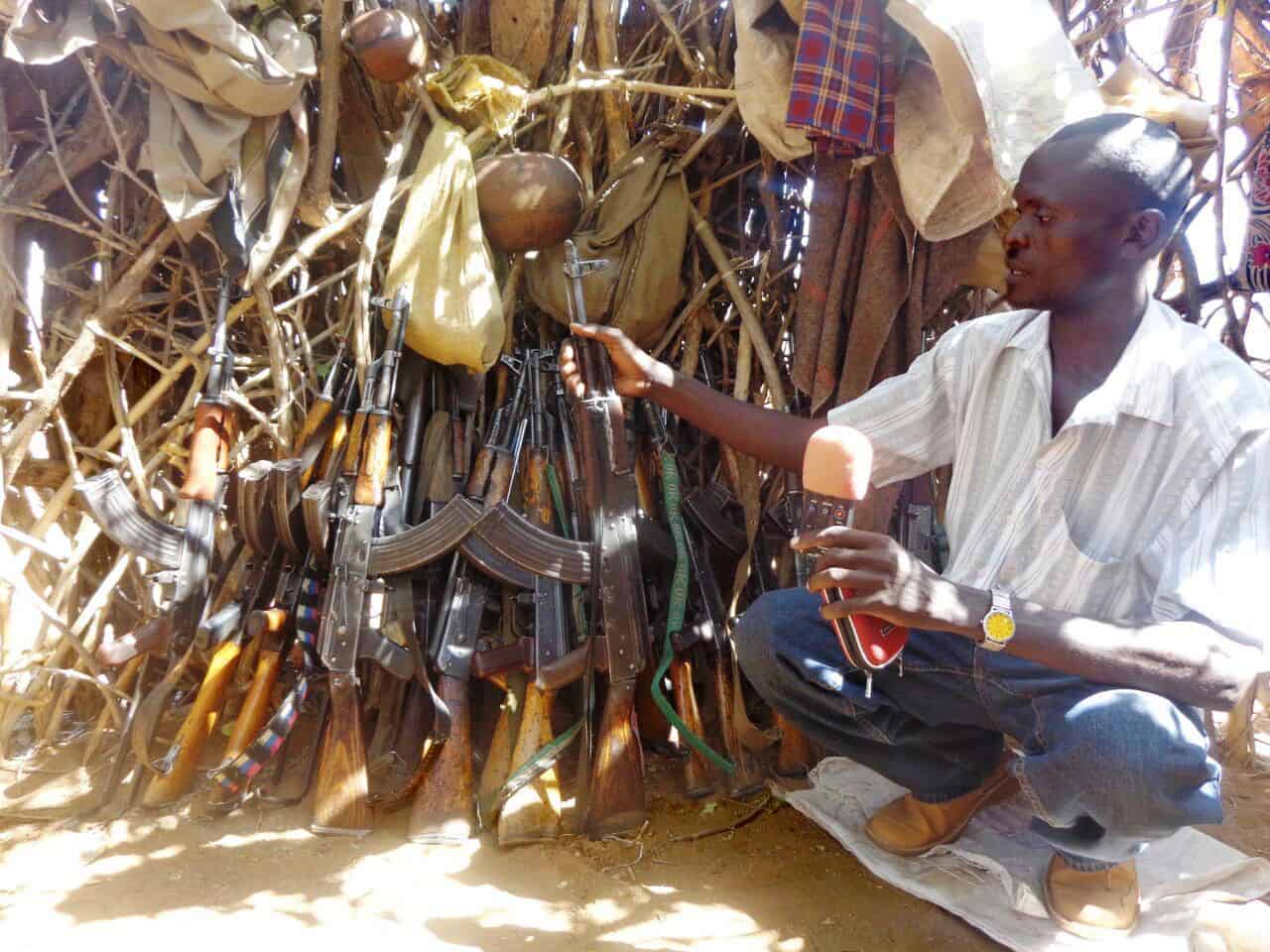 Simiyu, a journalist with Akicha radio, which broadcasts in Turkana, the marginalized Kenyan county nestled 700km north of the capital Nairobi, lay on the ground next to police inspector Kipkorir Koech, whose index finger never left the trigger.
Something hit Simiyu, and he felt a burning sensation in his hands and face. He thought he was hit by a bandit's bullet – they are sharpshooters and masters of camouflage.
"No worries, those are just cartridges," Simiyu remembers Koech reassuring him.
Though this was not his first time caught in a shoot-out between police and the cattle rustlers and highway robbers who roam the dry and expansive county, Simiyu was very afraid. Nevertheless, he recorded audio of the shoot-out and a hazy video, a memento of a day in the life of a journalist in Turkana.
Simiyu had accompanied police from Lodwar, the administrative center of Turkana, as they escorted a truck loaded with goods to Kainuk, a place that is dangerous even by Turkana standards. The bandits had attacked travellers the night before and Simiyu was following the story when they too were attacked.
"In May 2015, I was caught in the melee in nearly the same spot. I had accompanied Turkana leaders. They were on a mission to quell disquiet between the Pokot and Turkana."
The Pokot and the Turkana are neighbouring communities who have for ages been embroiled in armed raids on livestock. Kainuk strides the border of West Pokot and Turkana counties, and Simiyu says youths from West Pokot had blocked the road for close to a week. This road is a lifeline for both counties. Trucks which supply the dry region with food had been held up, and the food was rotting.
The leaders were hoping to peacefully negotiate. Instead they were met with unforgiving gunfire, but luckily this time no one was hurt.
Reporting from a conflict zone
Tall, dark and thin like a rail, Simiyu is a self-motivated journalist, one of the few who work from Turkana. We met him in June during an Internews training of the Health Voices Amplified (HVA) journalism program on maternal and newborn health. Health journalism, or any other kind of journalism related to development, is non-existent here.
But there are stories to be told. Venturing out of Lodwar town, the terrain suddenly changes a few minutes out. Women, traditionally dressed, their necks overwhelmed by coloured beads, sit under tree shades next to their manyattas, traditional mud and dung-walled structures. The men are sprawled in shades, their heads resting on wooden 'pillows,' ekcholong, while children play, mostly naked.
Other children have distended tummies, rickety feet, red hair. At a media roundtable on nutrition organised by the Internews HVA project, Cynthia Lokidor, the Deputy County Nutrition Coordinator, said nearly one in four children under the age of five suffer the effects of malnutrition, and one in four has stunted growth. This rate of affliction, exacerbated by prolonged droughts, surpasses the World Health Organization's emergency threshold of  Global Acute Malnutrition.
If Turkana is one of the worst places to be a journalist, then it is a nightmare to be a mother here. It has a Maternal Mortality Ratio of 1594 deaths out of 100,000 births, much higher than the national average at 495 per 100,000 and almost at par with war-torn Somalia and Afghanistan.
Why is it so difficult to shine a light on these health crises? Apart from insecurity, there are myriad other challenges, including the terrain. Driving a short distance from Lodwar town, suddenly the tarmac road becomes an unpaved road, then a dusty path as you hit what resembles a desert. During the dry season, cars get stuck in sand. When it rains, it pours. Rivers suddenly sprout where only dust existed.
Reporters would need to hire a four-wheel drive and police escort for $150 daily. Most journalists here are freelancers and contributors earning less than $150 a month. The stories from the interior only see the light of day when a journalist from Nairobi or from global media dares to travel here. The local reporters call them "helicopter journalists."
Says Peter Warutumo of NTV, "They jet in and out, doing stories in a hurry; oblivious that most of these stories are untouchable [locally]."
Hostility from politicians and other interest groups threaten local reporters. As a motorbike taxi rider recently told this writer, huku hamna sheria – this is a lawless jungle – and there can be consequences for angering the wrong person, as Joan Letting found out.
Letting, a young and talented Kenyan journalist, recently reported a story for Kenya's The Standard newspaper, the country's second-largest daily publication, on oil and gas. Kenya struck black gold in 2011 in Turkana. Naturally the locals want to benefit from the find, and politicians have moved in to curry mileage with their followers. Letting revealed that two opposing leaders differ on the percentage of the spoils which the Turkana County should get from the sale of oil.
"One of the camps was not happy. Someone told me I had been discussed adversely in a high-level meeting. I was told to ship out, that I was marked."
Letting left. She now reports from Eldoret, 400 kilometres away. If there is an important event to be covered in Turkana, she travels at night, hastily gathers the story and then retreats.
Like Simiyu, most of the journalists in Turkana come originally from other counties. Pauline Muthoni, a radio host with local radio station Ekeyekon is from Lamu, a coastal county almost 1000km from Turkana. She attended college in Eldoret and came here as an intern.
"You know in Kenya, getting an internship has become as hard as getting a job. But because no one dares come here, there are opportunities." She bussed in with several other adventurous college mates two years ago. The others did not last.
A few soldier on, like Simiyu, now trained, increasingly telling investigative stories about health issues. This is his eighth year here, and with a young family and a commitment to telling stories that need to be told, he doesn't plan to leave.
.     .     .
Kiundu Waweru is a health media trainer with Internews in Kenya. Internews' current health reporting work in Kenya, Health Voices Amplified, is supported by the UK's Department for International Development (DFID). Ken Simiyu is one of the journalists trained under the project on maternal and newborn health in Turkana and he has been filing in-depth radio programs on the same with support from Internews. The project also has trained and mentors journalists in Bungoma County, besides building the capacity of DFID communication officers and county health officials in Turkana, Nairobi and Bungoma.
(Banner photo: Ken Simiyu of Radio Akicha, left with camera, is joined by other journalists working out of Turkana, Sammy Lutta of Nation, front, and Emmanuel Cheboit of Citizen TV. They were covering the Red Cross as it donated food to drought stricken Kapedo residents on January 1, 2017. )