For refugees and migrants stranded in Greece, days have stretched into months since the pathways they hoped would lead to Europe were cut off in March. Currently, about 60,600 refugees remain in Greece without a clear way forward.
As Internews provides trusted information for these people caught in crisis through our News That Moves project, we also focus on ways they can tell stories that matter to them, by telling the world about their lives, their history, their reality, their desires, and their hopes.
Over the course of two months, I conducted six storytelling multimedia workshops in locations throughout Greece, from squats in Athens to the Oreocastro, Veria and Cherso refugee sites in the country's north.
In this post, with the photographers' permission, I share some of the work produced in the workshops.
'Have they forgotten we exist?'
Over and over the students asked me what people from Europe and North America knew about them and their situation. "Have they forgotten we exist? Have they forgotten who we are?" When I began this project, I initially saw the images as an opportunity to create a dialogue between refugees and their host communities.
We are waiting. Every day, waiting for something, trying to grab onto something real. Everybody wants to live in peace and have a future. That's all we want as well. People should see us as humans, not as people from a particular country, religion or sect. They should see us as simply humans. We have been here eight months. … Sometimes I sleep so that I do not have to think. I dream about Syria, about my parents, about my fiancé in Germany. I stopped my studies three years ago because of the war. If they had kept the border open, I might have learned a new language by now, finished my studies and integrated.
Photo by Mahmoud Abdalrahim & Khaled Sabbouh, Oreokastro camp.
People have the impression that Syrians are of bad character but maybe by looking at our children they will see that we are normal people, well brought up like they are.
Photo by Maher Suboh, Oreokastro camp
We traveled so long for a destination we never reached. The conditions of the journey were so difficult even our shoes were destroyed.
Photo by Ismail Husain, Cherso camp
Photography as language
A friend remarked to me after seeing the photos for the first time that images can serve as our common language. Refugees have many things to say but sometimes it takes too long until we learn each others' languages. Images, through art or documentation, is the ideal and most soul-pleasing shortcut.
At every workshop, I asked the participants what they wanted to get out of the workshop. Some had very clear-eyed goals — to document the conditions of their temporary accommodations or the pain of living a life in limbo, uncertain whether they would be granted asylum and how long they would stay in Greece.
Others were interested in light, patterns and nature. Some students wanted to take pictures of Greek society in a nearby village or practice street photography in Athens, often commenting on the visible effects of the financial crisis. They were eager to engage with their surroundings, recognizing that their new environment has a past, present and future of which they are now a part.
We were just walking and then we saw a rainbow and were so excited to see it. We have so much time every day, we just walk or sit here doing nothing. This moment was special because suddenly something beautiful happened.
Photo by Rawa Khatib, Veria camp
The children are unaware of the loss that they experience. They hold sticks instead of pencils and books. But how will they build their future if every day they run in the wild?
Photo by Said Bilal, Cherso camp
Photography as hope
To begin our discussion of some of the more formal elements of photography, I showed the work of other photographers I admired. One thing I wanted to emphasize was the idea that multiple narratives are taking place around us all the time, oftentimes intersecting and sometimes contradicting each other.
I showed a series of photographs from Palestine by Tanya Habjouqa, which focus more on pleasure than on suffering — images of women doing yoga on the hilltops, body builders, teenage surfers, families dining at the beach, young boys practicing parkour off of walls damaged from rocket fire.
I made the point that many people's lives continue despite the politicized reality they find themselves in, that there are moments of humor, of absurdity, of love and tenderness.
"Just like here," said a 15-year old Kurdish Iraqi girl in one of the classes.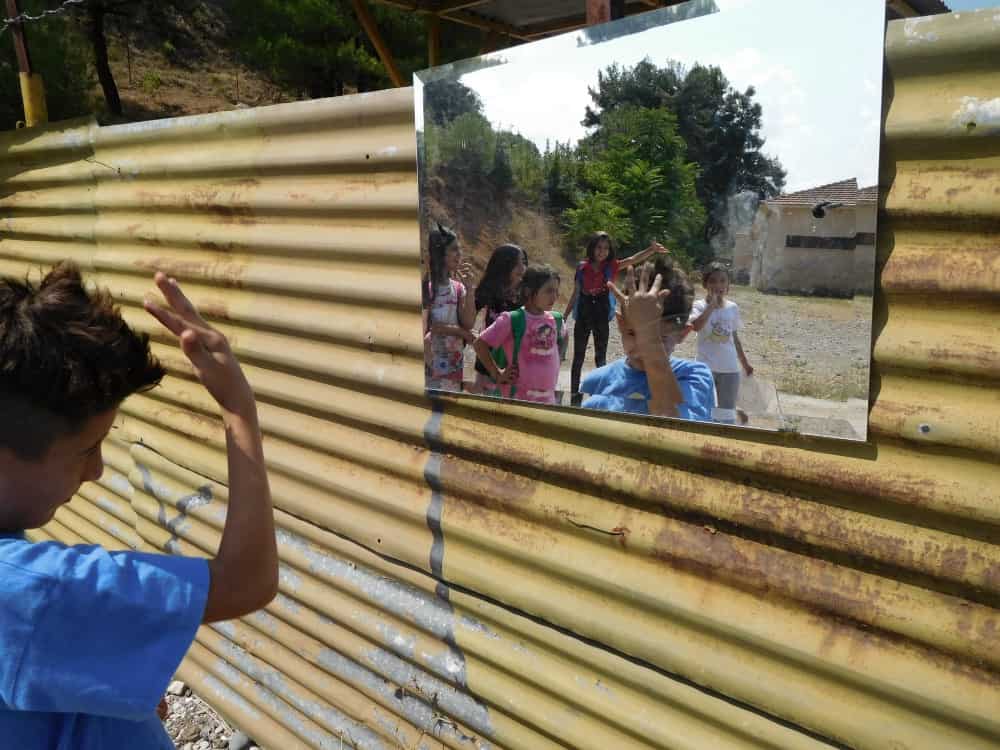 When I see the children being happy, it makes me feel better about our situation. We don't know how long we are staying here. There is little hope and yet despite it, the children are still able to smile sometimes.
Photo by Rawa Khatib, Veria camp
Tanya Bindra is a photographer and filmmaker. About 50 participants, ages 15–25, took part in the visual storytelling workshops. Some were building on existing skills, others were seeking a simple outlet and opportunity to do something new. Many of the participants are eager to have their work published, to continue a conversation with the world — please be in touch to discuss publishing opportunities. More of the work can be seen on Instagram @iseegreece.
Internews' work in Greece is supported by DFID and Save the Children UK. The storytelling workshops were conducted in partnership with the Norwegian Refugee Council.
(This story was originally posted on Medium.)