"When I heard about giving birth in a hospital on Radio Sila, it was the first time anyone suggested that to me," says 37-year old Achta Abakar Ibrahim, a Darfur refugee and mother of ten. "My first six children I had at home, …it was just so much easier in the hospital. There they know what can go wrong and that made me so much more confident."
Women and children often fare the worst during conflict and in refugee situations. After the terrible earthquakes in Nepal this month, Viviane Fluck, who is conducting a post-earthquake humanitarian information assessment for Internews, noted that violence against women has been on the rise during the disaster. Fluck recommends leveraging Nepal's vibrant community radio sector to help mitigate this situation.
On the other side of the world, in Chad, journalist Houda Malloum reported for a community radio station set up by Internews to serve refugees from Darfur. She focused an episode on the problem of attacks on Darfuri women and girls who were leaving the refugee camps to gather firewood. The episode helped alert local authorities to the problems of violence against women, and at the same time gave the women alternatives so that they could avoid areas where they might be attacked.
Women's issues need to be heard so that humanitarian organizations can respond to their particular needs. Women journalists can help drive the debate beyond guns, troops and tents. Local women journalists can provide a better understanding of what women need to take better care of their families and safeguard themselves.
Many of the women journalists Internews has worked with in humanitarian crises have risked their lives or pushed against societal norms to become journalists and get women's voices heard.
Houda Malloum, Chad
"As a woman, I feel as if it were me who had lived through those moments. It's difficult. African women suffer a lot. If there is a possibility to help them, to give them everything they need to help them avoid those risks…"
Fatuma Abdi Gedi, Dadaab, Kenya
"Our community, they don't usually have women journalists or hear ladies on the radio. So through the Gargaar program I have gotten the opportunity to be a role model for others."
Ibtisam Omar, Libya
"I want to make a program where I can represent any girl in Libya. I can do this program instead of her, and she can listen. As a result, society will hopefully pay attention to girls and their needs."
Hellen Mangindo, South Sudan
"Most ladies get married early, you have a family, you need the job and you have to complete your assignments on time regardless of how you make ends meet at home and at work. When you are determined, nothing will deter you from your dreams. If you really want to be a journalist, you can make it."
Alice Bafiala Mutombo, Democratic Republic of Congo
"The media educates the community about their rights. To have their own radio station is very important for a community — it is a way for them to tell their own stories, that they feel are important, in their own voice, and I am so proud to be supporting that."
Kalaivani Saravani
"The Sinhalese people in Akmeemana village opened their hearts out to me even when they knew I was a Tamil and couldn't speak Sinhala.
I was touched when they wanted to tell me their problems. They wanted their sufferings to be heard by Tamil listeners of the radio stations. They, too, were trying to reach out to their Tamil brothers and sisters to say that all poor people have the same problems, regardless of whether you are Sinhalese, Tamil or Muslim."
Mary Wagura, Kenya
"I used to arrive at the radio station every day at 8 a.m. and not leave until the evening. It didn't matter that the sun was beating down against my head as I sat on the bench outside the reception door. This went on day after day until the management decided to hire me."
Amani Shnino, Gaza
"I was really touched when I started writing about the situation in Gaza, and one of the readers posted a comment saying 'Thank you Amani, you really touched the reality of Gaza, and talked about things that concern us.'"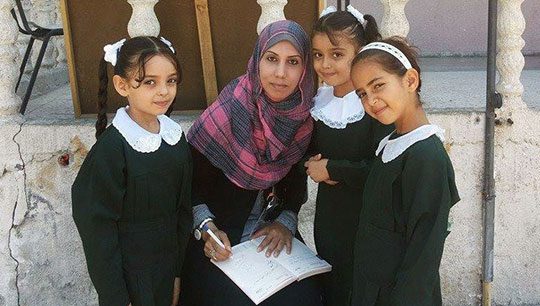 Julia Paulo Ding, South Sudan
"I want to become a better journalist. When I see people in the media, I want to be like that. They're doing a good job helping people by sharing stories."
Learn more about the women journalists that Internews works with around the world and Internews' new five-year initiative, Women's Voices, Powering Change.
(Banner photo: A woman brings her baby to a free clinic at Gouroukoun IDP camp in eastern Chad. credit: Meridith Kohut/Internews)
This story originally ran in Medium