Pierre Kassi Aboigny wakes up early. His commute on public transit, to work as an educator at the Lycée Moderne du Plateau in Abidjan, Côte d'Ivoire, shouldn't take very long. But Pierre uses a wheelchair, and most buses are not equipped with lifts or ramps. The ones that are often don't stop for him or allow him to board during rush hour. Taxis rarely stop for him either.
The organization Espoir Handicap ("Hope Handicap"), led by Laurent Tiéhi, wants Abidjan to do a better job serving disabled citizens. To raise awareness, Espoir Handicap tried to publicize the difficulties that Pierre and others have accessing public transportation.
But their first experiences with the media were very frustrating. An opportunity to promote the cause on local TV finally came after months of mobilization and negotiations. But then, the TV footage was misleading to say the least.
The footage showed wheelchair ramps recently installed on some buses and showed Mr. Tiéhi welcoming this progress. The report did not show Laurent noting that the ramps were almost never deployed by the drivers. Viewers came away from the report thinking a problem had been solved, when the reality was the opposite.
Learning media skills to promote a cause
But Laurent Tiéhi did not want to give up. He knew that to improve the lives of people living with disabilities in Côte d'Ivoire, it would be necessary to change attitudes, and the most effective way to do that was through mass media.
So Espoir Handicap enlisted the help of Internews' Voice Up! project in Côte d'Ivoire. Voice Up! helps community organizations learn how to use social media to advocate for the human rights of community members.
At the MediaLab in Abidjan, Internews worked with members of Espoir Handicap to help them produce human interest stories, including one about Pierre's difficulties, to post on Facebook and Twitter and raise public awareness.
Pierre's story reached a total of 238,640 people on Facebook. In all, the publications produced by Espoir Handicap reached more than 2 million people on Facebook, and 32% of those people clicked to view videos associated with stories.
Internews then helped Espoir Handicap organize press conferences to present the stories they had collected to the traditional media. It is still quite rare for Ivorian media to illustrate a news report using a human interest story, but they were eager to use the stories and quotes from Espori Handicap.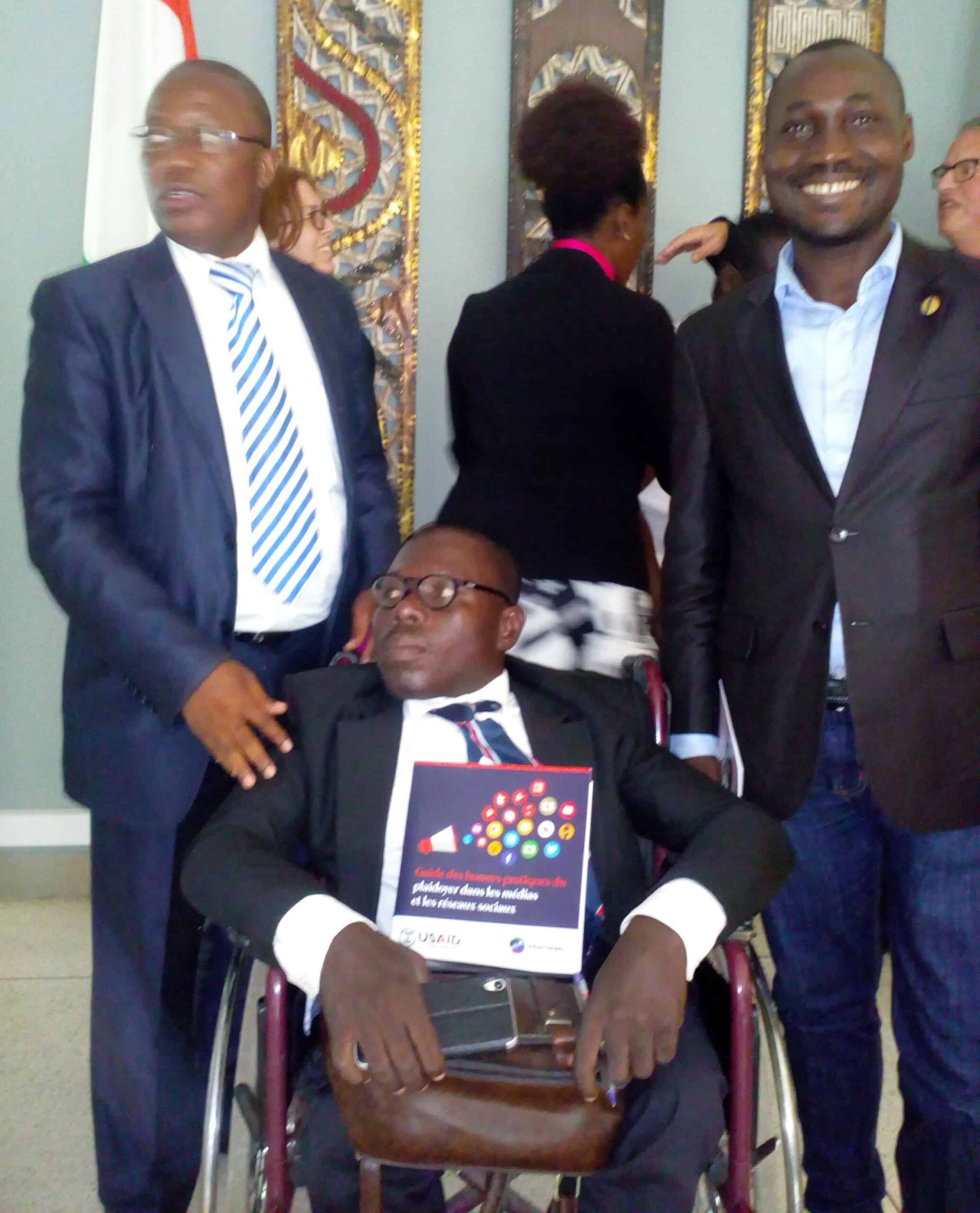 As a result of the publicity, Tiéhi was contacted by the Minister for the Promotion of Youth and Youth Employment, Sidi Touré, who congratulated the association for its work raising awareness among the general public. The Minister gave Espoir Handicap an award and computer equipment to encourage them to continue. The NGO is now invited to the Ministry's meetings on disability and is entrusted with the task of organizing a panel to address the problems disabled people have using Côte d'Ivoire's public transport.
"Internews' Voice Up! project gave us the tools to communicate," said Laurent Tiéhi. "We're not about to stop!"
In order to help other CSOs and NGOs improve their media outreach, Voice Up! produced a handbook (in French) on advocacy in media and social networks, which has been distributed to all its partners in Côte d'Ivoire.
The handbook contains practical and inexpensive techniques that organizations can use including producing videos with simple smartphones, cheap laptops and free online tools; and using simple editorial techniques.
.     .     .
Internews' Voice Up! project in Côte d'Ivoire is supported by USAID.