Afghanistan's vibrant independent media sector has been a key success story since 2001. The country enjoys a relatively free press in comparison to other countries in the region, yet independent media is challenged by ongoing violence, both in the country and directed at journalists, increasing misinformation, and a weak economy.
Media outlets that were already struggling to survive in a fragile war-torn economy now face extreme challenges in raising revenue with an economy devastated by the COVID-19 pandemic. This is resulting in cuts to staff and service at a time when credible public information is critically important during a pandemic.
It is against this backdrop that timely support to independent media has allowed stations like Badakshan's Radio Banowan to step up their efforts to provide better and regular information to the public.
Independent radio connects listeners with health information
"We did our best to produce reports during the first wave of COVID-19, but we didn't have many resources and were only able to broadcast some brief updates," says Hajar Adib, one of two female reporters at women-led Radio Banowan in Badakshan. "But now, we are able to produce reports that are longer and provide good information to our listeners and are useful to all members of the community, especially women who are staying in the house. People are calling on us to continue broadcasting these reports,"
Shekera Sadat, a listener, said: "At first, we didn't really know very much about the symptoms or what to do to prevent ourselves from being infected. But I think we were much more aware of all of this when the second wave came to this province and the programs are very useful for us."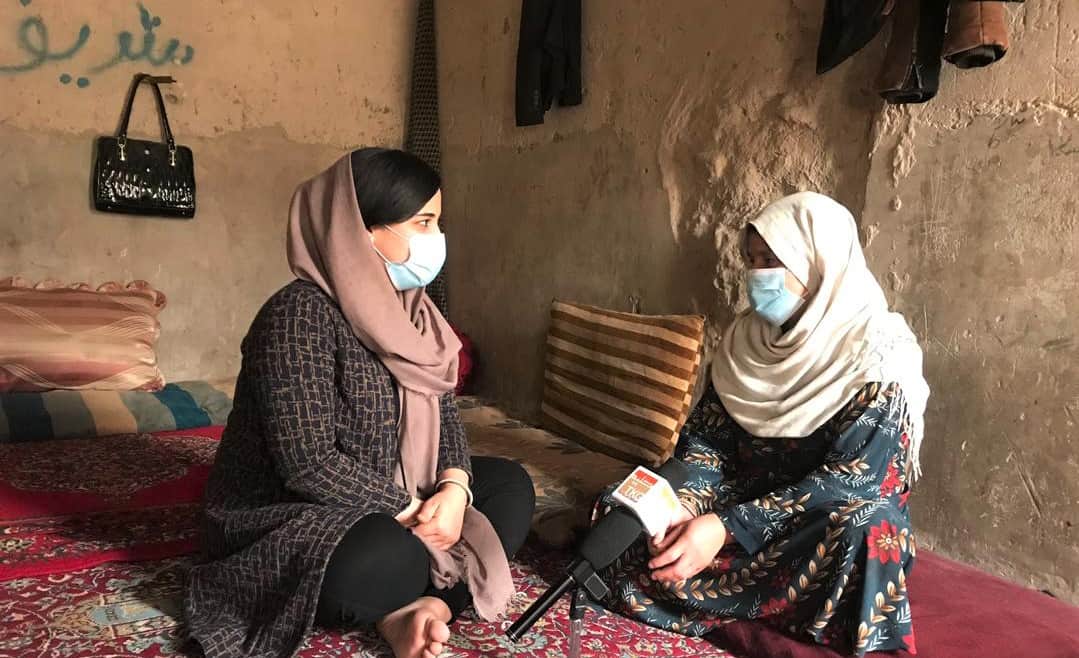 Radio Banowan in Badakshan is one of 40 stations in the Salam Watandar Radio Network that is addressing the COVID-19 Information gap among provincial communities in Afghanistan. With support from Internews, these 40 radio stations are producing and broadcasting weekly programs ensuring that the flow of information reaches marginalizes sections of communities, including women.
"People in remote areas Like Badakshan have less access to internet and TV. Therefore, radio is the only means for people to follow and listen to what is going on, so they are very important for public awareness," says Hajar.
Radio reachs where other media does not
The radio sector remains vibrant in Afghanistan, even as TV and the internet increase as sources of information, with more than 250 radio stations across the country. Radio is particularly important for rural populations and provinces in the south and east.
Timely support to these stations amid the COVID-19 pandemic has a more significant impact on provincial media than just providing information and awareness. It allows local media to remain active and operational, to pay for basics such as fuel and possibly one or two staff, at a time when even the most minimal income revenues streams are affected by the economic situation.
Radio also allows the economic conversation in the country to include the voices of those in rural and underserved areas. A listener to Killid Radio, in Laghman, farmer Rahmatullah, said "I have grown onions, potatoes, pumpkins, cucumbers, cauliflower and wheat last year but due COVID-19 restrictions as I was not able to transport it to other Provinces and could only sell here in Laghman, at a great loss to me. We are facing an economic crisis here and we want the nation to know this, and the government should address it." Support to stations like Killid Radio is further amplifying local concerns like Ramatullah's to a broader audience of radio listeners.
Internews provides operational support to local radio Afghan stations under the EU-funded, Internews-implemented "Information Saves Lives: COVID-19 in Afghanistan" project. Stations were selected with conseration for their ability to reach vulnerable populations, with content in local lanugages, and with particular attention to women-led stations.