A conversation more than four years ago sparked an idea: In Nigeria, rather than fighting against government actions one-by-one that restrict or erode free speech and online privacy, what if advocates could convince the government to enact a law protecting these rights?
Today, thanks to the relentless efforts and ingenuity of a local, grassroots organization, Nigeria's Digital Rights and Freedom Bill has passed through both the House and Senate, and is poised to become law with the President's signature.
"What we wanted to do with the bill was to give something that was proactive, something that answered all the questions," said 'Gbenga Sesan, Executive Director of Paradigm Initiative, a social enterprise and Internews partner that advocates for digital rights in Nigeria and West Africa.
"As governments are increasingly restricting free speech and access to information online, it is crucial for activists, human rights defenders and internet freedom advocates to work with their governments on positive solutions to protect human rights online," said Babette Ngene, Director of Internews' Internet Policy Programs. "Paradigm Initiative is a shining example that sustained advocacy work can lead to concrete and positive policy change."
With an Internet penetration rate of 46%, Nigeria has the largest number of Internet users in Africa, and the seventh largest in the world. Paradigm Initiative's hope is that the legislation can be a model for the region.
"The interesting thing is now, any of the excuses that the government wants to come up with, in terms of data privacy, in terms of hate speech, in terms of anything, has been answered in that bill," said Sesan.
How an idea becomes law: long-term advocacy and support
The seeds of the bill were planted at a training Internews convened with digital rights advocates from across the continent.
"The training that we did with [Internews staff] in Nigeria in December 2013 was very useful.  It situated digital rights for us as an important part of the entire ICT policy conversation," said Sesan.
Prior to the training, much of Paradigm Initiative's advocacy had been against policies and actions by the government that were an infringement on citizens' rights. During this training, which included lawmakers, the business community, and civil society, Paradigm Initiative was consistently challenged to identify what protections they would want.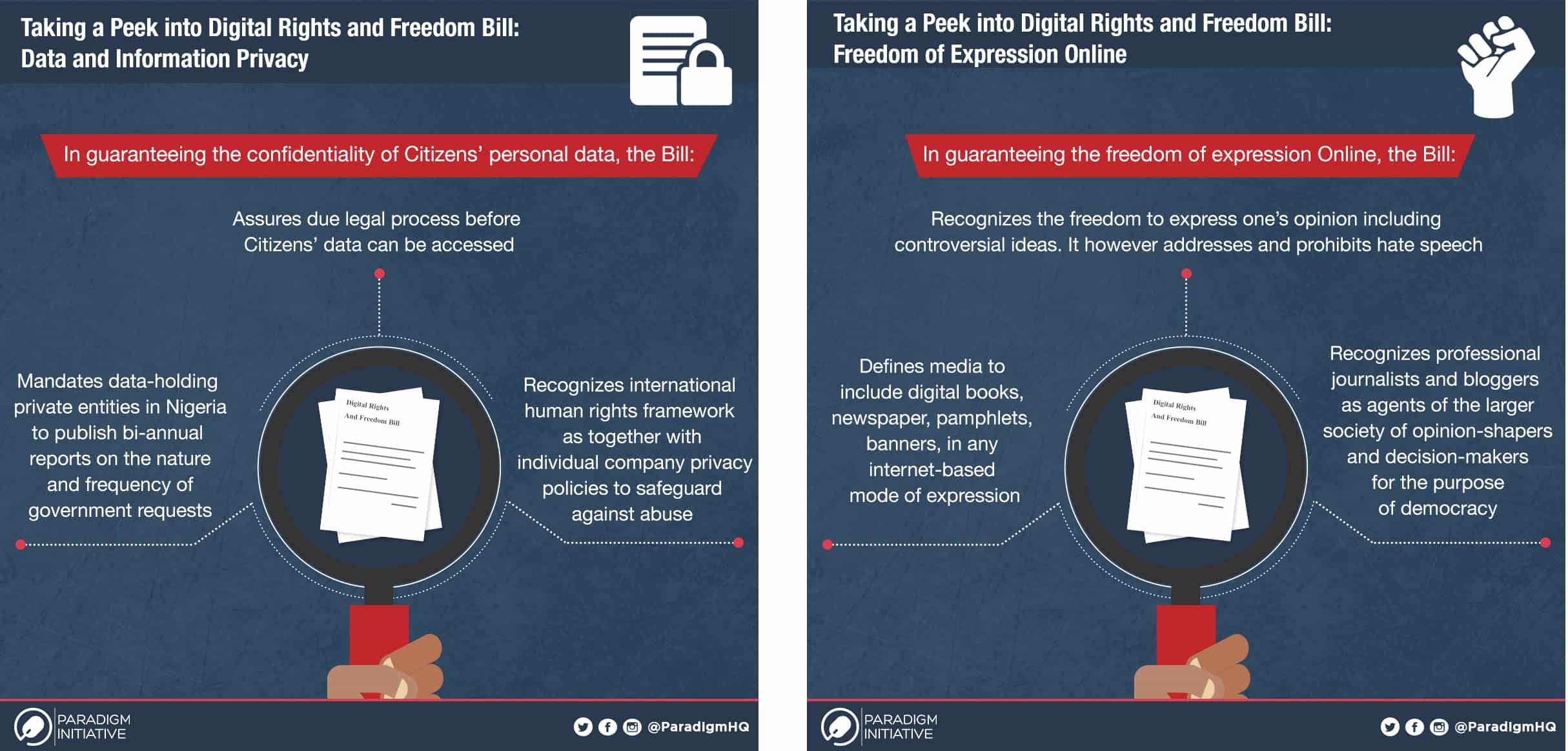 That challenge led Paradigm Initiative to draft the Internet Freedom Declaration for Nigeria. Ultimately, working with local civil society organizations and stakeholders, and ultimately turning the Declaration into a draft law.
Through targeted advocacy, Paradigm Initiative was able to identify a House sponsor for the bill, which passed through the House in January 2018 and then the Senate in March.
The bill "provides for the protection of human rights online, to protect Internet users in Nigeria from infringement of their fundamental freedoms and to guarantee application of human rights for users of digital platforms and/or digital media."
'We believe in your work'
Internews' internet freedom policy team focus on establishing trusted partnerships with local organizations around the world and funding flexible, local, digital rights initiatives based on the expertise of those partners.  Country by country, organization by organization, Internews has spent more than a decade supporting the growth of grassroots internet freedom advocacy initiatives, and helping local advocates and organizations build networks and connections within the global internet freedom community, and inform international debate.  
Beyond convening the digital rights training that served as the impetus for Paradigm Initiative's legal approach, Paradigm Initiative also credits Internews with providing the first international recognition of their cause. 
"The first validation we got from outside of Nigeria was from Internews, saying 'we believe in your work … We were doing something that was new on the continent, that wasn't popular. People were asking questions like, 'Why are you not focusing on HIV/AIDS or like other kinds of problems?' But we knew that [digital rights] was a matter of life or death eventually," said Sesan.
Paradigm Initiative also credits Internews with providing operational support and technical assistance throughout the process. Internews funding supported the establishment of Paradigm Initiative's second office in Abuja, Nigeria where the advocacy work for the Digital Rights bill occurred. The growing organization sought help to establish systems of reporting and accounting that allowed the organization to grow steadily and diversify its funding base.
"If we were turned upside down and shaken today, many of the things that would fall out of our pockets would be Internews templates," said Sesan.
For Paradigm Initiative, which has now expanded its focus beyond Nigeria, the goal is to make the Bill a model in the region, not an anomaly, and to see the tide turn toward protection of digital rights for all citizens. 
.     .     .
Internews global Internet Policy Programs aim to support and build local human rights organizations around the globe to engage directly with governments, private organizations, and academics on freedom of expression issues online and offline. For twenty years, Internews has supported more than 85 grassroots organizations in more than 40 countries. With this support, these organizations are now leading voices for digital rights in their respective countries.
(Banner photo: Computer lab BTS in Nigeria. Credit: Christopher Congdon/Flickr/CC)