Immaculately dressed in a white blouse and an ankle-length black skirt, Nurzada Shaidilla kyzy looks every inch the daytime television presenter she is as she records a horoscope segment for the multilingual broadcaster Yntymak, in southern Kyrgyzstan.
Shaidilla kyzy, however, feels she could still use a few more inches.
"Our news presenter, Asel, is tall, so rather than adjusting the cameras and background every time the team asks me to stand on this metal step," Shaidilla kyzy explains, laughing.
"My colleagues always joke that they will give away my secret by posting a photo of me standing on the step to Instagram."
Such are the tricks of television, and the bustling spirit of camaraderie at Yntymak, a television and radio organization broadcasting in both the Kyrgyz and Uzbek languages, which will celebrate its fifth anniversary later this year.
Yntymak — the Multilingual Voice of Southern Kyrgyzstan
Seven years ago, there would have been nothing unusual about broadcasting in both languages, especially one based in the southern region of Kyrgyzstan, where over a quarter of the population is ethnic Uzbek from Uzbekistan, right over the border.
But beyond the humming corridors and colour-splashed studios of Yntymak's main broadcasting hub, Kyrgyzstan's second largest city, Osh, is a town with scars.
In June 2010, just months after a revolution brought an interim government to power in the capital Bishkek, Osh became the epicenter for intercommunal violence that later developed along ethnic lines.
Nearly 500 people died in the violence, mostly ethnic Uzbeks, and according to the United Nations at least 300,000 people were temporarily displaced. Following the violence, the Uzbek community came under pressure from authorities in the region, and was disproportionately targeted in the criminal investigations that ensued.
While the causes of the clashes were multifaceted and rooted in the Central Asian country's turbulent domestic politics, one consequence became apparent immediately; Uzbek language broadcasts disappeared from television and radio.
It would not be until the emergence in 2012 of Yntymak, whose name translates as "accord," or "harmony," that the language would become a fixture of the domestic airwaves again.
Resistance, then acceptance
Since that time, Yntymak has blossomed from an organisation of a dozen journalists producing online radio into the leading regionally-based broadcaster, in terms of audience share, with around 90 employees.
In Yntymak's planning office, the question of how best to show appreciation for some 38 female staff members on International Women's Day is just one of the many decisions facing managing director Daniyar Sadiyev.
"We are not sure what we are going to do for them yet," said Sadiyev.
"The boys have agreed to hold a meeting to discuss the issue!"
A more long-term strategic challenge for Sadiyev and others at Yntymak has been convincing the wider public of the need to broadcast in Uzbek, as well as the state language Kyrgyz, in the wake of the violence.
"To begin with, there was a lot of criticism. People would ask our camera crews in Osh, 'Why are you doing this?' People would phone in and vent their anger," recalled Sadiyev.
These complaints subsided as Yntymak won plaudits and acceptance across Osh city for its objectivity and unrelenting focus on local and socially relevant topics.
But fresh grumbles arose in 2014 as broadcasting expanded into the densely-populated province surrounding the city of 200,000, and once more, the following year, when broadcasts reached neighbouring Jalal-Abad province.
"Most recently we expanded into [the southern province of] Batken. Batken province is ethnically mixed but Batken city is 90% ethnic Kyrgyz. Several people there said, 'Your station is great, but we don't need programmes in Uzbek.' We explained that we broadcast for the whole southern region and that the region needs programmes in both languages," said Sadiyev.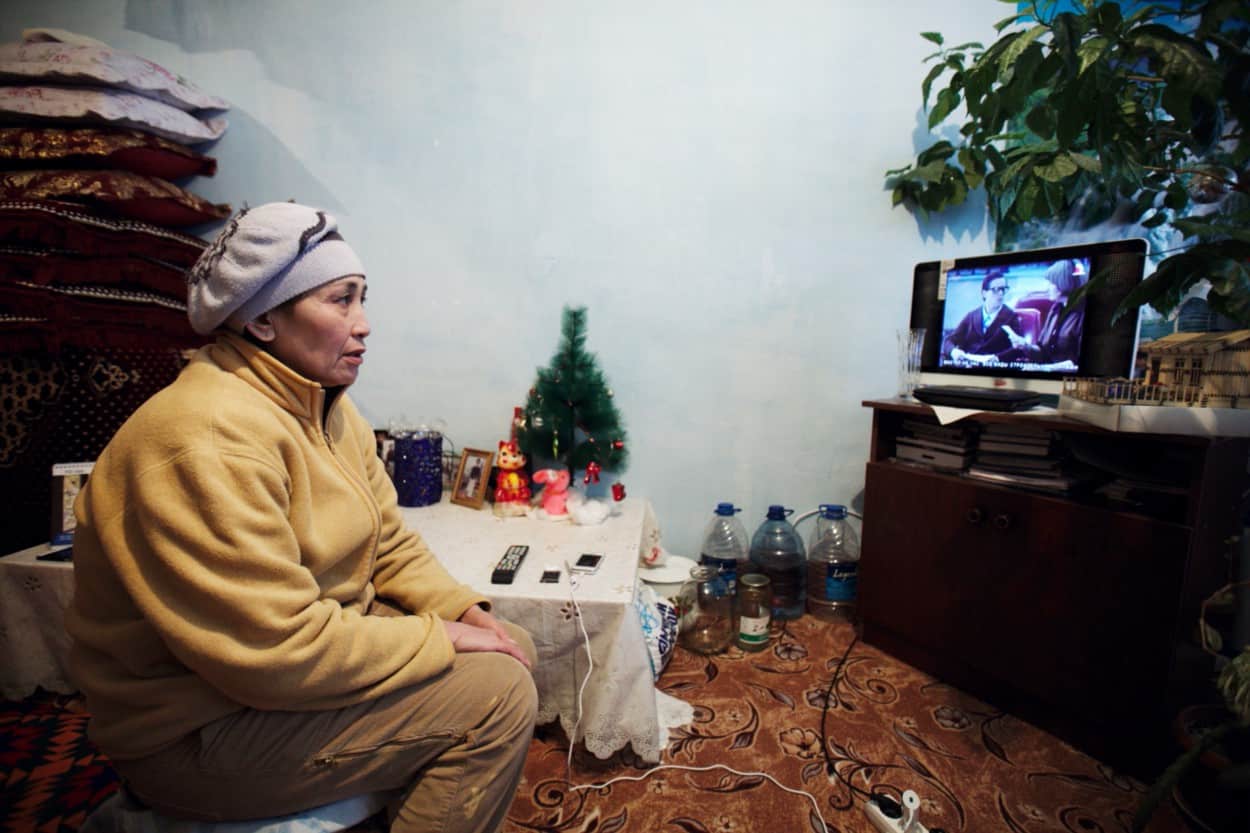 Local, investigative reporting gets results
As a broadcaster co-founded by the national government but sourcing the majority of its finances from donors rather than the state, Yntymak occupies a unique place in the local media market. Regional competitors are overwhelmingly channels that serve the interests of either municipal administrations or individual politicians, meaning Yntymak carries a heavy burden in terms of defending the public interest.
In a number of cases, Yntymak reports have made an immediate difference to local lives.
Recently, a family in Osh had defaulted on a loan they took out four years ago and faced dispossession, but they were able to win a deferment on the loan and retain their house, after the report on their situation aired on Yntymak.
In Jalal-Abad, Yyntymak's coverage revealed poor conditions at a homeless shelter, which resulted in several donors calling into the station to provide funding to the shelter.
Traders at a local market in Osh recently appealed to the broadcaster after the municipality erected concrete barriers across a road running past the market to divert traffic. Although the local prosecutor's office ruled that the barriers had been put up illegally, municipal officials did not respond to the ruling until the day after an Yntymak feature on the standoff aired. The barriers were then promptly removed.
It is precisely this balanced, investigative approach that has won the broadcaster friends across the southern region. But the same approach has made many local officials wary of Yntymak television crews showing up to cover the local news.
Azamjon Buzurikov, who films and edits footage for the news team, says one of the main skills he has learned in the job he has had for more than three years is "how to talk to officials."
Prior to working at Yntymak, and before spending a stint abroad in Russia, where up to a million Kyrgyz work, Buzurikov says he worked at another local channel, Osh TV. The channel once broadcast in Kyrgyz and Uzbek but was seized from its previous owner in the aftermath of the ethnic violence, and now serves largely as a mouthpiece promoting the municipal administration's role in rebuilding the city.
Thus, it is hardly surprising that officials don't always welcome Yntymak's focus on the city's problems.
"We tell them we cover everything from both sides, and that it is very important to have their voice in the story, too," says Buzurikov, who has just come back from a shoot at a school where children are still studying despite the building having been deemed structurally unsafe last year.
"Being behind the camera, you see a lot of different sides to life in the city. Recently we did a feature on a beat-boxer living in Osh, and it was very cool to see the final result of that work," Buzurikov said.
"But other subjects are more difficult to work on, like the interview we did with a young man that had to have his leg amputated because of a rare medical condition."
A multi-ethnic team of compatriots
Today is Yntymak deejay Madina Ulugbek kyzy's 21st birthday, but she is having a challenging shift.
She is presenting a slot for afternoon radio themed on early marriages and maternal mortality among young women in Kyrgyzstan. A female gynecologist, who was a key guest for the show, has called in sick.
Broadening the discussion to pressures faced by young women in traditional society, Ulugbek kyzy compensates for the gynecologist's absence by encouraging more callers to ring into the station.
She bites her lip when one of them, a young man, phones the show with well-meaning but uninformed medical advice for young women that comes across awkwardly in conversational Uzbek.
"When I started working here, losing the expert would have been very difficult to cope with," said Ulugbek kyzy, who started out hosting entertainment programmes and still feels her vivacious personality is better suited to the genre.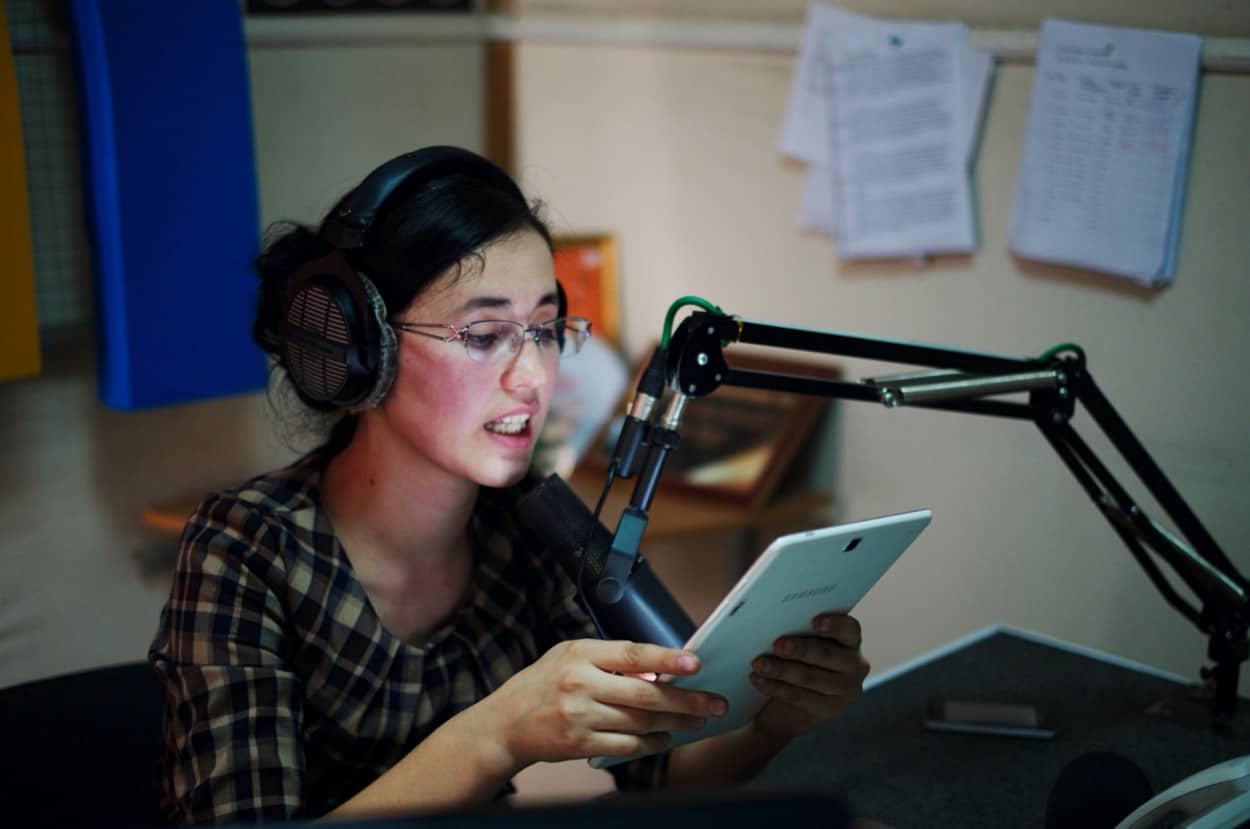 "I would write instructions to myself before every broadcast to overcome my nerves, six or seven pages; when to laugh, when to speak with a certain intonation, when to take a breath," she remembers.
"Now I don't need the lists anymore, but when I look around at all the equipment surrounding me I am sometimes amazed that one person with one pair of hands can master it all."
With Yntymak broadcasts now regular fixtures on local car radios and in Kyrgyzstani living rooms, it is easy to forget how uncertain the broadcaster's immediate future appeared in late 2013 and mid-2015, during gaps in funding.
Ulugbek kyzy was part of the core staff at Yntymak that continued on without salaries at the broadcaster during a funding gap, and explained that the "fun of the job" motivated her to keep going to work.
"We have a very friendly team. If someone is experiencing some kind of difficulties, we support each other as much as possible. Here, we don't divide ourselves into Uzbeks and Kyrgyz. We are all compatriots," she says.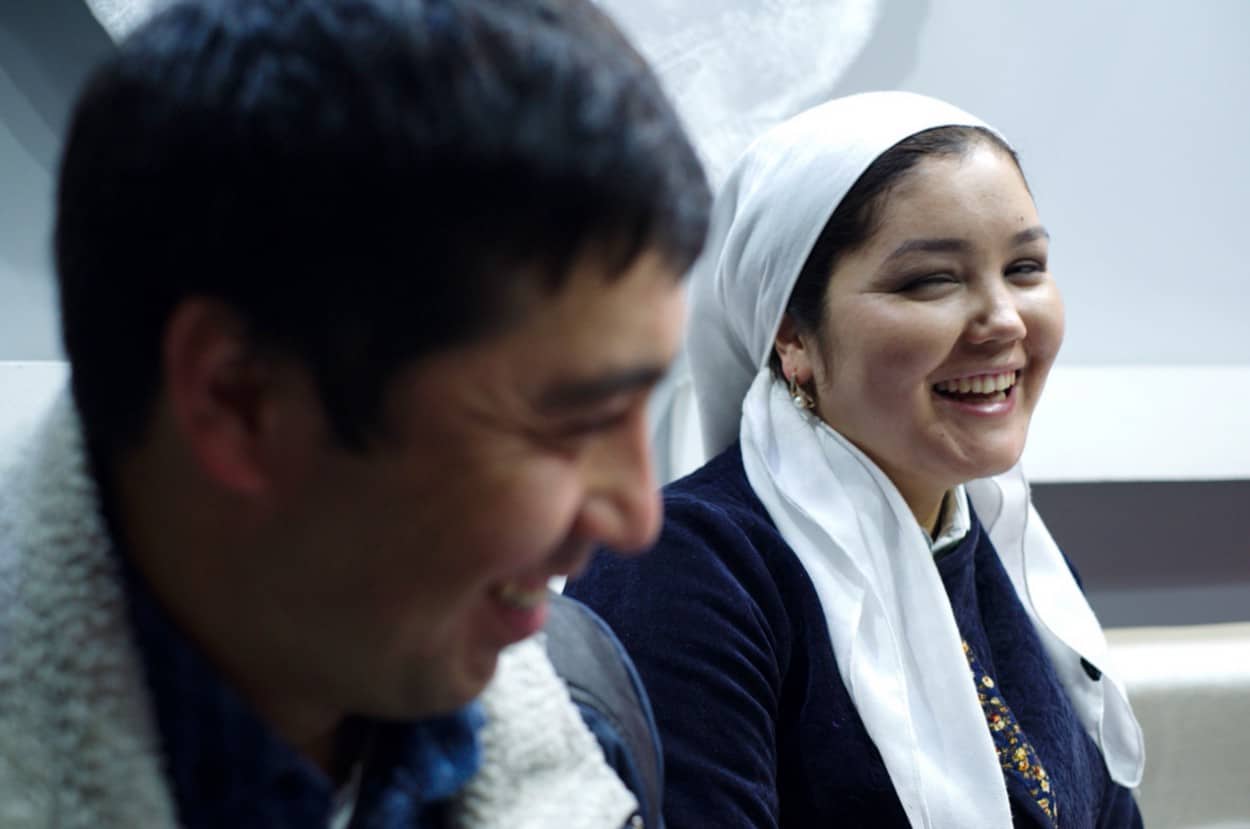 Broadcasting success
As Yntymak has expanded, its mission has taken on increasing importance, developing from a broadcaster bridging the differences between communities in the city most affected by the 2010 violence, to one capable of providing a voice to the diverse communities living across the southern region.
Kanybek Zhalaldin uluu, who currently works as Yntymak's technical director, joined the organisation at the end of 2012, as Yntymak made the move into television.
"Then it was ten to fifteen people, in a few rooms with one computer and another monitor," Zhalaldin uluu remembers. "Now we have the entire fourth floor of the building and technical foundations that allow us to do things that other broadcasters in the region cannot."
Zhalaldin uluu is particularly proud of the channel's recent success in transmitting live broadcasts of football matches taking place in the South, which are rebroadcasted by the national broadcaster OTRK.
He also points to a recent episode of the socially-focused chat show Umut, that featured live footage of residents on the streets of Batken asking questions to a panel of guests in the studio in Osh, as an example of the technical superiority enjoyed by Yntymak over other regionally based TV channels.
Yntymak's technical success means it can continue to deliver solutions-based local journalism. In just five years, Ynytmak has become established as a voice that can be shared — a bridge between communities too often divided along ethnic lines.
Elina Karakulova is Internews Country Director in Kyrgyzstan. Internews helped to launch, train, and mentor Yntymak and its staff, beginning in 2010. Internews' work with Ynytymak in Kyrgyzstan is supported by USAID.