It's unbearably hot, and as I step into the tea shop crowded with men of all ages, someone offers me hot atayea, a Chinese herbal infusion "for intellectual stimulance." I'm happy to have it.
I've been invited by Alpha Senkpeni, a Liberian radio reporter and station director who covers Grand Bassa County, about 70 miles southeast of Monrovia. All of Grand Bassa is his beat. "But for more than a year now, Ebola has been my beat," says Alpha. Almost a hundred people died here between July and October last year. Death, panic, rumor, survival, science and hope — these have been his stories.
The tea shop gathering is called the All People, One People Intellectual Forum, and Alpha and I intend to ask questions, and listen.
I meet Franklin Wesseh, Secretary General of All People, One People. "We bring critical issues on the pedestal and allow people to speak their minds without fear or favor. The sole objective is to provide intellectualism for all Liberians irrespective of our political, religious or ethnic backgrounds." Franklin tells me this Intellectual Forum has received accolades from the Ministry of Information for its rigor in discussing burning issues. "Like Socrates and Plato, we discuss issues in society."
For Alpha and me, it's a ready-made focus group. (Because they are all men, I make a mental note to also find out from women what they think of information flow in their town.) As a reporter, Alpha needs to connect with the community's information needs, and to understand what sources they trust, and why.
This is our work together, Alpha and I — I'm serving as a mentor, and Alpha is one of 16 journalists in Liberia working with Internews, to respond to information needs following the Ebola outbreak. I felt hopelessly inadequate to be a mentor to Alpha, who has lived through and reported first-hand on the fear and intense dread that swept these streets. But I do come with a framework, the Internews information ecosystems tool, a structure for asking questions that help media and decision-makers make sense of a community's information needs, sources, and fears. "There is a lot of information here; information flows in and out of us," says Kolubah Akoia. We've come to the right place.
Franklin tells us that Ebola has dominated the Forum's discussions in the past month, for example how children whose parents have died are coping, or how survivors will rebuild their lives. "But you have brought us a new focus, about the information itself, reflecting on what type of information we need."
"I need bona fide information," says Kartuminus Karnaar, "Some people believe dey say (gossip or rumor), but I don't listen to gossip. Passions in life motivate us. With Ebola, it became like a passion to want to know the real information."
Jones Karyea agrees: "Once something strange happens, information is important. People will need the right information to set them free."
One of the Intellectual Forum members, Macaulay Kilinwolo, is a health worker. "When Ebola started we were all novices," he says, "Now we are experienced. It was tough to know what source to look to for questions on Ebola, even as a medical person. We got our information from the internet and the little international experience that was there. We quickly realized how valuable any info was, so we brought it to a radio show."
Several people nod in agreement and recall how many did not believe Ebola existed; or they believed it was man-made. But Macaulay explains one would start believing it when two things converge. "So, when people started vomiting and we started hearing consistent information, people started believing it's real."
Macaulay says there was — and still is — an insatiable need for very simple information. For example, there was a lot of emphasis on handwashing, so people started believing that hand sanitizer can remove Ebola.
The questions in our framework — Internews' Information Ecosystem Tool — that most resonated with Alpha and the focus group related to information needs; Alpha also wanted to know the Forum's view on what the most common sources of information are in the county, asked them to comment on how ownership of those sources might impact credibility. He was very keen to hear about social trust — and how trusted sources of information must be guarded as they are always valuable, and even more so in a crisis.
The group had a distinct sense that ownership influenced content in Grand Bassa County. The county has a vibrant community media, but during the political season, the stations showed political patronage.
"Ebola was a unifier"
"Some radio stations are owned by special people, who have money. If things return to normal, they will be politically driven again. Ebola was a unifier," says Patrick Solloe. But Titus Garblah says people just think that politicians influence radio stations, but when you analyze it, everybody is free to talk on the radio.
Many of the forum members also said they were also consulting the internet for Ebola information — via smart phones. "What we do now on the internet, existed hundreds of years before the internet was invented. Humans were taking their own statistics before websites and design put information into the internet. The internet just makes it easier and makes it cross boundaries, which is what we need now that Ebola is here," said Franklin Wesseh. This quickly turned the discussion to trusted sources. The BBC and National Democratic Institute (NDI) websites were listed as trusted sources — because they had provided trusted information in turbulent political times before. Just one or two people identified the print media as their preferred source of information.
"Dey say was saying Ebola is not real"
"Some information was confusing to people. There were lapses of information; people were easily confused, because everything was so new, so most people relied on dey say," says Dutee Donzo. ("Dey say" or "they say" is a term for rumors in Liberian English.)
Franklin remarks that Ebola was "too much,"' so people wanted to believe it was not real. And it was nice for them, because dey say was also saying so. The Forum members set out to generate "corrective dey say" — meaning facts were spread through the same channels as rumor. The Internews DeySay project in Liberia did much the same — countering rumor with fact, spread through trusted sources.
Meshack Kontah says a lot of rumor has to do with exaggeration of simplification. For example, the message in media and in rumors was that Ebola kills. The truth is that Ebola normally kills. In these circumstances, the difference between the two is massive, and has an effect on how people treat survivors and how people will continue to live with Ebola. "For example, we used to hear that HIV kills, but now we see people living long." Franklin agrees and says most often, negative information travels faster than the truth.
"It's like the Justin Timberlake song with Black Eyed Peas, Where Is the Love?" says McArthur Gbardyu, "The wrong information by the media spreads fast, like chemical drops in the atmosphere."
Wrong information always shown by the media
Negative images, it's the main criteria
Infecting the young minds faster than bacteria
Alpha asks the group to consider why some media is not credible and what can be done about it. A journalist can spread dey say through ignorance, says Franklin. "We expect of journalists to go beyond what they hear; on the ground the idea is, a journalist cannot lie!" Alpha is quick to add that for a journalist to do that, he must have the skills, a conscience and the necessary equipment.
Two hours into the discussion, a woman joins the group, Marie Willie. She says the good thing about radio is that radio staff check facts for her before they spread it further. Friends can spread words without checking if it's true. "Even if radio makes a mistake, I will still listen to them, because human beings make mistakes, as long as they don't make mistakes all the time."
"The info that still baffles me is that they say Ebola has left us. Many parents have been lost in the crisis. There are more than a thousand children without parents; so whether the virus comes back or not, Ebola has not left us," offers Meshack Kontuah, "This is the information we need to digest going forward."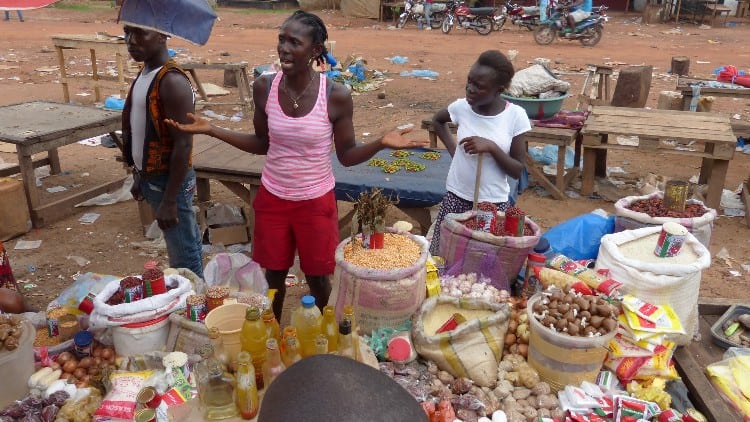 Outside, the sun was beginning to show some mercy, and women at the marketplace were packing up to go home. We would talk to more people — women and men — before the day is done, but Alpha is already sketching out the insights from this focus group discussion. There are some story ideas there, he tells me, and now he wants to digest the new things he's learnt about his audience and the world of information in which they live.
Ida Jooste is Global Health Advisor at Internews. She visited the Internews project in Liberia to learn more about the crucial role of reliable information in a health emergency.
(This story was originally posted on Medium.)