Hurricanes. Forest Fires. Drought. While the challenges of climate change are global, the impacts and the solutions are often highly local.
Meet the journalists behind some of the most important environmental coverage around the world. From Kenya, India, Bolivia, Indonesia and Egypt, these award-winning reporters inform and engage local communities, creating conversations that move policy forward.
Citizens and communities need trusted information to mitigate environmental impacts and find new ways to adapt. Internews' Earth Journalism Network invites you to a rare opportunity to hear directly from some of the most effective environmental journalists working in the world today.
Meet the Journalists
Joydeep Gupta (India)
As Director of the Third Pole Project, run jointly by chinadialogue and Internews' Earth Journalism Network, Joydeep Gupta writes and commissions articles on climate change, biodiversity, pollution and sustainable development for the bilingual environmental news website www.thethirdpole.net. He is a lead trainer at workshops for environmental journalists from South Asia and South-East Asia. Gupta covered the 1992 Earth Summit in Rio de Janeiro, UN climate summits in Bali, Poznan, Copenhagen, Cancun and Durban, and the biodiversity summit in Nagoya. He has reported for Indo-Asian News Service, The Statesman, The Sunday Observer and Sunday Mail, and is the Secretary of the Forum of Environmental Journalists in India. For his contributions to environmental journalism, Gupta won the 2012 Green Globe Award at the Delhi Sustainable Development Summit. Gupta teaches Development Journalism to postgraduate students at Jamia Millia Islamia University in New Delhi and holds a Masters in Environmental Economics and Environmental Management from the University of York (UK).
Rosalia Omungo (Kenya), chairperson of the Kenya Environment and Science Journalists Association (KENSJA)
Rosalia Omungo is a television journalist and news editor for the Kenya Broadcasting Corporation in Nairobi, where she leads the Health, Science and environment desk. She has reported widely on climate change and adaptation, energy, forests, water, biodiversity and agriculture. In 2009, she won a Climate Change Media Partnership (CCMP) fellowship, during which her main assignment was covering UN negotiations in Copenhagen, Denmark. She has also covered UNEP Governing Council meetings. She was the first Earth Journalism Scholar at the University of California Berkeley Graduate School of Journalism, where she spent the Spring 2014 semester taking advanced classes in journalism and environmental studies. She earned a Commonwealth award for excellence in reporting environment in Africa (2010). She is the chairperson of the Kenya Environment and Science Journalists Association (KENSJA) and member of the Kenya Editors Guild, as well as the Society for Environmental Journalists.
Harry Surjadi (Indonesia), founder of the Society of Indonesian Environmental Journalists and Society of Indonesian Science Journalists
Harry Surjadi began his journalism career in 1988 and specializes in environmental reporting. In 1995, he covered the 1st COP UNFCCC in Berlin, and since then he went on to cover several COPs including the 3rd COP, UNFCCC, in Kyoto and the 15th COP, UNFCCC, in Copenhagen. He wrote a chapter about Indonesia for the 2004 book "Climate Change: Perspective Five Years After Kyoto." He was a Knight International Journalism Fellow with the International Center for Journalists in 2007-2008 and 2011-2012. During his fellowship in 2011-2012 and with support from EJN, he launched a climate change communication model using mobile for villagers in Indonesia to report on environmental topics related to forestry in West Kalimantan. He was granted the Communication for Social Change Award from the University of Queensland, Australia. Surjadi is the founder and fi rst executive director of the Society of Indonesian Environmental Journalists and the Society of Indonesian Science Journalists.
Eduardo Berton (Bolivia)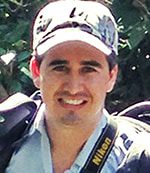 Eduardo is a Bolivian photojournalist and founder of the Environmental Information Network (RAI-for its acronyms in Spanish), a news media that uses storytelling and environmental journalism to inform, educate and raise awareness about environmental issues from Bolivia and the world. His storytelling work (photo report and a documentary film) helped to inspire the local authorities to declared 1,300 hectares of an area that was under risk of deforestation, as a natural wildlife reserve. He is also part of the Regional Amazon Network (ARA), and belongs to The Climate Leadership Corps, the global network of climate leaders and activists led by former US Vice President Al Gore whose commitment is to tell the story of climate change and inspire the world's communities to take action.
Dalia Abdel-Salam (Egypt)
Dalia Abdel-Salam is Editor in Chief for Science magazine, the Arabic edition of Scientific American. Since 2016, she has represented the MENA region in the orientation council of l'Institut de la Francophonie pour le développement durable (IFDD) headquartered in Quebec city. Dalia started her career in 1994 as a journalist for Al Ahram Hebdo (an Egyptian weekly newspaper in the French language). In 1999, she became Environment and Water Editor. She won the regional environmental media award for the French-speaking Africa edition of Reuters-IUCN. Dalia was also a board member of the Arab Science Journalists Association ASJA and the co-director of the 7th World Conference of Science Journalists held in Doha, Qatar in 2011.
Moderated by James Fahn
James Fahn is the Executive Director of Internews' Earth Journalism Network, a global community of over 9,000 journalists from more than 130 journalists dedicated to covering environmental issues. He also serves as an Adjunct Professor at UC-Berkeley's Graduate School of Journalism. Fahn is a journalist who has primarily focused on environmental and science issues in developing countries. During the 1990s, he was based in Thailand where he was a reporter and editor for The Nation, an English language daily newspaper based in Bangkok, and hosted a television show. His book, "A Land on Fire" recounts the issues and scandals he uncovered while working on the environmental beat in Southeast Asia. He has also written for the New York Times, The Economist, Newsweek, the San Francisco Chronicle, the Jakarta Post, SciDev.net, Nature.com, the Huffington Post and the Columbia Journalism Review. Fahn also serves on the Advisory Board for Future Earth, and on the Editorial Board for the Anthropocene magazine. He received UNEP's Global 500 Award for The Nation's environmental reporting, and was pinned by Her Royal Highness Princess Maha Chakri Sirindhorn for his service to Thailand. He was the co-founder of the Thai Society of Environmental Journalists, the country director for Internews' Burma program, and has also worked for the Ford Foundation as a program associate in the field of environment and development.
About EJN
The Earth Journalism Network (EJN) creates networks of environmental journalists in countries where they don't exist, and builds their capacity where they do. Through training workshops and development of training materials, support for production and distribution, the provision of small grants, and creation of unique data mapping platforms, EJN works with journalists in developing countries to find innovative solutions to the world's most pressing environmental issues.