Gabriel Lucas has just completed Third Year Broadcast Journalism studies at Saint Augustine University of Tanzania (SAUT). He is already being groomed for a senior position at a radio station – Taa Bora FM in Tabora.
He is overjoyed that he is among the lucky 300+ university students selected for a focused, six-week hands-on training to enable them to join the world of radio journalism as accomplished professionals. Over 1000 students competed for the 300 places.
For Gabriel the program opens opportunities he never imagined during his studies. "This training equips me with skills to be a mentor in the field and help my colleagues to do their work more professionally."
The program is funded by USAID and implemented by Internews in three institutions of higher learning in the country. Besides SAUT, the other higher learning institutions providing this training are the University of Dar es Salaam's School of Journalism and Mass Communication (SJMC) and the Zanzibar Journalism and Mass Media College (ZJMMC).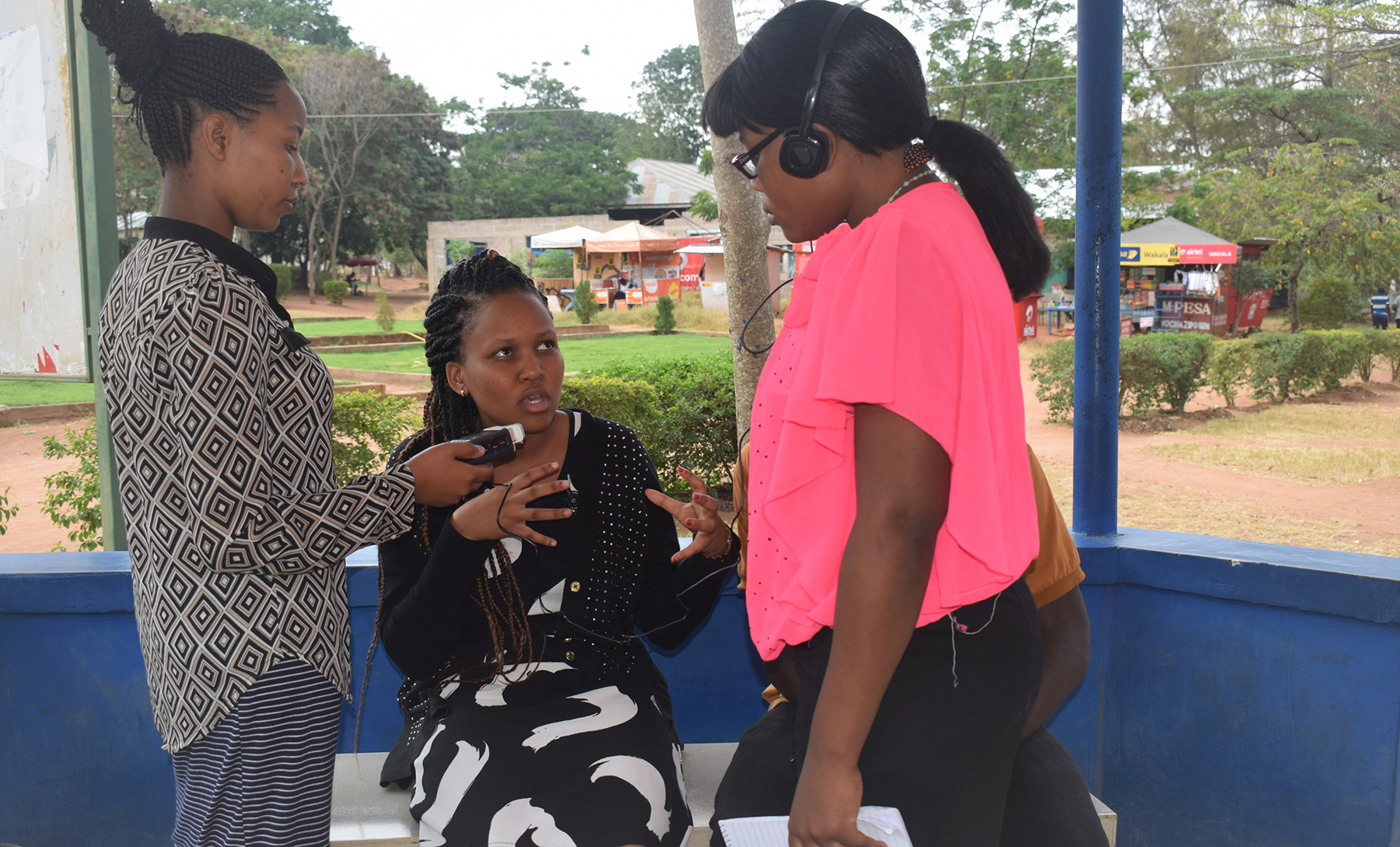 Four weeks into the program, some trainees are already reporting a difference. "When I get to the newsroom, I will be able to edit, write a script, produce and present a program," says trainee Aisha Hamisi, a graduate from the SJMC, admitting that during her three years of study, she hardly knew how to use a recorder to collect content. "Now I know how little prepared I was at the end of my three years of studying journalism."
Gwamaka Lucas also a graduate student at SJMC says he is more confident now, than before the start of the program. "I now know more about gender; the various laws affecting media work and that a journalist should not give up easily when pursuing a story," he says.
Trainee Marymaria Massawe "This is a platform for journalists and media personnel to learn more about radio production in the best way possible.  I think our universities should adopt this."
For the team of trainers, many of whom are long practicing journalists and editors, the program has been about making a difference and they say they are seeing some. Amos Gomba, training at SAUT says many of the graduate journalists who would previously be lost when joining newsrooms, "can now prepare news programmes and read news."
Trainer Anna Mwasyoke who is a producer and presenter at Tanzania Broadcasting Corporation (TBC) says the trainees are now more eager to learn. "The teamwork has improved. Individual skills are also seen. The quiet ones are now speaking."
The reception of the program by authorities at the three institutions has been positive. They have described it as a crucial value addition to their work of molding professionals for the fast-changing media environment.
They blame inability to offer crucial practical skills to their journalism students on lack of resources. They praised the Internews training approach as the right way to go in training journalists. Dr Mike Andindilile, who is the SJMC dean told a forum of editors and journalism training institutions last year, "With Internews training during the pilot radio training program, I saw a very big difference." He proposed setting up a studio for the school, so that production of content becomes compulsory.
(Banner photo: Broadcast journalism students get practical radio production skills in an Internews training. Credit: Internews)