As the Kincade fire in Sonoma County, CA spreads, residents who speak Spanish and Maya have an urgent need for local, verified information in their own language. People need to know where the fire is moving, what the evacuation routes are, and where to find safe shelter, food and fuel.
Internews partner KBBF 89.1 FM is the only bilingual radio station in the county. Their volunteers are working around the clock to provide urgent information in Spanish and Maya.
Donate to Support Wildfire News Coverage in Spanish and Maya
Since the Kincade fire began, KBBF volunteers have been collecting and answering questions from residents, interviewing emergency response personnel, translating press briefings and providing information on safe shelters and other services.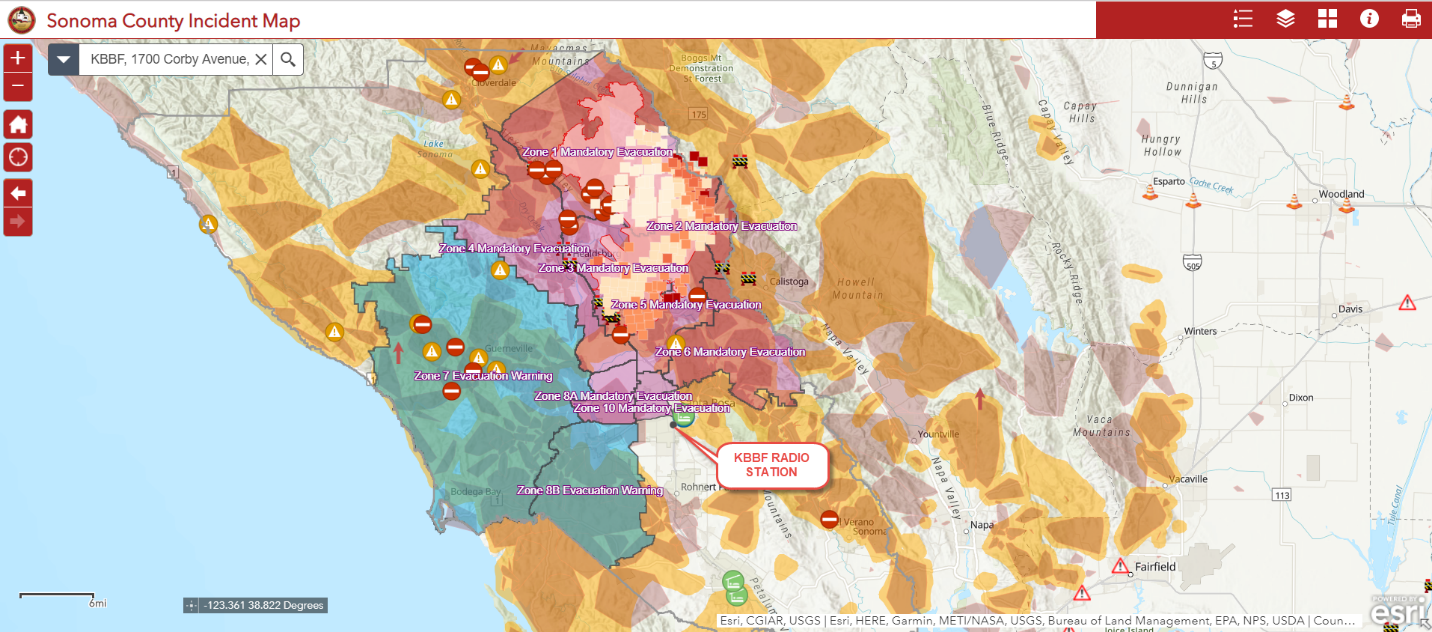 As over 200,000 residents evacuate their homes, information can be hard to access and verify. There are rolling power outages across the county, limited cell phone service, and the majority of emergency response information is only shared in English. On day six of the fire, a man called into KBBF and said there were a lot of rumors and misinformation circulating, and thanked KBBF for broadcasting verified information.
People desperately need information to be connected to services and resources that they can trust. KBBF 89.1 FM is an accessible and trusted community resource but they need additional resources to keep their station running.
A Community at Risk, Without Information
KBBF is a vital community resource for the Latinx community in Sonoma.
After the 2017 wildfires in Sonoma and Santa Rosa, Internews worked with the Center for Disaster Philanthropy to better understand how non-English speakers were receiving emergency information. The answer was that they really were not.
Read Internews' report: Desconectado: How Emergency Information Got Lost In Translation During The Northern California Wildfires
In the 2017 fires, all formal communication from the city, such as press briefings and texts, were in English, all daily and breaking news was in English, and Spanish and Maya language speakers were left out.  KBBF stood out as a vital resource. They are a hub for the Latinx community, and during the fires they connected people to resources, safe shelters and food. 
After the fires, Internews worked with KBBF to build their skills, foster a more formal relationship with the local NPR station, and help the station build a path toward sustainability.
Now, with the station's need to reach the community with Kincade Fire information, Internews has committed a $2,000 emergency response grant to the station and is working to support crowdsourced fundraising.
Donate to Support Wildfire News Coverage in Spanish and Maya
(Banner photo: KBBF partnered with Sonoma Family Meals to provide full dinners to more than 80 families in need October 29, 2019. They're continuing this service throughout the week.)