By Stella Paul, Project Officer for Environment and Health for the Internews Earth Journalism Network
I grew up in Manu valley – one of the most picturesque places in northeast India. From our courtyard you could see the blue mounds of the Langtarai and Sakhantang hills on the horizon and lovely green rice paddy fields stretching all the way to Bangladesh. Yet, when I close my eyes and think back to that time, the first image that I see is this: Me and my three siblings squatting on a wooden bed in a flooded mud house; my mother trying to cook us a meal on a kerosene stove. I also hear the terrifying roar of the Manu River with the occasional collapsing sound of a house caving in.
These images were part of my reality for at least 12 years. Every monsoon, our village flooded, and we would live for a couple of days in the waist-high water before taking shelter in a nearby school building.
When the schools reopened, the teacher would tell us that the Manu River flooded because there was a lot of logging in the hills and that made the rainwater rush downstream with doubled force. Sometimes he would also say that the government built an embankment to ease the flooding, but the floodwater gates were not manned properly. What I never heard, however, was that none of these disasters were supposed to happen in the first place.
So just like everyone else, I grew up prepared to be homeless for a few weeks every year and then rebuild our mud house that had collapsed because of the high waters.
The first time I heard someone tell a story about disasters and environmental challenges was when I was in 10th grade. Mela Singh, an indigenous village playwright cum comedian, put on a play about living by the river where he described how villagers reacted when the floodwater entered their homes.
Men would make rafts out of banana trees and fish in their yards while the women would search under the water for the tube well – the only source of clean water — and also a safe place to relieve themselves. Singh poked fun at the flood aid, like how bad the baby food packets smelled, and he would dance, change into female costumes and use slapstick comedy that made the whole village laugh with him.
This type of storytelling birthed in me the idea of becoming a climate journalist. It was also then that I first started to look at disasters through a woman's eye, trying to understand the pain behind the comedy of finding a toilet in a flooded village.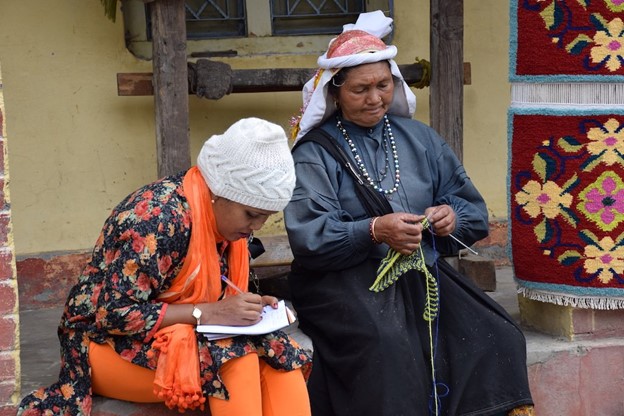 The neighborhood I lived in had a remittance economy, meaning most of the men worked outside of the state and sent money back to their families. It also meant, when the floods came, that women were on their own in dealing with it — from evacuating and finding safe shelter to finding food and clean water.
When I first started reporting about women on the frontlines of climate change, memories of my mother carrying us on her shoulder across the flooded village was what came to my mind. That image made me shift my focus from describing women as mere victims to women who are resilient, successful climate warriors.
In 2011, on a reporting grant from EJN, I went to cover the UN climate change talks, known as COP17, in Durban. There I met Sibongile, a radio journalist from Malawi. One afternoon I joined Sibongile and a group of other young African journalists for a story-sharing session with KwaZulu Natal University. When it came to her turn, Sibongle said: "The river in our village has dried. My family has lost its crops and most of the goats. My cousin's marriage was cancelled because her fathers' goats died too. But nobody in our village knows 'climate change.' Everyone thinks it's our bad luck."
Her words struck me hard as I realized she was actually describing my own community, where everything was accepted as destiny. The realization helped me decide to focus on what I had not done up to that point: Speak with them and understand what really made them accept it. Was it because they didn't have enough information? Maybe they understood it and had questions but were never given a chance to raise their voices. These questions have driven my reporting ever since, as I try to look at a vulnerable community as an unheard group of people and each story as a unique opportunity to make their voices heard.
Today, as I join the EJN team to manage environment and health projects and mentor indigenous journalists, I feel I have come a full circle. This is the organization that gave me my first break as a climate journalist and helped me connect with climate storytellers from around the world. Now, I can support these storytellers by training them and giving them the resources that they need to reach the unheard people who live the environmental challenges I once did. I can also guide and mentor them to not only ask questions but also help share with the world the solutions that the communities believe would work for them.
(Banner image: Reporter Stella Paul by the Manu transboundary river that flows through her village in Manu valley in northeastern India.)