The need for reliable local news is urgent. In the US, this is perhaps nowhere easier to see than in California, where wildfires threaten residents across the state.
The Los Angeles Times story about domestic workers continuing on to work amidst the Getty Fire was a wake-up call to many – how did the workers, mostly Spanish-speakers, not know the area was evacuated? Even if they did know, what information was available to help calculate their personal risks – fire exposure vs. losing pay, or losing their jobs entirely?
Farther north in Sonoma county, under threat of the Kincade Fire, a volunteer-led radio station, KBBF, is trying to fill the gaps for non-native English speakers. An Internews assessment last year in Sonoma County found that during the 2017 fires, all formal government communication, such as press briefings and texts, and all daily and breaking news was in English – Spanish and Maya language speakers were left out, despite making up a significant portion of the population.  KBBF stood out as a vital resource. They are a hub for the Latinx community, and during the fires, then and now, they connect people to resources, safe shelters and food.
As stark as these examples are, they're the reality of the hollowing out of local news across the country– not only for non-native English speakers, but for everyone.
Through the Listening Post Collective, the Internews initiative that works with newsrooms and community media initiatives across the US, we've applied our decades of experience working internationally to the crisis facing independent media in the US.
Simply put, an erosion of the market for news, along with declining trust in media, has made it increasingly difficult for newsrooms to survive in the US. Too many communities are seeing their only local sources of news disappear.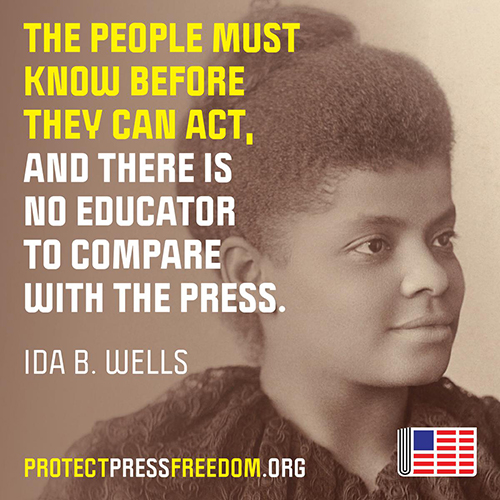 We've joined the #ProtectPressFreedom campaign, initiated by the Committee to Protect Journalists (CPJ) and the Reporters Committee for Freedom of the Press (RCFP), to rebuild trust and recognition of our collective right to be informed, and to recognize the vital role of solutions-oriented, community-based journalism.
Internews believes the campaign message – We must protect our right to know before it's too late. We must defend against all threats to our right to know – relates to all threats facing journalists and media in the US.
Through the Listening Post Collective, we work directly with content creators to find innovative ways to connect more deeply in their communities, to amplify a more diverse and reflective set of voices too often left out of the news, and to build trusting relationships with audiences that will sustain them over time.
A turnaround for local news can't happen without widespread support from information consumers. We're proud to stand with allies who fight for free expression and journalists' protection, to raise awareness about the need for all US citizens to do their part to protect press freedom.
Visit protectpressfreedom.org to learn more and share the campaign.