"It would be a shame if we are only able to inform the public about the riches of Mentawai – for instance, about its culture, nature, the people, and education — [through] text. In the presentation of news, journalistic video amidst the development of technology today is very important." – Bambang Sagurung, a journalist from Sikabaluan, Mentawai, who participated in a training for Indigenous people of the Mentawai Islands in western Indonesia
This month we launched a special investigation looking at new scientific findings that reveal how destructive environmental practices in the Amazon coupled with climate change are driving an explosion of harmful algae blooms in the Atlantic and Caribbean. It's part of an effort we're making to support more cross-border reporting as a way to expand the reach of these important stories. We also have updates on the unique ways our media grantees are working to build grassroots support and outreach to journalists across the Asia-Pacific, we name the 12 Fellows joining our Mekong Data Journalism program and we highlight the early impact of a illegal logging story by a reporter in the Solomon Islands. Check out our two latest grant opportunities and register for our pre-Earth Day summit on zoonotic disease reporting below.
Special Investigation Links Amazon Destruction to Massive Ocean Algae Bloom
To better explore the effects of a sprawling sargassum belt that has grown explosively in the Atlantic and the Caribbean, journalists, remote sensing experts and editors from Brazil, Mexico, Guatemala and the US worked together to study the latest science on its causes, investigate the sources of growing pollution in the Amazon basin, research the economic and ecological impacts in the Caribbean and put it all together in a compelling series of stories we've called "Murky Waters." Read more
Indigenous Journalists in Indonesia Use Video to Share Stories about Their People, Environment
The Indigenous people of the Mentawai Islands in western Indonesia live according to Indigenous wisdom that has been passed down through generations. But they are often marginalized by government policies that aim for economic growth rather than protecting the natural resources on which they depend, and they say they seldom see any benefits from the companies that extract those products.
Enter MentawaiKita, or "We Are Mentawai," a community radio station, newspaper and now online news portal working to voice the concerns of the Mentawai people and report on the climate and environment. 
But video has been a missing element of MentawaiKita's work, and journalists in the Mentawais more broadly. So last month, with the support of EJN, a journalism training was held for 12 indigenous journalists aimed at boosting their ability to tell stories about the threats facing their environment. The training was the first of five, with future workshops planned to support women storytellers report about their environment using a mobile phone. Read more
Media Grantees Offer Trainings, Courses and Innovative Learning Experiences
Connecting food and culture to domestic tourists in Cambodia. A report on deforestation that led to a government investigation in Vietnam. An examination of "no fire" policies in Thailand. These are just some of the results of several projects currently underway from EJN's cohort of Asia-Pacific media grantees, who are using distinct and innovative approaches to build journalists' reporting skills in their regions. Read more
Twelve Journalists Awarded Data-Journalism Fellowships to Cover Water Security in the Mekong Region
EJN and the East-West Center have awarded Fellowships to 12 journalists from the Mekong region aimed at enhancing their data journalism skills and providing them with guidance and mentorship to report on critical water security issues. The journalists were selected following an open call for applications that EJN launched in February as part of its new Mekong Data Journalism Fellowship, a partnership between EJN, EWC and the Stimpson Center. Read more
Solomon Islands Journalists Get a Crash Course in Covering Extractive Industries, Conservation
A field trip to the Solomon Islands' only nature park on March 26th was the highlight of a three-day reporting workshop on extractive industries and species protection that EJN supported in partnership with the Media Association of the Solomon Islands.The visit gave the participants a chance to see how endemic species can be protected from extractive industries, such as logging. The training exposed the dilemma the country faces striking a balance between the need for conservation and the push to extract resources for economic benefit. Read more
Webinars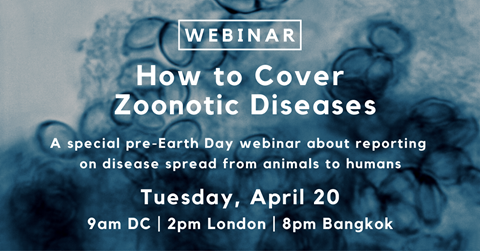 Learning About Zoonotic Diseases and How To Cover Them
The spillover of dangerous pathogens from animals to humans has become a hot topic over the last year due to the Covid-19 pandemic. How can journalists do a better job of covering this issue? Please join the Earth Journalism Network for this special pre-Earth Day webinar to learn about the new online course we're launching for journalists on zoonotic diseases and hear from some experts in the field of One Health.
Date: Tuesday, April 20th
Time: 9am DC / 11 am Mexico City / 2pm London / 4pm Nairobi / 6:30 pm New Delhi / 8pm Bangkok
Opportunities
Story Grants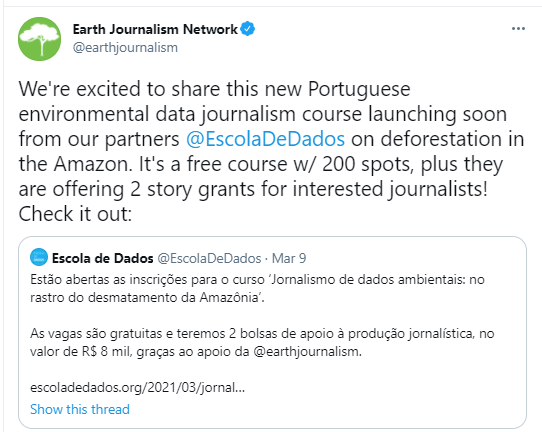 Awards
Impact
What we're reading, watching, listening to…