When:
04/29/2022
12:30 pm - 1:30 pm GMT
How can West Africa address COVID-19 vaccine inequity?
Internews invites you to a West Africa Regional Media Dialogue (La traduction simultanée en français sera disponible) on 29 April 2022 with Dr Mosoka Fallah, Technical Team Leader, Africa CDC.
A combination of factors in West Africa have led to low vaccination rates in the region:
Inequitable access: As wealthy countries start to offer their populations COVID-19 booster doses (a third and in some countries a fourth shot), many in African nations are still waiting for their first jab. While insufficient COVID-19 vaccine supply across the continent has contributed to the low vaccination rate, other issues are logistics concerns and significant vaccine acceptance. Regarding supply and access, the numbers are disappointing:
The World Health Organization (WHO) had set a target for achieving full COVID vaccination rates of 40% in every country by the end of December 2021. This target has been missed across most of Africa. As of 21 April 2022, only 16.2% of the population on the continent is fully vaccinated.
COVAX, set up to ensure global equitable access to vaccines, will not reach its goal of delivering 2 billion doses in 2021. The facility has had to adjust its approach because of the reality of the significant shortfall.
The impact of the Omicron variant and the need for booster shots: Even as COVID-19 vaccines arrive in Sub-Saharan Africa, Omicron is reducing supply and increasing demand. Paul Adepoju a Nigerian science journalist writes in Nature that as data emerge that boosters may help to protect against Omicron, the supply of vaccines to Africa is further squeezed. Fears of the COVID-19 variant may increase uptake, which is worryingly low in some countries
Low risk perception related to the underreporting of COVID-19 cases: Accurate COVID-19 case data in Africa is difficult to collect, resulting in a skewed picture of the real positivity rate. According to a World Health Organization (WHO) study, 67% of people with COVID-19 on the continent have no symptoms. However, information of asymptomatic cases, which would push up the positivity rate, is largely unavailable as testing in most countries in Africa is limited to symptomatic individuals. The shortage of COVID-19 tests and the inability to roll out tests widely at key stages of the pandemic meant symptomatic individuals have been prioritised for testing. Official confirmed COVID-19 data also show extremely low death rates across Africa, but it is known that many if not most COVID-19 deaths are underreported, particularly where testing is scarce, and most deaths occur at home.
Whatever the reasons are why people are not vaccinated: lack of access or a lack of trust in vaccines, the outcomes are the same: citizens are less protected from SARS-CoV-2 infection and from serious COVID-19 disease than they could have been, given what we know about vaccine science. This has profound impacts on several levels: individual health and wellbeing, resilience at the country and regional level, as well as a significant impact on global health security.
Meanwhile, plans are underway to address the vaccine shortfall in the region. Africa CDC's Saving Lives and Livelihoods program aims to acquire vaccines for more than 65 million people, and thereby contribute to the African Union's goal of vaccinating 70% of Africa's population by the end of 2022.
In West Africa, Ebola science gave researchers a headstart with tackling COVID-19, and journalists too. In this dialogue we draw on this experience and invite journalists to a media dialogue with Dr Mosoka Fallah, known in the region for his science-focused leadership in the Ebola response.  He is now serving as Africa CDCs Technical Assistance Team Lead for the Saving Lives and Livelihoods (SLL) Programme.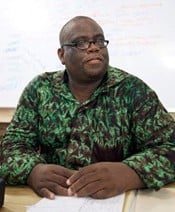 Dr Mosoka P. Fallah was the founding director of the newly established National Public Health Institute of Liberia. During Liberia's 2014-15 Ebola outbreak, he served in many different capacities. He began as the head of the Ebola response team for the NGO Action Contre La Faim (Action Against Hunger, or ACF). Later, he became head of contact tracing, case investigation, and active surveillance for Montserrado County. He received his Ph.D. in microbiology and immunology from the University of Kentucky and his master's degree in public health with an emphasis in infectious disease and epidemiology from the Harvard T.H. Chan School of Public Health. Dr Fallah is currently serving as Africa CDCs Technical Assistance Team Lead for the "Saving Lives and Livelihoods (SLL) Programme".
He has won several prestigious awards including being one of the Time Person of the year in 2014 for his work with Ebola, Quartz, Builders of Africa Future, USAID Health Persona and Development Person of the Year. 
How can West Africa address COVID-19 vaccine inequity? Register now to secure your spot!