AMMAN, JORDAN – The USAID Strengthening Civil Society and Media Systems (Sawt) Activity, implemented by Internews and partners, convened Jordanian civil society experts and government leadership – including U.S. Department of State Under Secretary for Civilian Security, Democracy, and Human Rights Uzra Zeya – to discuss challenges and opportunities to enhance collaboration between Jordanian civil society and the government. The panel agreed that civil society organizations (CSOs) in Jordan need sustained government support to thrive in crisis and unleash the full potential of its people.
While CSOs in Jordan are numerous and vibrant, barriers persist, including shrinking civic space, mistrust, and new operating restrictions in light of the COVID-19 pandemic.
Uzra Zeya, the Under Secretary for Civilian Security, Democracy, and Human Rights at the U.S. Department of State, delivered the keynote address. In her remarks, the Under Secretary underscored governments' need for civil society to ensure transparency and better futures for all.
"Jordan is famous for its mosaics, from Madaba to Jerash to Petra, all of which I have been privileged to see on past visits to your beautiful country. Each of these works of art is comprised of small pieces that together make up a coherent and beautiful whole. And that is how I look at civil society – a collection of many small organizations and individual initiatives that collectively can make up a much stronger, vibrant, diverse, and beautiful country," the Under Secretary said.
Dr. Amer Bani Amer, Director of the Al-Hayat Center for Civil Society Development, moderated the panel. Panelists included experts from the Jordanian Government and civil society:
Feda Gharaibeh, Specialist Advisor for the Minister of Planning & International Cooperation on Refugees, Ministry of Planning and International Cooperation (MOPIC).
Taha Magharez, Secretary General, Societies Registry, Ministry of Social Development.
Hadeel Abdulaziz, Executive Director, Justice Center for Legal Aid (JCLA).
Ahmad Zubi, Director of Community Outreach, Crown Prince Foundation (CPF).
Samar Muhareb, CEO, Arab Renaissance for Democracy and Development (ARDD).
CSOs have a unique opportunity to speak with the voice of entire populations, holding governments accountable and addressing problems peacefully and constructively.
"We cannot have a law that sets a roadmap while the regulations and instructions use loose, unspecific words, making things ambiguous and not-clear," Ms. Abdulaziz said. "When we give feedback [to the government], this is constructive, not hostile. It is a natural, healthy relationship between the government and civil society."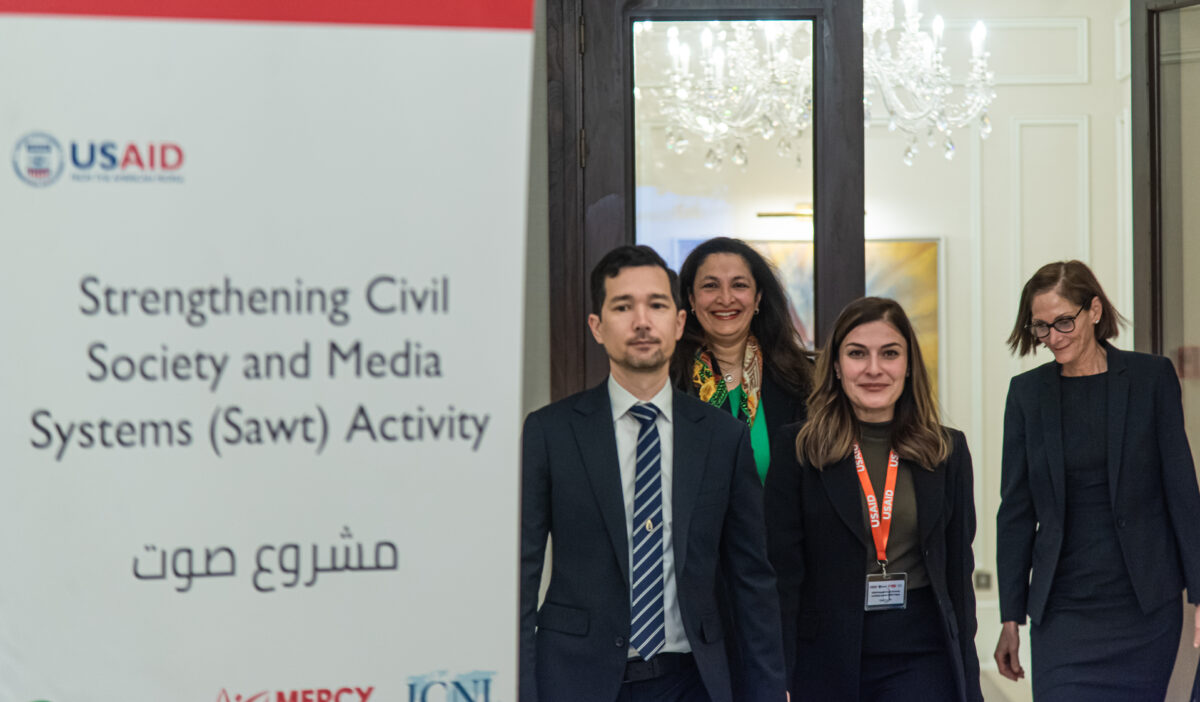 In Jordan, citizens often do not feel empowered by the government or civil society. Tightening the public-private partnership will help foster an open climate for debate, community-level engagement, and organizing initiatives.
"Our role is to turn the relationship from a competitive one to a collaborative one. The route is clear, but we need more effort, coordination, and trust between the government and civil society." Mr. Zubi said.
As other governments in the region take steps to restrict foreign funding of NGOs and close space for civil society, the panel spotlighted Jordan's opportunity to foster an open climate and work toward better outcomes at the local, national, and regional levels.
The panel's insights stressed the importance of the Sawt Activity's mission: to create a virtuous cycle of civic engagement in Jordan, where citizens feel empowered to question their leaders without fear of reprisal.
"Thanks to the support of USAID, the Sawt project will help amplify the voice of the Jordanian people, strengthen civil society organizations' partnerships with the government, and help ensure access to good, trusted information. This investment will help ensure a future for meaningful civic engagement and citizen representation in Jordan," Sawt Chief of Party Dima Jweihan said.