From Outrage to Opportunity: How to Include the Missing Perspectives of Women of All Colors in News Leadership and Coverage is a solutions-focused sequel to the award-winning independent reports, The Missing Perspectives of Women in News/COVID-19 News, authored by Luba Kassova and commissioned by the Bill & Melinda Gates Foundation. It examines the harsh realities facing women of all colors in news leadership and coverage in India, Kenya, Nigeria, South Africa, the UK, and the USA.
In both editorial leadership roles and in news coverage, women continue to be significantly under-represented in an industry persistently dominated by men. While women in news have it hard, women of color have it even harder. In countries with multi-racial populations, women of color experience greater exclusion in the news industry.
The report showcases the most extensive research ever carried out in these areas, presents 12 solutions themes to help news organizations, and reveals that the broader engagement of women could revitalise the news industry and generate billions of dollars of additional revenue.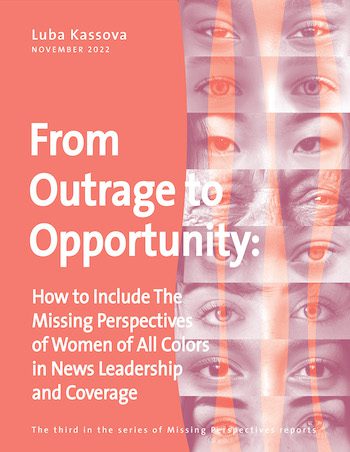 From Outrage to Opportunity is made up of six sections:
In addition, the nine case studies in the report have been brought together in one document.
The guide to reading the report will enable readers to decide which parts to focus on if time constraints prevent them from reading the whole report. Each of the individual report parts is available for download here.
Readers can explore the country factsheets for India, Kenya, Nigeria, South Africa, the UK, and the US. An investigation into the online news coverage of women in news/news leadership is also included as a stand-alone digital mini-report.
For those who wish to make a start at implementing the report's 12 solutions themes, a practical one-page 12 step guide is available.
Internews is a proud launch partner of From Outrage to Opportunity. Check out the inaugural launch event – moderated by Internews President and CEO Jeanne Bourgault: