The 2021 Summit for Democracy galvanized action to defend democracy, contest authoritarianism, and stand up for the human rights of all.
As part of the Summit for Democracy's Year of Action, governments around the world launched multi-stakeholder platforms, called "Democracy Cohorts," to take concerted action toward commitments in areas of common interest.
The Governments of Canada and the Netherlands, building on their leadership as the co-chairs of the Media Freedom Coalition and facilitated by Internews, built a Media Freedom Cohort to take advantage of this moment.
Protecting Journalists' Safety and Security: Advancing digital, physical, and psycho-social safety measures, as well as insurance and legal assistance, designed to protect journalists and other media workers. (Government of Germany, ACOS Alliance, IFEX)
Advancing Freedom of Expression: Strengthening legal and regulatory reforms that protect freedom of expression, as enshrined in Article 19 of the Universal Declaration of Human Rights and the International Covenant on Civil and Political Rights. (Liberia, IBAHRI, High-Level Panel of Legal Experts on Media Freedom)
Bolstering Independent and Diverse Media: Building funding models, industry standards and public policies that support the resilience and professional capacities of media outlets to survive and thrive in the coming decades. (Governments of the United Kingdom and the United States, Global Forum for Media Development)
The Media Freedom Cohort works to measure achieved progress on the commitments made at the first summit, to bridge gaps on the commitments where progress has been slower to attain, and to spark new, innovative commitments to measurably advance media freedom around the world.
---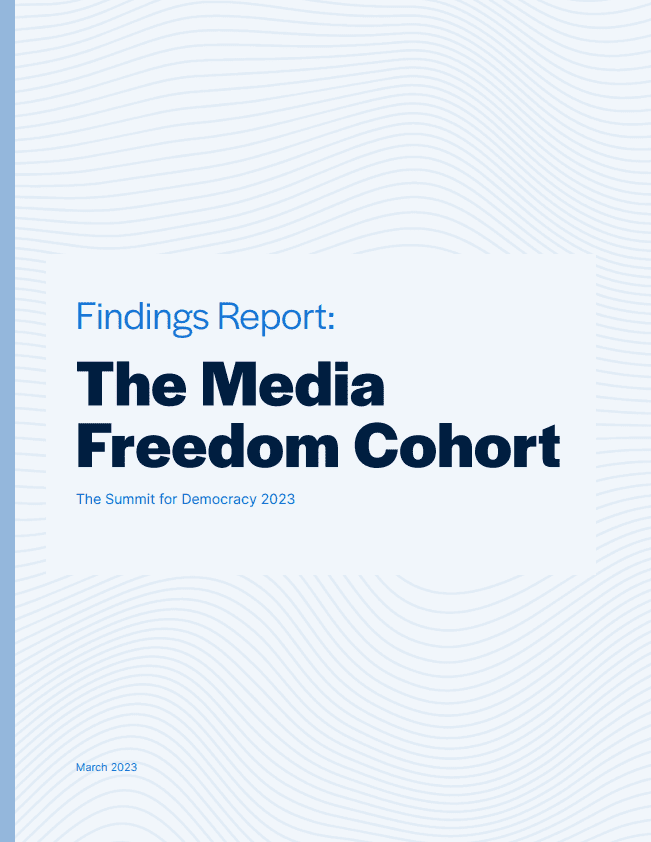 Read the Media Freedom Cohort's Findings Report
Exploring the Cohort's work and commitments to media freedom from over 100 governments, companies, and media support organizations.
---

Please note that this list is being updated daily, so check back on a regular basis.
In The Netherlands
The Netherlands regional event is focused exclusively on Media Freedom.
March 29
Hybrid Event
Thriving Media for Resilient Democracies!
Organized by: FPU
When: 9:30 – 12:30 CET
Where: "Amazon" room, World Forum, The Hague, The Netherlands
Organized by: GFMD, UNESCO, FPU, DW Akademie
When: 13:30 – 18:00 CET
Where: "Amazon" room, World Forum, The Hague, The Netherlands & Online
March 30
Hybrid Event
The Government of the Netherlands Media Freedom Talk Show
Organized by: The Government of the Netherlands
When: 15:00 – 17:00 CE
Where: World Forum, The Hague, The Netherlands
In Washington, DC
In Washington, DC there are ever-growing numbers of events on the sidelines of the Summit, in addition to the official events.
Summit organizers have declared Monday, March 27th as Partners for Democracy Day, a day in which civil society organizations are encouraged to self-organize democracy-related events. The Global Democracy Coalition has built a space to consolidate these events in a single place, where you can learn more and register for specific events. This site can be found here.
March 29: Leader's Summit
In-Person Event
Media Viability Accelerator Launch
Organized by: Microsoft, Internews & USAID
When: 3:30 – 5:30PM ET
Where: Microsoft DC Office
March 30: Regional & Thematic Events
Virtual Event
Championing Digital Democracy for All

Organized by: New America and Access Now
When: 9:00 – 11:00 EDT
In-Person Event
Advancing Technology for Democracy
Organized by: US Government
When: 12:30 – 17:00 EDT
Where: Washington Convention Center