On July 27-28, Internews Malaysia and the Center for Orang Asli Concerns (COAC), with support from the Dutch Minister of Foreign Affairs and the European Union, conducted an advocacy training at the customary hall of the Tendrik village at Pos Bihai for 35 Orang Asli (Indigenous minority peoples of Peninsular Malaysia) women from the Temiar tribe in Gua Musang, Kelantan.
The training centered on Indigenous women's rights and self-empowerment. It was the first time the group of women—who hail from the villages of Tendrik, Pahug, and Angkek—attended such a training.
Internews and the COAC conducted the training in both Bahasa Malaysia and the local Temiar language. It featured trainers and facilitators from COAC and Jaringan Kampung Orang Asli Kelantan (a grassroots Indigenous network in Kelantan): Lily Li, Faezza binti Panjang, Nora Kantin, KarLye Tam, and Dr. Colin Nicholas.
We developed the training module to encourage women to stand up for their rights, make informed choices about their health and well-being, and participate meaningfully in decision-making that involves their interests. On the first day, participants were introduced to the United Nations Declaration on the Rights of Indigenous Peoples (UNDRIP), which affirms the basic human rights of Indigenous people and their rights to self-determination. In this session, the women shared how they find it difficult to talk freely among family and community members due to the dominant role of men in their society. Discussions among them extended to rights in the Declaration, which are guaranteed equally to Indigenous individuals regardless of sex, and how these provisions are relevant to their daily lives.
Participants further reflected on various community-specific issues. For example, encroachment into their ancestral land by logging and plantation companies, different types of birth control options and their right to accept or refuse them, the poor quality of education and treatment of Indigenous children in public schools, and the dwindling of natural resources critical for their physical and cultural survival due to forest loss, among others.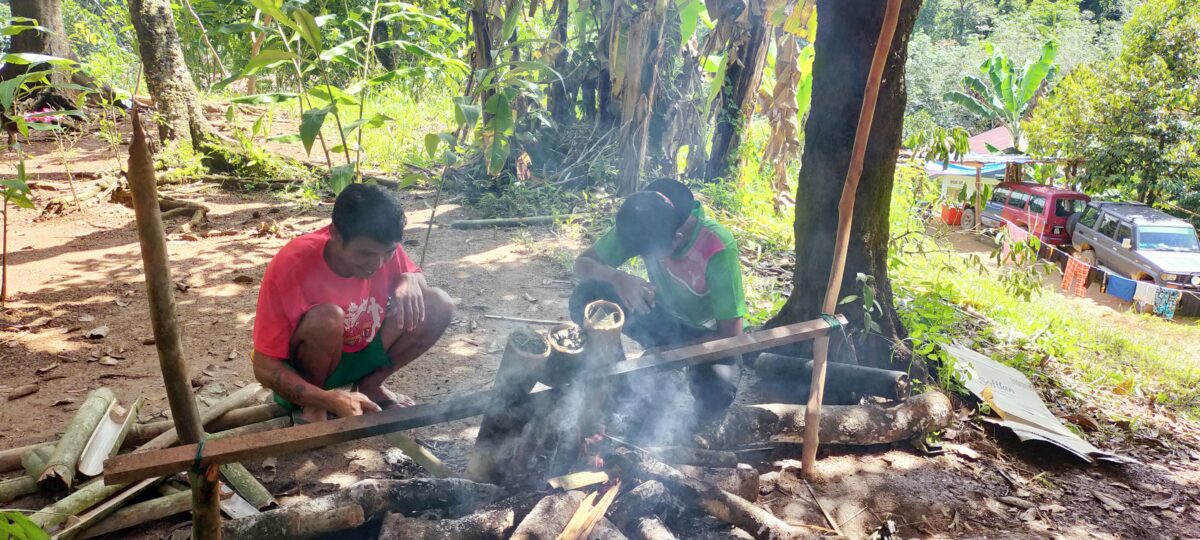 On the second day of the training, participants learned about women's political rights and the importance of having women representation in Indigenous leadership. This was followed by an introduction to community mapping, in which participants worked in groups to sketch the physical assets in their environments, such as rivers and ponds, burial grounds, schools, and herb gardens. This demonstrated their intimate knowledge of the community, highlighting what really matters to them—a unique and valuable perspective as Indigenous women are rarely given the opportunity to be involved in community mapping exercises.
The participants, aged between 17 and 65, highlighted how they enjoyed gaining new knowledge at the training and felt more confident speaking out on issues impacting them. Rosnah bt Mat Som, 28, from Kampung Tendrik, remarked that men tend to look down on women in her village and that, up till the training, she was not sure that she can raise her concerns. "The Department of Orang Asli Development (JAKOA) always engages men at Pos Bihai. As a mother of two, I want to try to voice out the challenges my children face in school. This training has taught me how to talk with outsiders like teachers," she said.

Another participant, Embun a/p Akim, 20, from Kampung Tendrik, was excited to attend her first training, which allowed her to bond with the other women. She said that in her village, women looked toward men for important decisions. "I usually sit outside the (community) hall and listen to the men discuss family and community affairs. I don't have the courage to participate in community meetings as I am afraid that I might say something wrong—but I will try my best to be more assertive in the future." She cited the incident of the tiger sightings near their village earlier this year, which left the women scared to leave the house alone to tend to their gardens and orchards. Although the sightings affected them greatly, they were not consulted on the matter.
Samsiah Along, 40, from Kampung Pos Belatim, appreciated the training's approach to empowering Indigenous women regardless of their setting. "I worked in restaurants outside of my village, but since I am not an educated person, I have always felt intimidated to communicate with outsiders. I wasn't confident before, but now I will try to put forward my ideas," she said.
At the end of the training, the participants agreed to set up a local women's network; this process will be facilitated by COAC.