By Jason MacLeod, Digital Threat Solutions Specialist at Internews
Across the globe, shrinking civic space, dwindling ad revenues, and pervasive mis- and disinformation threaten newsrooms' ability to publish lifesaving information and hold power to account. Amid these threats, the popularization of easily accessible AI tools has shocked and confounded those in the news and media space. Large language models such as ChatGPT and Bard have raised eyebrows and invited concern about their use in newsrooms – are they ethical? Are they biased? Will they cost jobs? Will they help mass-produce disinformation?
AI indeed raises far-reaching existential questions for the future of journalism and ethical reporting. However, zooming in on today's real-world applications of the technology shows ways it could be used to democratize news access and improve information-sharing. At Internews, we've seen firsthand how our partner media outlets – big and small, national and local – are already taking measured yet impactful steps to counter AI's risks while harnessing its power.
From Zambia to Manila, North Macedonia to Colombia, here's how they are doing it – and how we are supporting their work.
Innovations in Accessibility: Can AI Democratize Information?
One constant struggle for local and regional news outlets and advocacy organizations is accessibility: how do we get trustworthy information to the most people in a way that is most useful for them? Used thoughtfully and creatively, AI can powerfully and efficiently improve access.
Avatars Make News More Accessible
The Centre for Innovation and Technology (CITE) is at the forefront of digital technology and innovation in Zimbabwe. In May 2023, CITE's introduction of an AI-generated newsreader and avatar – affectionately named Alice – marked a pivotal moment in their mission to improve news delivery and audience engagement.
During Zimbabwe's election season, Alice assumed a prominent role, gracing online screens to host "Meet Your Candidate," a program dedicated to profiling various politicians on the ballot. Alice also provides "The Brief," a daily news bulletin. Zenzele Ndebele, CITE's Director, said, "There are consumers who ask, 'Where is Alice today?' So there is an appetite. They rely on Alice for their news."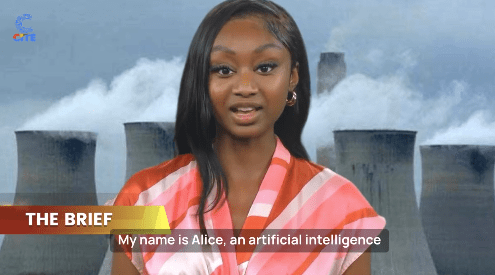 The fusion of video editing with AI avatar generation has revolutionized CITE's news preparation process. CITE's approach involves soliciting news updates from Google's Bard, refining the content, and entrusting Alice with the task of narrating it. Alice's broadcast comprises a meticulously crafted template detailing her gestures, integrated videos, and imagery. The desired script finds its way into the AI application, where Alice brings it to life.
As pioneers in their field, CITE places significant emphasis on ethical considerations: each AI-generated piece is clearly marked as such, underscoring CITE's commitment to transparency. At the same time, as Zenzele notes, "The use of Alice gives us more time to focus on content quality, story curation, and editing." The tool also represents a significant stride in news accessibility: Alice can tailor its word pronunciation to local accents and dialects, bringing vital information to historically overlooked communities, with improvements being made every day.
Text-to-Speech Tool Revolutionizes News Access
News outlets in Macedonia have long grappled with accessibility challenges. With Internews' support, Macedonian media outlet Gostivarpress.mk embarked on a three-month project to integrate AI-generated text-to-speech technology and ensure every news story has an accompanying audio version, making it more accessible to everyone.
Ivica Adamoski, founder of Gostivarpress.mk, said, "We wanted to introduce something new to our work based on artificial intelligence, but the main priority was to make that innovation really useful." Gostivarpress.mk subjects each audio piece to stringent review before making it available to the public.
In a touching testament to the initiative's success, the visually impaired community has deeply benefited from this innovative venture. The Association of the Blind and Visually Impaired expressed profound thanks, highlighting the remarkable ways in which this technology has revolutionized access to news content.
When it comes to measuring impact, the data speaks volumes. Visitors are spending more time on the site and exploring a broader spectrum of content – especially those who are visually impaired and older demographics unfamiliar with advanced technology. Gostivarpress.mk's innovative approach proves that something as simple as reading the news out loud can bring meaningful information access to those who have historically gone without.
Helping Grassroots Advocacy Campaigns Flourish
Grassroots advocacy organizations continually seek more efficient ways to share their message and rally support. Ximena Arrieta, cofounder of Accionar.io in Mexico, said they wanted to design a tool to "enhance the processes of change and support the activists and the movements we work with." Historically, advocacy campaign design and development took an average of one month, a painstaking process demanding both time and creativity. However, with the introduction of their initiative Accionar.ia, "we are doing it in two one-hour sessions," said fellow Accionar.io cofounder Abel Valdez.
Accionar.ia leverages the power of ChatGPT-4 and merges it with its own existing custom datasets – which include community organizing methodologies, rich theoretical content from luminaries in the field, and comprehensive national development plans. The result is a locally relevant campaign plan that draws on global best practices. The swift design phase that Accionar.ia facilitates means grassroots organizations can now allocate more of their time to the implementation phase. With more freedom and less time bogged down in the design phase, participation costs plummet, allowing even smaller organizations a broader reach within and beyond the communities they represent.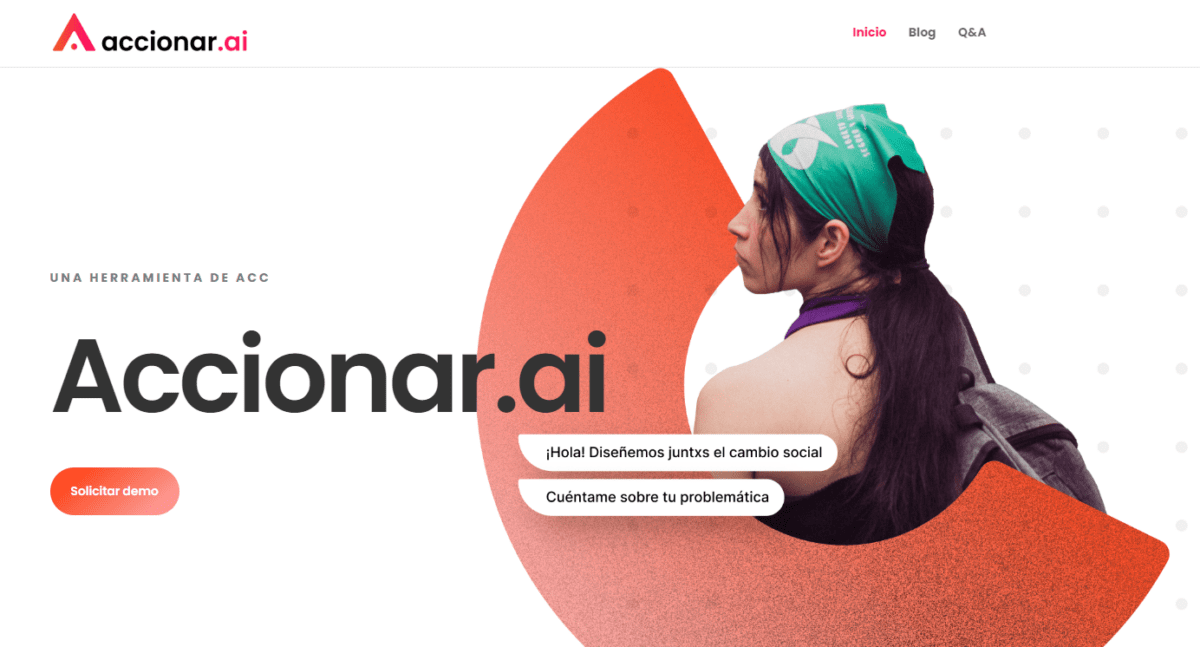 Accionar.io supports activists and movements to create advocacy campaigns quickly and easily.
Looking to the future, Accionar.io is tackling the challenge of training "future or present generations so that they see this as a tool that can empower and liberate them creatively and not as a tool that is going to replace them."
Collective Action to Set Best Practices & Ethical Standards in Newsrooms
Amid AI's rapid expansion, journalists and media professionals are understandably keen to learn how to use it responsibly in their work. Through impactful trainings and convenings with other stakeholders, media outlets are establishing ethical norms and guidelines, proving that a biased technology can serve diverse communities if those communities are empowered to build rules and practices around it.
Developing a National Research Agenda on AI
The Internews in Zambia team is currently developing a novel research initiative examining AI practices in Zambian newsrooms. The project will survey 100 journalists across various media platforms to gain insight into their needs and aspirations surrounding AI.
The initiative was born from a series of training programs educating community newsrooms, with a focus on local radio stations across the country, on the vital aspect of AI ethics. Training materials included the documentary "Coded Bias," a six-week course from The London School of Economics' JournalismAI initiative, and discussions unpacking the intricacies of AI biases and exploring how to craft uniquely African datasets and visions of AI. Insights for these conversations inspired the Internews in Zambia team to develop their upcoming research project, a major step toward helping newsrooms harness the power of AI in ways that will be culturally relevant to Zambia.
As the Internews in Zambia team develops the project, other initiatives include creating easily accessible datasets for journalists using AI to report on the national budget, information integrity, and elections. With diligent training, robust research, and community engagement, the Internews in Zambia team is ensuring Zambian journalism not only adapts to the AI era but thrives in it.
Competing Newsrooms Join Forces to Craft Ethical AI Standards
In the Philippines, leading national media entities, small local news agencies, and NGOs convened under a single umbrella to collectively craft an ethical AI framework that ensures every stakeholder – from editors to reporters – has an influential voice in AI's future in Philippine newsrooms. Many voices in these conversations came from representatives of rival organizations; this unprecedented cooperation speaks to the ubiquity of AI's challenge.
The ethical AI framework was exceptionally well-received. Internews presented it to the National Conference of the Journalism Studies Association of the Philippines in October. In a first, participating organizations all committed to using the framework as a starting point for more comprehensive discussions with academia and the wider news community. The workshop in Manila proved a shared dedication to the core principles of responsible journalism even amid rapid technological advances.
AI in Newsrooms: Friend or Foe?
AI technologies are defining the conversation about the future of media. Pessimists have valid fears that AI could destabilize ethical reporting and deepen societal inequalities. However, as Microsoft President Brad Smith put it years ago, every new technology can be either a tool or a weapon – and it's up to responsible parties to ensure that constructive applications win over the destructive ones: "Technology innovation is not going to slow down. The work to manage it needs to speed up."
As we continue wrapping our heads around the future of AI technologies and tools, we must learn to see them as just that: tools. At Internews, we seek to find ways they can be wielded correctly and ethically – so that their transformative potential to democratize information is realized.