Staggering statistics are reported every year on the state of pollution around the globe. Approximately 7 million people die annually due to indoor and outdoor air pollution, while 99% of the world's urban population lives in places where air quality frequently falls below the World Health Organization's (WHO) recommended guidelines, posing a significant threat to human life and the environment.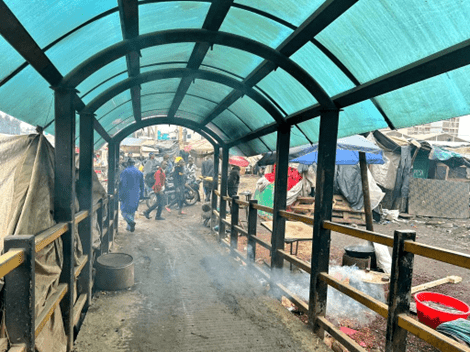 It is on this premise that Internews' Earth Journalism Network (EJN) and the global Clean Air Catalyst project consortium which is funded by the U.S. Agency for International Development (USAID) to offer a globally applicable approach to developing locally tailored, self-reliant solutions that cut air pollution and improve human health in cities in Low and Middle-Income Countries (LMICs), organized a training titled "Air Pollution In Nairobi: Sources and Impacts." The media workshop aimed at enhancing reporting on air pollution, was held in Nairobi from May 8-10, with the participation of 30 journalists from Nairobi County. The journalists, half of whom were women, were from both mainstream and freelance media organizations, covering a range of different beats and news platforms including business dailies, environmental magazines, radio stations, and broadcast television.
In her opening remarks, Maureen Njeri, the County Executive Committee Member (CECM) of the Nairobi City County Government, expressed her hope that the workshop would foster improved reporting on air pollution in Nairobi, with a particular focus on its impact on people of all genders and ages. She emphasized on the workshop's objective being to raise public awareness and understanding of the key sources of air pollution while catalyzing effective solutions to mitigate its harmful effects on human health.
The workshop brought together expert trainers and speakers from the media, environmental consultancy groups, academia, county government, development organizations, and the Clean Air Catalyst consortium in Kenya. The invaluable benefit of collaboration amongst the various actors present was emphasized as a means to mobilize for clean air solutions to improve air quality in Nairobi. Participants also discussed how to identify crucial gaps and dispel misconceptions about the health impacts, sources, and solutions to air pollution. Additionally, they highlighted the importance of integrating air quality into ongoing public health efforts, particularly regarding child survival and non-communicable diseases.
The journalists were also trained on gathering and utilizing data on air quality and greenhouse gas emissions in their reporting. They learned techniques to make the causes of pollution more visible and to amplify the voices of those most affected by it, including using gender-sensitive approaches when reporting on pollution stories.
One effective session of the workshop was the integration of field trips into the participants' learning experience. To gain practical insights, participants attended lectures by local scientists at the Institute of Nuclear Science and Technology at the University of Nairobi and also interacted with community members at Nairobi's Cabanas Bus Stop to understand air pollution issues from a local perspective.
"It's intriguing to discover that motorbikes contribute more to emissions in Nairobi than cars." – said one of the participants after the field trip. "Comprehending the real-life effects of air pollution and potential solution strategies through the field trip was an instrumental part of my experience at this workshop" – added another.
At the culmination of the workshop, the journalists received exciting news that EJN would soon be launching a story grant call. This announcement sparked enthusiasm among the participants, who eagerly expressed their intentions to leverage the skills they had acquired to generate fresh and compelling air pollution narratives.
"I will use the skills learned in data journalism and leverage social media to produce current and impactful stories. Moreover, I will use the experience from the field trip in planning, researching for, and conducting fieldwork." – A participant's review of the workshop.