By Adèle Sulcas, Internews Pandemic Mentor
Since COVID-19 started to take over our lives at the beginning of 2020, journalists everywhere have had to cover the pandemic – even those with no health-reporting experience or skills. Reporters who had never covered health or science before have had to rapidly pivot their focus and add to their knowledge, either to cover their existing beat in the context of COVID-19, or to report on the pandemic itself, especially in countries where 'health reporting', per se, has traditionally not been high on the national news agenda.  
HIV and Ebola science gave researchers a head start with tackling COVID-19, and journalists too
For those who had covered health before, those earlier health-reporting experiences gave them a running start in following the swift moving science of COVID-19. This is especially so in Sub-Saharan Africa, where journalists have in recent years had to cover their countries' Ebola epidemics and outbreaks, as well as the long-running HIV pandemic, whose burden falls heaviest on that continent.
In July 2020, a survey performed by the Reuters Institute of 73 journalists from international news organizations showed that only 4 percent had been specialist health reporters to begin with, but 74 percent were at that point reporting on health-related matters linked to the pandemic. (Around 70 percent were also suffering from varying levels of psychological stress related to their work.)
Countries' initial responses to the Ebola outbreaks in West Africa and the Democratic Republic of Congo were undermined by misinformation and harmful rumours, and the early response to HIV was hobbled by stigma, shame and denial. These damaging attitudes have substantially diminished, in large part due to journalists' explanations of the science behind the disease. Their ability to quickly tap into reliable sources and accurate data, combined with the mixed blessing of social media, has been a long-running success factor in the public's improved attitudes to Ebola, HIV and other kinds of contagion.
Pandemic preparedness
African journalists, who are among those who have dealt with the concurrent emergencies of Ebola and HIV, say that lessons and learning from their previous writing about those two diseases has dramatically enhanced their ability to report on COVID-19.
"We already knew the difference between a 'rapid' test and a 'DNA PCR'," says Anna Miti, who freelances for the Zimbabwean Broadcasting Corporation, referencing the laboratory-based 'polymerase chain reaction' (PCR) process considered the most accurate diagnostic tool for COVID-19. "We had already covered it with PMTCT [prevention of mother-to-child-transmission of HIV], how newborns require a blood spot test for the PCR, so we already knew there was a difference in why a PCR test is more accurate than another type."
In addition to being equipped with more specialized health-related knowledge, they also had previously established reliable sources within their local environments.
And they had already mastered the semantics of public health (when is a rapidly spreading disease an 'outbreak', an 'epidemic' or a 'pandemic', for example?) as well as much of the science underpinning public and clinical-health measures. They knew "the right questions to ask," says Anna Miti, in terms of learning about a new public health threat.
Sabotaging the truth?
But in many countries, journalists of all stripes lament the fact that in the absence of reliable information and data, and in some contexts with governments' downplaying the severity of the coronavirus pandemic, it is difficult for them to [do their job properly].
In Kenya, daily briefings by the health ministry were restricted to a very small number of media houses, says Aghan Daniel, who runs an NGO called Media for Environment, Science, Health and Agriculture (MESHA). The briefings included mainly political, 'big name' journalists with little understanding of science. This raised several red flags for journalists on the fringes trying to report accurately: A distinct lack of facts, mainstream media's appearing to 'hide' the story, regurgitation of case numbers given by government without interpretation, and no explanation of where government's COVID-19-dedicated funds were going. Even basic explanations were ignored, Aghan says: "For example, 'contact tracing' – it wasn't explained what it meant, not even 'when is a contact a contact'?"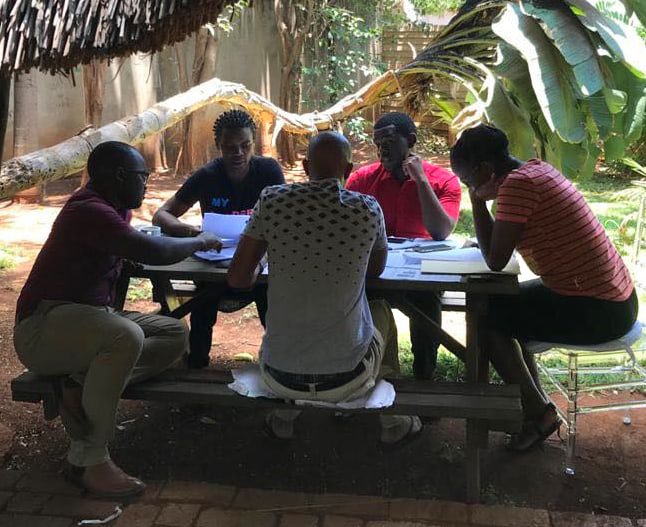 Anna recounts how at the beginning of Zimbabwe's COVID-19 epidemic and first lockdown in March, President Emerson Mnangagwa said, cryptically, "Zimbabwe is ready for COVID-19" with no further elaboration. "Journalists were asking, 'when you say "ready", what do you mean?'" Miti says. "We never really got to go deeper than that. As health journalists in Zimbabwe, politics takes precedence.
"We were caught unawares," Miti says. "By the time we had our first case, which became our first death from COVID-19, [we learned that] the patient died because he had no access to a ventilator, even though he had been admitted at a COVID-19 center that had been designated 'ready' to admit patients."
Worse still, this first failure in clinical care for a COVID-19 patient did not, Miti says, open up Zimbabwe's epidemic preparations for scrutiny. This, despite the fact that the story became "a huge scandal," Miti says, explaining how the story turned into a political battle between the ruling Zanu PF party and the opposition, in whose territory the 'designated center' was located.
The death of this patient did, however, amp up the public's demand to know more about the epidemic. The story built up steam in social media rather than in the mainstream press, and led to other centers being opened, Miti says, "but I wouldn't say it led to greater transparency".
With such obstacles, only seasoned health journalists like Miti were able to ask the questions that created bottom-up awareness. An epidemiologist went on to do a live phone-in program, Miti says, which gave health-beat journalists an opportunity to reflect on deeper questions, which had not been asked in the mainstream media. This enabled them to say "what needed to be said," Miti recalls. It was also an opportunity to address questions of stigma and discrimination around COVID-19.
Aghan's and Miti's stories are alarming – but not unique, especially regarding unreliable information coming from government sources. Zarina Geloo, who is one of the coordinators of the Media Science Cafe in Zambia, echoes the mistrust of information provided by official sources, and sees through government's efforts to tightly control official briefings in order to avoid probing questions – especially relating to a health sector that "was, and still is, shambolic," according to. But like many health-journalism 'veterans' with years of HIV or Ebola-related experience, Geloo says she and others have learned workarounds; they have the health knowledge to probe and have found alternative sources when the 'official' ones come up short.
"Where I couldn't ask the questions," Geloo says (she was not invited to government briefings), "I was prompting the selected few who were allowed to attend, trying to get answers from policy makers." Geloo describes having questions around Zambia's use of hydroxycholoroquine as a treatment for COVID-19, once scientific evidence showed that in fact it was ineffective, and possibly harmful. "I think I prompted the Ministry of Health to come out categorically and admit that even though they were saying it was not a treatment, they admitted they were using it – and it only came out after my constant badgering."
Not just knowledge but insight into government communication tactics (or evasion) from years of reporting on HIV/AIDS "really kicked in," Geloo adds, "sometimes to the detriment of myself and the reporters that we're mentoring, because everything became a question. What surprised me about myself when COVID-19 broke out was how critical or skeptical I was about every single thing that was being said, from the way it was transmitted to the rest of the science behind it. Having covered HIV for so long, when it was 'hit and miss' for some many years, I felt it was the same with COVID-19. Even when the science is there, I want 'proof, proof, proof'! I have become hypersensitive about what comes out of the mouths of policymakers."
Anna Miti, Daniel Aghan and Zarina Geloo are all media partners supported by AVAC and Internews to host regular science media cafés, where journalists learn to translate complex science and network with the science and health advocacy community.
Advocacy advances
Alongside the learning process for journalists drawn from their previous experiences reporting on HIV and Ebola, there have been lessons for those doing health-research advocacy, too, drawn from and building on the HIV response, in particular.
Stacy Hannah, who is Director of Research Engagement at AVAC and also director of the USAID-supported Coalition to Accelerate and Support Prevention Research (CASPR), wrote a blog post that begins, "In biomedical research, there is a 'before HIV' era, and the world we live in now." Hannah's blog describes how years of work by HIV advocates and researchers has accelerated both progress and collaboration in the fight against infectious diseases – approaches and partnerships that are now also advancing the fight against COVID-19. The most high-profile case in point is the use of HIV vaccine platforms that are being used in accelerated COVID-19 vaccine research.
One of the greatest contributions of the HIV research advocacy movement, Hannah says, is the Good Participatory Practice (GPP) Guidelines developed by AVAC and UNAIDS, which provides trial funders, sponsors, and implementers with "systematic guidance on how to work most effectively with those for whom the stakes are highest" in the research, especially clinical trial participants.
Journalists who have followed the progress (and failures) of clinical trials for HIV drugs and vaccines are well versed in the clinical trials process, making their reporting on the accelerated race for a COVID-19 vaccine that much easier. They know which questions are valid, and which are based on bogus claims.
Know your audience
Journalists who have followed health stories also acknowledge crucial lessons learned from HIV and Ebola in terms of how best to reach people to help them understand the behavior changes they need to adopt to curb the spread of disease. In 2015, at the height of the Ebola epidemic in West Africa, James Papy Kwabo, a Liberian radio journalist with extensive health reporting experience, established Youth Talk Liberia, a radio program for young children raising awareness about the disease. He now runs another youth radio program, called 'Facts about Coronavirus, with 350,000 listeners in Liberia and neighbouring Guinea, whose main audience is young people between 18 and 35.
"Denial is a major issue," Kwabo says, about audience attitudes to disease threats, which he can attest to regarding HIV, Ebola, and now COVID-19. "You need to prove yourself as a trusted source of information. If the community trusts you, you will have behavior change." Kwabo is sensitive to the cultural issues underpinning such denial: "People have preconceived notions. And people believe in their traditional leaders – so the first thing [you need to do] is convince the traditional leaders to believe [the facts], and produce programs in languages they can understand." Between 80 and 90 percent of his program's airtime is spent on awareness, Kwabo says: "Anytime the radio is on you have to talk about the existence of COVID-19 and changing behavior. It's a process, it takes time. And it has been very effective."
The way COVID-19 has transformed journalists' lives is, as with many things related to this pandemic, unprecedented. Journalists who have covered health before have used their  headstart to help the world make sense of the science behind these diseases and their responses.
On the shoulders of giants
"Some of the global giants of virology and infectious disease, Dr. Tony Fauci in the US, Prof. Salim Abdool Karim in South Africa and Dr. Mosoka Fallah in Liberia are leading science voices in the COVID-19 response. It's no surprise and it's the same with health journalists", says Internews Global Health Adviser Ida Jooste. "Expertise in a related area gives you the edge in the COVID-19 response, both as a scientist and a journalist".
But the learning never stops. Internews' pandemic response now includes working with journalists on questions like "what next?" COVID-19 is just the latest in a growing trend-line over the past 20 years of zoonotic diseases that have done a species jump, and it may be the 'dress rehearsal' for an equally or even more virulent airborne pathogen to come. It is unlikely to be the last global pandemic we will experience in our lifetimes.
And then the next question: "what if facts are not enough?" The tide of misinformation on COVID-19 has made an already tough story, testing for even the most experienced health journalist. Beyond getting a handle on the facts, journalists are now learning how to ensure that good information 'sticks' and that audiences do what is best for their health.
(Banner photo: A Media Science Café (physically distanced and masked in COVID times) in Migori, Kenya. Credit: MESHA Kenya)