A volcanic eruption in the Democratic Republic of Congo this spring led to mass confusion and a lack of trusted information.
In response, Internews' team created Volkeno ni Jirani, an emergency media program designed to inform more than a million people and stop the spread of misinformation.
---
By Frederic Alinabo
"We felt safe from false information during the volcano crisis because of the Volkeno ni Jirani program initiated by Internews."

Espoir Nama, Goma, DRC resident
The situation
On 22 May 2021, the Nyiragongo volcano erupted close to Goma, home to one million people in eastern Democratic Republic of Congo (DRC). Aftershocks resulted in unsafe structures and a mass evacuation.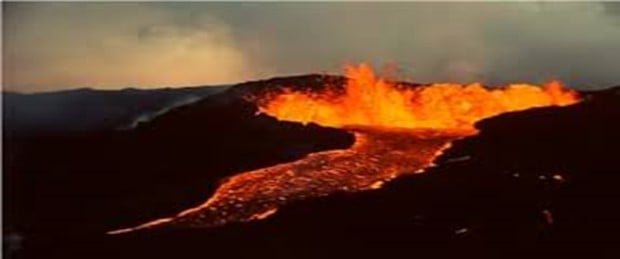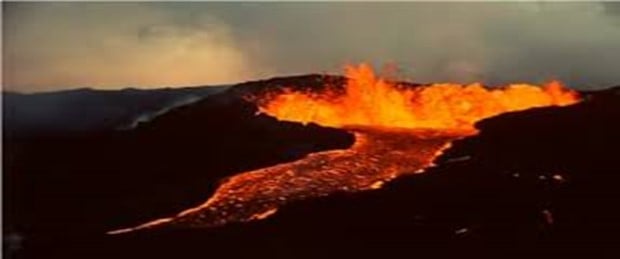 According to UNHCR, an estimated 450,000 people had fled Goma by June 1, some fleeing to the neighbouring town of Sake in the eastern province of North-Kivu, others across the border into Rwanda.
Most radio stations could not produce and broadcast news anymore, except official statements and communiqués from local authorities.
Our team in DRC soon realised that there was a breakdown in communication between those who were forced to leave their homes (internally displaced persons, or IDPs), and the communities to which they fled. Neither group had complete or accurate information about the current situation and how it would affect their lives. Misinformation spreads easily in an information vacuum like this.
The response:
Filling in the information gap to save lives
Our DRC office put together a dedicated task force to coordinate two media projects that continue to provide vital information via phone recordings, SMS messages, and radio news bulletins.
The Volkeno Ni Jirani – A daily radio news program fills urgent information needs
Volcano Ni Jirani ("Our neighbor volcano") was a twice-daily radio program produced for 10 days following the eruption in French, Swahili and Kinyarwanda, by Internews and our partners CORACON, the North Kivu provincial network of community radios, and Pole FM, a youth-oriented community radio station.
Providing key information on the eruption and governmental and humanitarian support to communities. Volkeno Ni Jirani aired on 10 radio stations in DRC, in Goma, Kalehe, Bukavu, Kabare, Masisi, and Rutshuru, as well as three stations in Rwanda, in Kigali and Rubavu.
Additionally, our team supported Aw'Art, a youth-led cultural initiative of young musicians and artists, which produced Tusimame juu ya Goma ("Let's stand for Goma") a song by local artists Fred Kabeya, Bany, and Voldie Mapenzi, which aired on 13 partner community radio stations.
Additionally, all produced content was made available on Radio Congo Share, a nationwide radio program exchange platform, as well as the Afia Amani Grands-Lacs website and related social media.
Volcan Alert Info – SMS messaging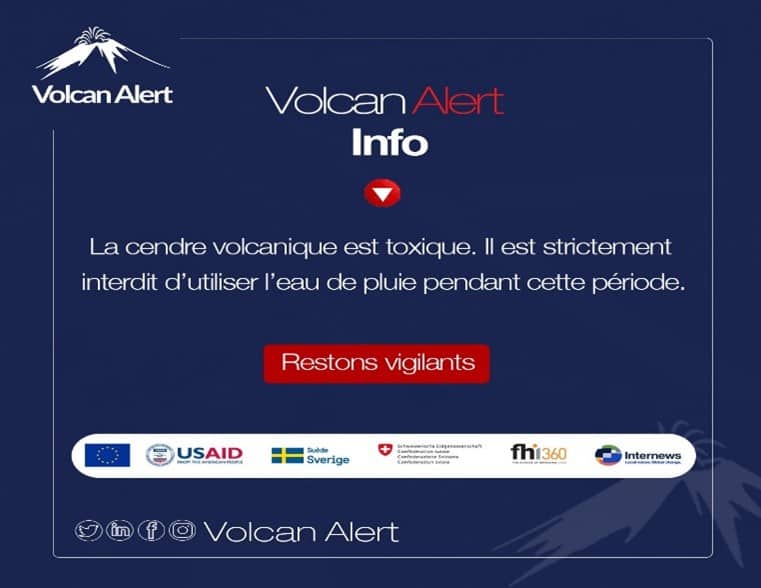 Beyond radio, we partnered with a group of young developers in Goma and Viamo to create the SMS platform Volcan Alert.
Volcan Alert provided reliable information on the eruption, official communications, and health information directly to individuals.
The Results
Our approach is rooted in engaging communities through local media, to ensure active participation by those most affected by disaster, and two-way information exchange.
Our emergency response media reached an estimated million people both in DRC and Rwanda, with more than 200,000 interactions on social media and other platforms. The SMS Volcan Alert platform sent more than 360,000 SMS messages to local subscribers.
As most media outlets weren't operating at the time, Volkeno ni Jirani played a key role in addressing information gaps by producing accurate, well-researched information on local platforms. Leveraging already-trusted local radio stations helped build trust in the information. Everyday people affected by the eruption and displacement had access to sources of information by calling the stations directly, as well as reaching out through SMS, social media, and Whatsapp groups.