By Gerson Merari Saleleubaja
Sulaiman Siritoitet's clothes were wet when he alighted from the pompon, a motorized canoe, at Muara Siberut, a district town on Indonesia's Mentawai Island. He had just spent five hours onboard the canoe, the main form of transportation in the isolated South Siberut region, drifting down the Sarereiket river to come from his village, Matotonan, deep inland.
Siritoitet, 34, was one of the 12 participants of a three-day video training for Indigenous communities in Mentawai, an island off the coast of Indonesia's West Sumatra province. It was held by the Citra Mandiri Mentawai Foundation with the support of Internews' Earth Journalism Network and took place at the Uma Jaraik Sikerei studio in Muntei village from 26-28 May 2021.
The training is the second in a series of five, including one specifically for women, and it's aimed at providing its participants with the necessary skills to produce quality video content and sharpen their sensitivity to local environmental problems, especially in managing natural resources and applying local wisdom.
Participants are given training in photography, interviewing and film editing, while also learning about the environmental issues facing Mentawai communities and how to report on them.
"They are expected to become citizen journalists who actively report on their regions, especially on environmental issues," said Yuafriza, the Training Project Manager for the Mentawai communities of the Citra Mandiri Mentawai Foundation.
Yuafriza, better known as Ocha, said that one of the biggest environmental challenges in Siberut is the struggle to receive recognition and ownership over their Indigenous territories. Without recognition, the people are unable to prevent Indonesia's national government from approving permits for work that damages the land.
For Siritoitet, however, there are other problems. He worries that a biomass-fueled power plant in the area that uses bamboo as raw material could prompt the conversion of people's food-producing agricultural land into bamboo plantations.
Siritoitet, who has already produced several videos for his own personal YouTube channel, said the training has been very helpful for him in producing better quality videos. Up until now, the videos he had produced had not been as effective in delivering the intended message.
"This training was interesting and has broadened my knowledge," he said. "I learned how to take shots, how to make scripts, and edit. I am very grateful to YCMM."
Following the training, Siritoitet plans to expose the potential impacts and threats that come with the power plant in his village. He aims to mobilize his peers to jointly control development in his region so that it does not harm the environment or the people's economy.
Another participant, Kosnadi Samaurau, wants to explore the transportation difficulties faced by people in his village who need to bring their crops to the local economic center. With perennial flooding during the rainy season, farmers are deeply impacted.
"The problem of flooding remains unsolved until this day," he said. "The impact is that people always suffer losses because their field, the sources of their livelihood and food, are damaged by the floods."
For Teofilus Samemek, who is also a YouTuber with 72,900 followers, the training gave him a lot of technical know-how, especially on how to take pictures and achieve better lighting. Teofilus said he has uploaded 390 videos about the Mentawai Indigenous people on his channel.
"I have already produced a lot of videos, but they have a lot of weaknesses, especially regarding lighting," he said. "Many of the videos that I made, I was not satisfied with, and this training is motivating me again."
Teofilus said he will continue to make videos about his community and the environmental conditions that surround them, with stronger messages.
Klementina Ika Tasiripoula, the only female participant, said she was enthusiastic and happy to participate in the training, although all the knowledge provided was still new to her.
"I'm happy, even though everything is new to me, especially about the editing. I have a lot more to learn," she said, adding that after the training she plans to promote Mentawai women's stories, particularly their effort in maintaining their culture, including the local food.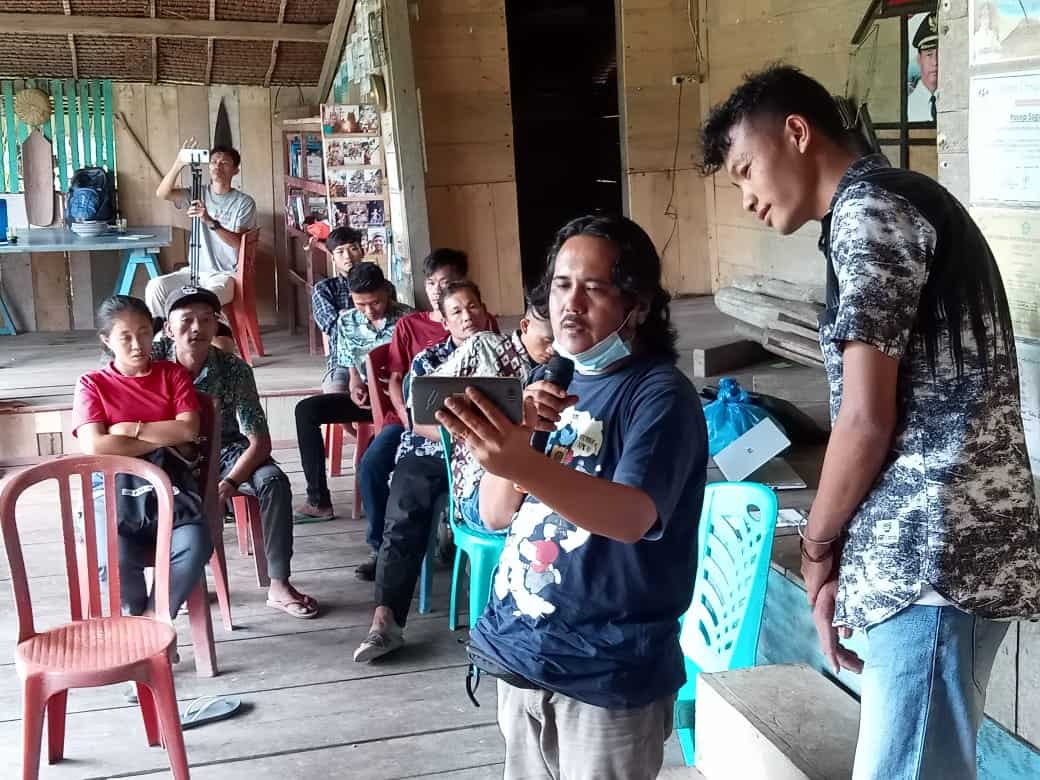 Aidil Ichlas, the trainer, said in addition to the technical journalism and video skills such as image recording and editing, participants were also trained to strengthen their empathy for problems faced by Indigenous communities and environmental destruction.
"Because these participants will become citizen journalists who will report on the environmental conditions around them, we try to deepen their empathy or concern for their environment," Ichlas says. "Then, the content they produce carries an environmental perspective and also has a human side."