To be effective, public health messaging needs to not only inform, but also make personal connections that resonate with audiences. The #BreatheKyrgystan (#ZhashaDemal) information campaign, an innovative approach based on data and a clear understanding of local audiences, was developed to help prevent the second COVID-19 wave in Kyrgyzstan.
Content across the campaign was engaged with more than 1.5 million times across social media and television – the equivalent of engaging every third internet user in the country. Videos were broadcast on more than 20 TV channels, which together reach 97% of Kyrgyz TV viewers.
The campaign takes a holistic "ecosystem approach," creating customized messages on specific platforms for a wide range of audiences. One video series aimed to speak to an older, more traditional audience, creatively presenting how the new reality of COVID-safe practices can be adapted from the traditions of the Kyrgyz people. For example, the following video shows how the traditional etiquette of greeting while riding a horse, a hand across the heart, can be adopted as a new norm of social greeting, and how the tradition of blessing beloved ones after the meal can be maintained distantly, across Zoom. Another existing norm, washing hands before entering a nomadic yurt, can be supplemented with hand sanitizers.
Meanwhile, to reach youth, the campaign engaged popular Kyrgyz influencers from TikTok and Instagram to share a trend-setting idea: Wearing a mask is fashionable and safe. The @maskachan.kg page on Instagram has become a meeting place for young people to get acquainted with new trends and discuss social aspects of the pandemic.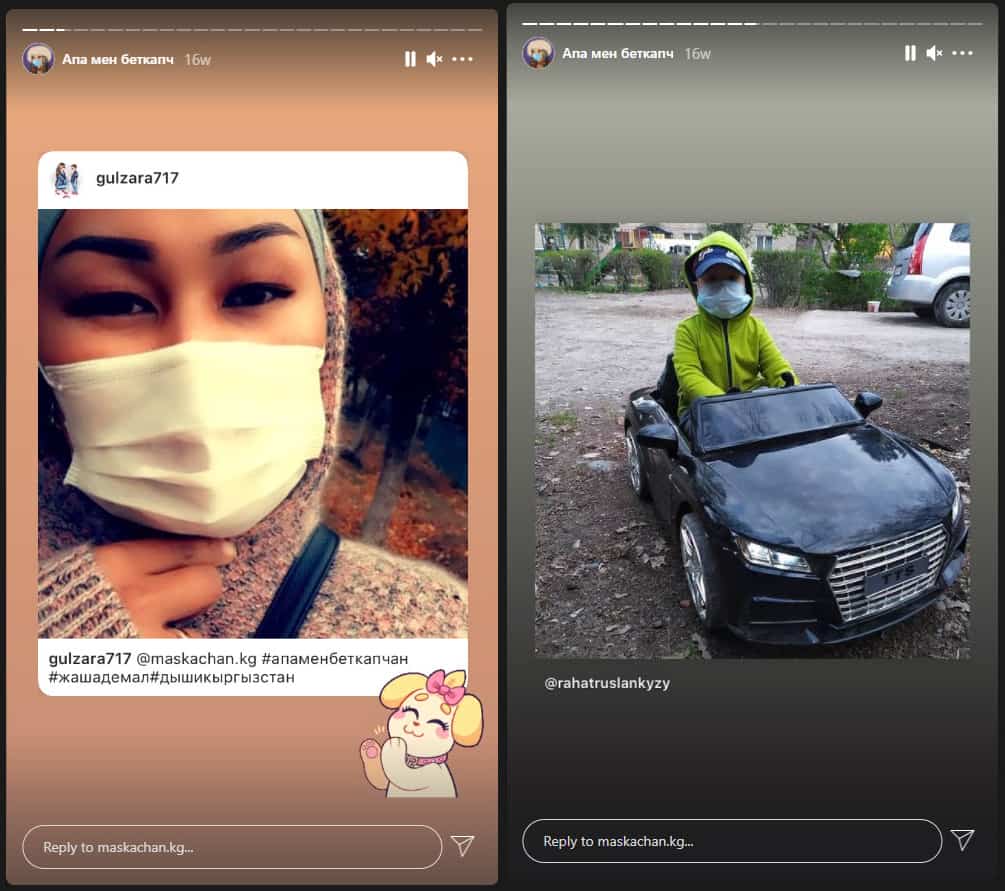 The campaign reaches language minorities, creating content in Uzbek in addition to Kyrgyz and Russian, and providing subtitles for the deaf community.
Children, too often overlooked but highly susceptible to the fear and confusion surrounding the pandemic, were not only an audience, but important co-creators of content.
In a video campaign aimed at children, developed with support from psychologists, Santa Claus disclosed his own COVID-19 experience and asked viewers to share advice on necessary preventive measures.
The #BreatheKyrgyzstan videos were so successful that the Ministry of Health, Vice Prime Minister, and government press service volunteered to disseminate them. Some of the songs commissioned for campaign videos have also been broadcast by radio-stations as popular jingles. Experts consulted in the development and distribution of the campaign praised it for its inclusiveness and production quality.
The campaign continues through May of this year.
The national information campaign #ZhashaDemal was launched by Internews in the Kyrgyz Republic under the USAID-funded Local Health System Sustainability Project (LHSS) in October 2020 to counter widespread misinformation and prevent the second surge of COVID-19.