Thu Thu Hlaing is excited about developing a marketing strategy for Khayae FM, Myanmar's first pilot community radio station in Htandapin, the outskirts of Yangon. Thu Thu's job is to lead station operations day-to-day, as well as ensure the station's sustainability. She recently participated in a media leadership program conducted by Internews, along with five other women.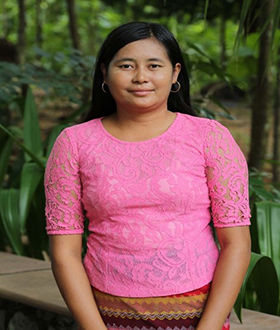 "As a station manager, I came to realize how to mentor my team thanks to this training," said Thu Thu at the completion of the intensive two-week long training and work placement. "The visit to the newsroom was very good for me as I learnt much about marketing and information technology. I liked the practical IT sessions as well. After this training, I am planning to draft the marketing strategy for our radio station."
The five-day training in Yangon focused on issues such as gender inclusion, newsroom management, and newsroom leadership, and on social media skills such as using Facebook for effective news postings and basic blogging and WordPress skills.
"In my organization Mandalay FM, I have to do both reporting and marketing for my region," said Thet Thet Nyein, Senior Reporter for Mandalay FM. "I really wanted to start writing a page for my FM Station. My plan is to post everything we broadcasted on my social media page or a web page. Now I think I am ready to start a new chapter!"
In the independent Myanmar media sector, most of the newsrooms are relatively small, private operations with limited scope for career advancement, especially for women journalists and editors.
"My future plan is to develop a news page for awareness-raising around women's issues," said participant San Nu Khine who is a television reporter based in Sittwe, Rakhine state.
The participants met with experts in digital media and online safety from MIDO, Akahayar and Social Media Development Myanmar. Veteran newsroom editors and media leaders from the leading national daily newspapers and WebTV also shared their experiences and insights in news making and business model around newsrooms. A Myanmar-localized version of Safe Sisters, Internews' common-sense guide to digital safety for women and girls in Myanmar, was used as a toolkit for the digital safety training.
After the workshop concluded, each woman took part in a one-week placement in a major newsroom with a significant online presence — Mizzima, 7Day News, the Myanmar Times, Frontier Myanmar, DVB and the Voice Daily. The journalists were exposed to key management and newsroom leadership principles, as well as conversations on monetizing digital and new media for newsrooms and transitioning to digital platforms.
"My confidence has improved," said Wyut Yee Mon, founder of AMIA. "Newsroom placement allows me to realize what is needed in my own organization." As for additional skill development and ongoing training, Wyut Yee said, "I would still like to know how to deal with harassment within the organization."
Networking is also a key component of the Inclusion Initiative for Women Journalists (IIWJ) program, both with fellow participants and key figures in the Yangon media industry. Internews' journalism and business management trainers will continue to provide mentoring over the next few years, and the IIWJ participants are also expected to serve as mentors and coaches to junior journalists.
IIWJ was inspired by media leadership programs such as those taught at the Poynter Institute and Internews' Safe Sisters digital skills training. It is funded under the USAID-Civil Society and Media II project.