Internewsers help people to effect positive change in their communities. We support independent media in 100 countries and we've helped our partners reach millions of people with quality, local information that saves lives, improves livelihoods, and holds institutions accountable.
We believe that diverse teams are strong teams and Internewsers are as diverse as the programs and countries in which they work. Some are former journalists, some manage programs, others support our business operations. Our global team includes a mix of genders, parents, and non-parents, and people of multiple races, nationalities, ages, sexual orientations, socio-economic backgrounds and life experiences. We work to ensure that our staff voices are as diverse as the partners we work with across the globe, ensuring that all perspectives matter. There is a plethora of opportunities around the world and our common bond is that we all share the same commitment to providing individuals with the opportunity to be heard.
We commit to ensuring our people and partners genuinely have the opportunity to thrive.
Our Core Values
In 2015, Internews developed a set of core values as a reflection of who we are, how we work together, and what we aspire to as a community. We believe these core values are compatible with and integral to our commitment to Belonging, Dignity and Justice at Internews.
Listen and Learn Continuously: We are curious and responsive, driven by a spirit of creativity and innovation.
Build Community: We value open communication and dialogue. We treat each other kindly, collaborate, and support each other.
Act with Integrity and Persistence: We build trust, hold ourselves to a high standard, and don't give up.
Commit to Making a Difference: We are passionate about improving lives and creating positive change in the world.
Bring Optimism and Excitement: We approach our work with enthusiasm and love what we do.
Belonging, Dignity, and Justice (BDJ)
At Internews, we believe everyone should be able to work in an environment in which they feel safe, can be themselves, and are treated with respect. Belonging, Dignity and Justice describes the work we do internally to ensure this is the case. This framework is intended to surpass traditional Diversity, Equity and Inclusion by embedding universal values into our work and conversations. We believe the principles of BDJ are mission-critical to all that we do and are deeply committed to this transformative process.
Belonging: When you feel safe as you are.
Dignity: When your inherent voice and nature is respected and honored.
Justice: To make right and whole; to repair harm.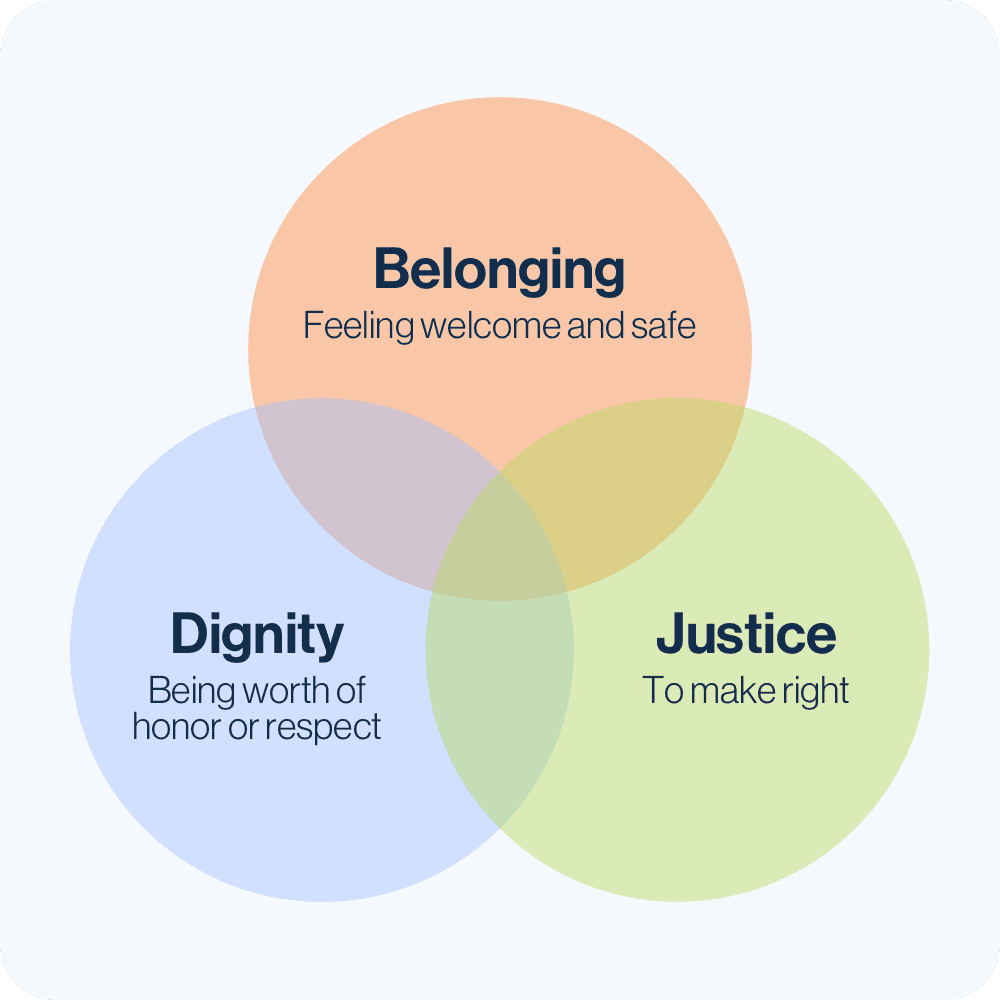 Flexibility
At Internews, almost every position gives you the choice of being fully in office, fully, remote, or hybrid. We trust you to do what works for you.
We offer competitive salaries, and our full-time positions offer generous Paid Time Off packages with vacation, sick days and holidays. US HQ staff can also choose to use their holiday days for culturally relevant holidays instead of the typical federal days. Click here to learn more about our benefits.
Growth
Working with Internews can take you around the world. With programs in nearly 20 countries, Internews offers opportunities to grow within the organization, and to learn from the diverse experience of our domestic and international staff.
We encourage Internewsers to move within Internews to find their passion. Many of our staff experience career growth while at Internews. Within Internews, there is also the opportunity to get involved in various working groups and apply for new opportunities across the organization.
Impact
We have been working for nearly 40 years with local partners to build hundreds of sustainable organizations, strengthened the capacity of thousands of media professionals, human rights activists, and information entrepreneurs, and reached millions of people with quality, local information, improving lives and building lasting change.
We monitor, evaluate, research, and learn from our projects too! Internews has a set of core methods which have been tried and tested on many projects, and we continue to design and develop new methods to meet the world's changing needs​​​. This matters to us because it helps us track the quality of project implementation and assess whether our programs deliver the change envisioned – the impact.
Once an Internewser, always an Internewser
We build lasting partnerships. This means for our team members as well. We are proud of the fact that every year we see several former employees rejoining Internews. In addition to rejoining Internews, many of our previous staff members continue their work in the international development sector and are often future partners or allies in many of our projects across the globe. The need for this work is ever growing in the world and Internews is often a place that sets future change makers in motion.
Trustworthy
Part of belonging, dignity, and justice is that we take ethics seriously. If you believe you will have a conflict of interest or perceived conflict of interest (e.g., have a competing business or are the spouse of a current Internewser), please state it in the application process.
Are YOU an Internewser?