AMMAN, JORDAN – The USAID Strengthening Civil Society and Media System (Sawt) Activity – implemented by Internews, Mercy Corps, and ICNL – hosted a meeting and expo to build networking and collaboration channels among 15 Jordanian Civil Society Organizations (CSOs). In attendance was USAID Jordan's Mission Director Sherry F. Carlin; Sawt's Chief of Party, Dima Jweihan; and Mercy Corps Country Director for Jordan, Darius Radcliffe.
The selected CSOs, from the governorates of Zarqa, Madaba, Ramtha (Irbid), Maan, and Tafila, will receive technical and capacity building support from Sawt in the coming years.
The event was an excellent opportunity for organizations and attendees to network, find opportunities for cooperation, discuss community challenges, and explore how Sawt can support and address those challenges. CSO representatives spent the first half of the event discussing their programs and finalizing action points, and then signed Memoranda of Understanding (MoUs) with the Sawt activity.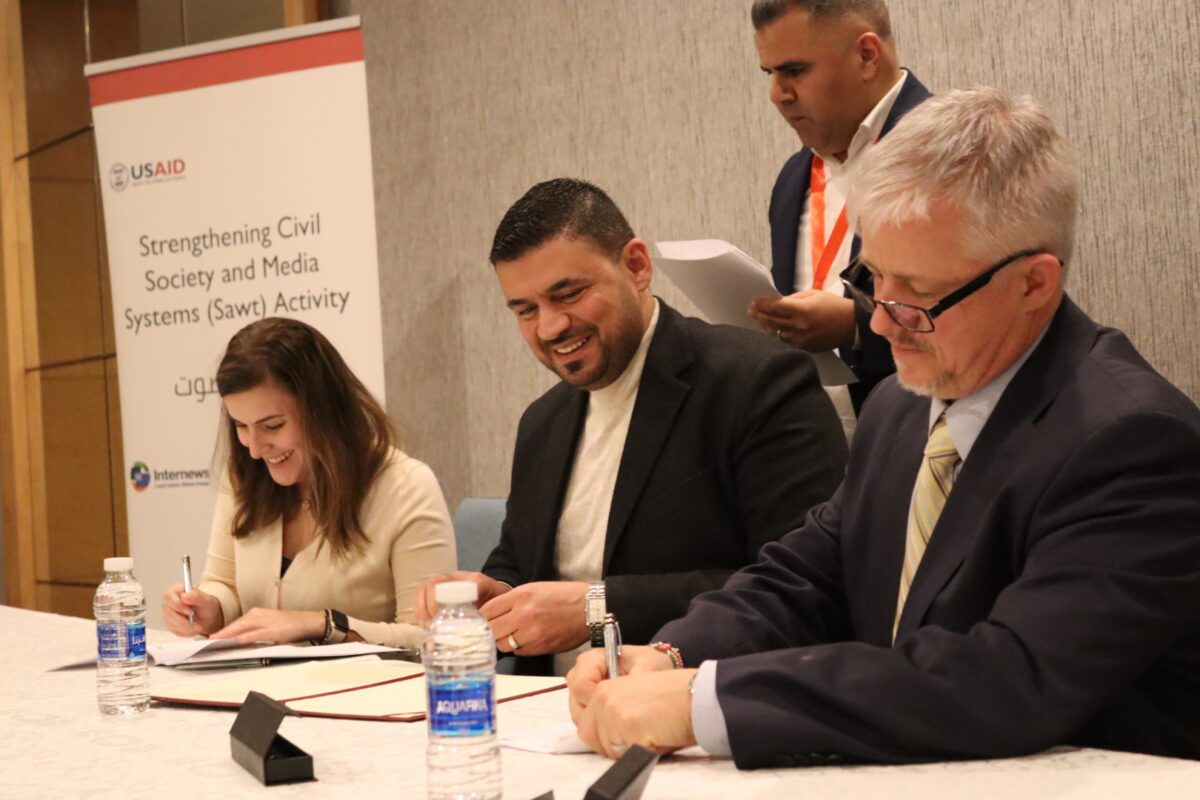 "The event was great, and very exciting," Jamila Mardi Al-Jazi, President of the Al-Jawhara Association, said. "I was particularly happy about the new organizations that I was introduced to and loved learning more about the Sawt program. The issues raised are really important for me to know and focus on in the areas where I work."
The second half of the event was an expo, where each organization was stationed at booths and presented their missions, experiences, and upcoming plans for their Sawt partnership.
The event was a first step in launching Sawt's Local Advocacy Voices Network – an initiative that will enable Jordanian civil society actors to engage cooperatively at the local, governorate, and national levels to ensure a more robust civic engagement process.
"CSOs help advance policies and reforms that safeguard the rights and interests of the entire Jordanian population and foster an open climate for peaceful and constructive debate and advocacy. By facilitating this network and encouraging CSO collaboration, Sawt is building the foundation for a strong and unified CSO presence in Jordan," Jweihan said.
With funding from the U.S. Government, via USAID, the Sawt activity will continue to work with a network of CSOs to enhance their legitimacy and enable pathways for citizen participation, dialogue, and advocacy across Jordan.
---
About Sawt and Internews in Jordan
The Strengthening Civil Society & Media Systems (Sawt) Activity – a five year project funded by USAID and implemented by Internews and partners – was launched to ensure sustained civic engagement in Jordan through civil society and digital media innovation. For more information, please visit www.internews.org and follow us on Facebook, Twitter, and LinkedIn.
Internews is a nonprofit that supports independent media in 100 countries — from radio stations in refugee camps, to hyper-local news outlets, to filmmakers and technologists. Internews trains journalists and digital rights activists, tackles disinformation, and offers business expertise to help media outlets thrive financially. For 40 years, it has helped partners reach millions of people with trustworthy information that saves lives, improves livelihoods, and holds institutions accountable.
This event was made possible by the support of the American people through the United States Agency for International Development (USAID). The contents are the sole responsibility of Internews and do not necessarily reflect the views of USAID or the United States Government.