"This is Radio Jorwah FM 92.9. We broadcast live from Jorwah town in Panta District, Bong County," announces radio broadcaster Mustapha Kamara. "We now have full electricity here in our studio with the huge solar system installed at Radio Jorwah by Internews and USAID."
Kamara could barely contain his joy as he went on to say that Radio Jorwah was fully back on the air after seven months and could now broadcast 24 hours a day to provide the local community with much needed information, education and entertainment. Radio Jorwah serves as a vital communication channel when it comes to cross-border information dissemination between Liberia and Guinea.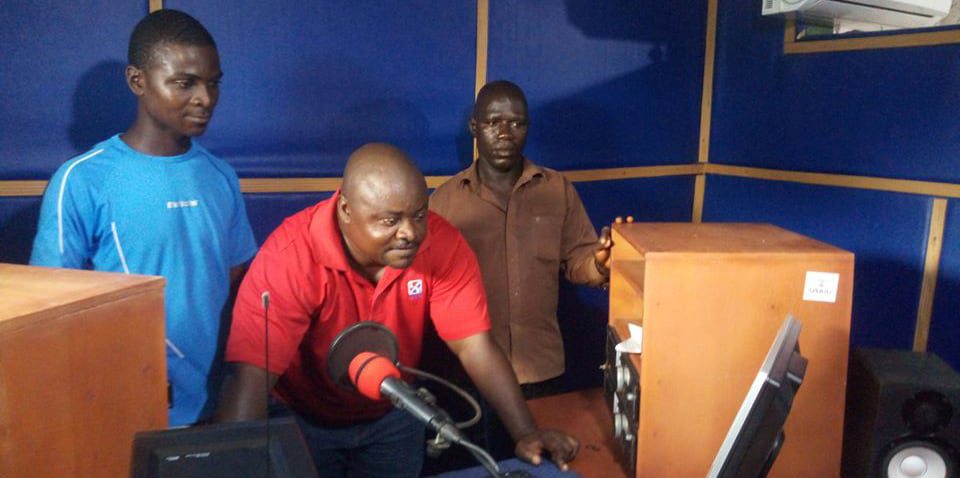 The station suffered intermittent broadcasts over the last seven months due to the lack of a sustainable electricity supply coupled with an unfavorable financial environment. This solar power source will contribute significantly to the long-term sustainability of the station, now that they no longer need to scrounge funds for fuel for a generator.
Radio Jorwah is the first community radio station in Liberia to benefit from Internews' pilot solar power installation, which is designed to be a low-cost solution for community radio stations in remote and rural areas of Liberia. These stations are often the only news and information source for local impoverished communities.
"This has given us a rebirth as a community radio station to be more impactful especially in providing lifesaving information to communities," said Tiletor T. Folonkpala, manager of Radio Jorwah, at the commissioning ceremony of the solar energy electricity system.
Fifty-year-old Jorwah resident and "radio addict" Binda Tomkollie stands in the middle of town with a FM radio receiver strung across his shoulder sharing the good news with passers-by about the radio station's full return to the air. 
"I am really happy that our station is back on air because this is the only means we can easily send out information between Liberia and Guinea," he says. "The station was really helpful during the Ebola outbreak in 2014 when it provided useful health information to both Liberians and Guineans and there was not a big spread of Ebola in our region because of the radio."
Already the station has been able to secure additional funding to broadcast a health program with the local hospital and community support has increased through their involvement in the solar installation.
Chief Etain Luamu of Galakpai, an influential community chief that headed the Guinean delegation at the ceremony also joined the chorus to praise USAID and Internews for the solar energy project at Radio Jorwah because communities in some parts of the forest region heavily rely on the station as the only source of information despite it broadcasts from Liberia.
"This station boosted our cross-border surveillance initiative between Liberia and Guinea when both countries fought hard to stop the further spread of the Ebola virus in 2014. This station has also been helpful in promoting peace and oneness among communities along the two borders and we are very happy to be part of this history making event here in Jorwah," he said.
"Liberian development assistance is no longer in the emergency relief phase after more than 10 years supporting the country's shift from conflict to stability and democratic governance," said Internews Country Director and Chief of Party Jan McArthur. "Our support is now focussed on sustainable development and capacity building with our local partners."
"The solar project at Radio Jorwah is a good example of this," she continued. "We used a newly established Liberian solar provider and were able to get the station back on air and reduce their running costs for around $10,000. This is a very cost-effective solution that invests in both local business and community radio in Liberia. Before committing to this investment our team conducted a scoping mission to research the ability of the station and local community support to ensure the maintenance and upkeep of the equipment in line with our goals of long-term sustainability."
Radio Jorwah was established in June 2007 as part of a sub-regional cross-border peace-building project involving Liberia, Guinea and Sierra Leone. Several towns in this forest region of Guinea listen daily to the broadcast of the station especially during the Ebola virus outbreak. The station broadcast five hours daily in the Kpelle language widely spoken both in Liberia and Guinea.
The station operates in a region where most of the inhabitants are low-income subsistence farmers, which greatly affects the station's revenue generating capacity. The station's primary source of income is from the sales of limited request forms, a few announcements and short-term contracts from NGOs. The community lacks access to mobile phone connectivity which disconnects that region from the larger part of Bong County.
Radio Jorwah was among twenty-one community radio partners selected by Internews in May 2016 as the first batch of radio stations to benefit from the Liberia Media Development program, funded by USAID.
(Banner photo: Community leaders attend the commissioning ceremony for the solar project at Radio Jorwah. Credit Internews)