Featured projects from among hundreds of Internews initiatives to increase gender equality in media and technology:
Reflect Reality:
Globally, women represent only 25% of people heard, seen or read about in the news and 24% of the expert sources quoted by the news media. This gender gap is widest in news about politics and government, in which women are featured as sources of expertise in just 20% of news stories. In 2020, the United for News coalition launched Reflect Reality, a digital manual to help newsrooms include more authoritative women and diverse voices in their stories. Led by Internews in collaboration with the World Economic Forum, United for News' Reflect Reality incorporates proven strategies and lessons learned from two dozen organizations around the world working to address this disparity
East Africa – SAFE Sisters: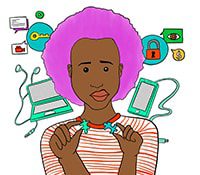 A joint initiative of Internews and Defend Defenders, Safe Sisters is a fellowship program for women human rights defenders, journalists or media workers, and activists that train them to be able to understand and respond to the digital security challenges faced in their work and daily life. Through a combination of self-study, tool practice, mentorship, workshops, peer sharing, and small grants, these cohorts of women join forces to take on the most pressing digital challenges that keep women from being able to live and be online safely. Since 2018, Internews has run the Safe Sisters fellowship program in 8 countries in East Africa and several other countries around the world.
Iraq – Women's Voices:
Internews' "Women's Voices" is working to challenge societal attitudes that stigmatize survivors of sexual and gender-based violence in Iraq. Women's rights activists and journalists in Iraq rarely work together. Internews is connecting these groups for the first time, to learn from each other and help shed light on sensitive issues with reporting and advocacy.
Sierra Leone – WIRED:
WIRED- Sierra Leone focuses on advancing the political participation and protection of women activists, human rights defenders, and journalists in the country. The project combines two Internews approaches toward gender equality in the media, technology, and information spaces: Reflect Reality and Safe Sisters. Under WIRED, Internews and partners work with journalists to increase women's expert voices and issues of relevance to women in news, strengthen women's ability to protect themselves and their communities from online and offline attacks, and facilitate cross-sectoral collaboration across civil society.
Central African Republic – Women-led Radio:
A network of women's rights organizations in CAR manage the first women-led radio station in the Central African Republic, a station that is also interfaith, operated by Muslim and Christian women as a powerful example of peacebuilding. SEWA FM, based in Bangui's PK5 neighborhood, was launched in September 2017 with support from Internews as part of a four-year project in CAR. The station maintains continual broadcasting from one of the more dangerous neighborhoods in the area around controversial but critical topics, such as women in democracy, prevention of violence against women, and peacebuilding initiatives.
Ukraine – Girl Power:
"Girl Power: Little Stories of Big Acts," is an inspirational children's book which tells the stories of successful Ukrainian women who overcame hardships, including those caused by conflict and displacement, to make their communities healthier, safer and stronger. The book shows women in non-stereotypical roles, such as IT entrepreneurs, mathematicians, doctors, and soldiers, and is designed to promote gender equality and inspire those who have suffered and been displaced due to the ongoing conflict in Ukraine. Five thousand copies of the book, created by Internews in partnership with Knygolove Publishing House, were disseminated for free to conflict-affected families. It is part of Internews' 25-year commitment to media and women's voices in Ukraine.