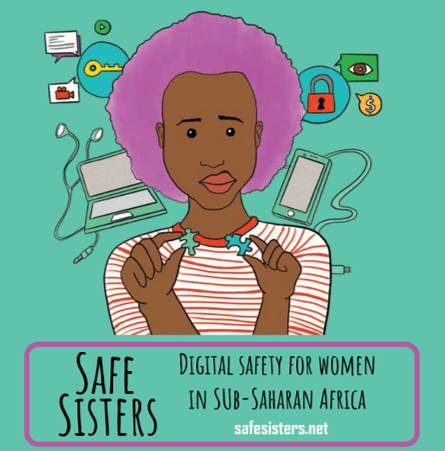 Safe Sisters is a joint initiative of Internews and DefendDefenders that seeks to address the growing epidemic of online violence against women, by empowering women to learn digital safety skills to protect themselves online.
The Safe Sisters fellowship provides digital safety skills-building, ongoing mentorship and hands-on training opportunities for women (especially human rights defenders and journalists) to become digital safety trainers and resources for their own communities. Since piloting the program in 2018, we have trained women in 9 countries in East Africa as Safe Sisters, several of whom have gone on to pursue digital security training professionally. For more information about Safe Sisters, find us on Twitter @Safe_Sisters or email us at: [email protected].
SAFE SISTERS GUIDE

As part of the Safe Sister initiative, Internews, with Pollicy, built the Safe Sisters Guide one of only a few digital safety materials written by women, for women, focusing on showing—not telling—end users about digital safety best practices in mobile-first environments. Testing for the guide was done with the 2018 Safe Sister fellowship cohort.
DIGITAL SECURITY TRAINERS' ASSISTANT

Through the program, Internews worked with digital security expert and Safe Sisters trainer, Natasha Msonza, to create the Digital Security Trainers' Assistant, a guide for digital security trainers. The guide provides approachable, friendly guidance for new trainers (or even a reminder for those with more experience), to help them build and hold their own digital security trainings—they can even keep it open in front of them while they're training. The material is based on Natasha's own experiences finding her way in the digital security space when she was just starting out, and contains some of the material she covers in the Safe Sisters fellowship trainings.
Facts About Online Gender Based Violence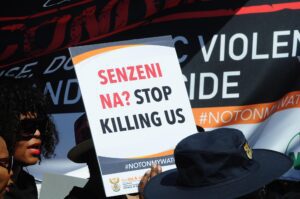 Violence against women online is a pervasive threat worldwide, especially because in many countries online violence against women is often blamed on the victim. UNESCO estimates that 73% of women have experienced some type of online violence, such as harassment, doxxing, revenge pornography, stalking, rape/death threats, much of which follows victims in their offline lives.
Women human rights defenders and journalists are specifically targeted with online violence because of their work and are increasingly being forced to self-censor or go offline entirely to protect themselves and their families. These threats stifle women's voices: in 2015, Ugandan TV presenter Kleith Kyathuhaire was fired after nude photos of her were leaked online and massive online harassment from the photos forced her to leave the country, just months after another Ugandan TV presenter, Anitah Fabiola, was fired for the same thing. The UN's High Commissioner for Human Rights recently warned, "if trends continue, instead of empowering women, online spaces may actually widen sex and gender-based discrimination and violence."
More On Gender Based Violence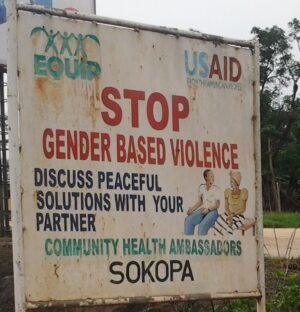 African women who want to learn how to protect themselves online face significant barriers. There are few in depth, hands-on digital security fellowships for women, and most resources are written in English by men from the U.S. or Europe, use intimidating technical terminology, and do not take into account the unique threats and realities faced by women.
Most women cannot rely on the legal systems in their countries to protect them against online abuse. In the target countries, perpetrators of online violence act with impunity, as laws haven't been updated for the digital world, even when online harassment results in violence offline. In Tunisia, the landmark 2017 law on violence against women did not include language specifically preventing online abuse. Sometimes the victim is even punished: women in Uganda have been arrested under the Anti-Pornography Act after their nude photos were leaked online.
HOW TO GUIDES