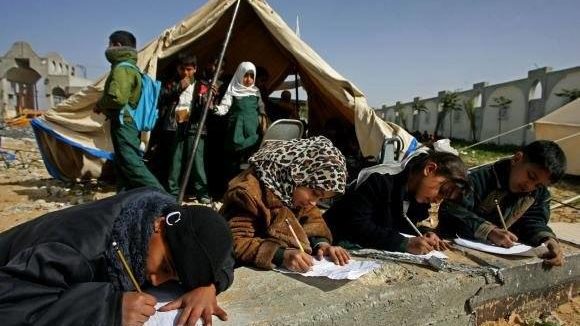 This case study on Internews' Gaza Humanitarian Information Service and the Jossor ma'Gaza (Bridges to Gaza) Radio Program in Palestine details the project activities and lessons learned. Aug 17, 2014
The 2014 Israel–Gaza conflict also known as Operation Protective Edge, was a military operation launched by Israel on 8 July 2014 in the Gaza Strip. The Israeli airstrikes and ground bombardment, the Palestinian rocket attacks and the ground fighting resulted in the death of thousands of people, the vast majority of them Gazans. The Gaza Humanitarian Information Service (HIS) produced and broadcast live a daily 1-hour humanitarian radio program with useful, actionable humanitarian news-you-can-use, interviews with humanitarian officials and feature audience call-in segments.
The HIS also broadcast timely humanitarian updates with information about aid services and important messages as aid efforts and events unfold. Most importantly, the HIS strengthened 2-way communication between communities and aid organizations through SMS/mobile and audience research, enabling direct feedback from Gazans. During the three months of the project Internews was immediately able to reach approximately 95% of the population in all five governorates in the Gaza strip through 9 media partners located both in Gaza and in the West Bank. This project was funded by DFID, via the Rapid Response Facility mechanism.
"We are grateful and thankful to your radio program, as you are the only platform through which we can raise our voices."

Listener of Jossor Ma'Gaza, Internews sponsored radio program
---
IMPACT INFORMATION SHEET
This information sheet gives an overview of the Gaza Humanitarian Service (HIS) project that produced and broadcast live a daily 1-hour humanitarian radio program with useful, actionable humanitarian news-you-can-use. Aug 17, 2014
Improved Assistance – The principle impact has been the resulting action taken to improve assistance in response to the requests of the affected populations that were communicated by the project to the humanitarian organizations. The program addressed, answered, and provided information for all questions and concerns expressed by the affected population and led to direct impact in several instances. Almost 90% of the humanitarian organizations involved in the project rated it as useful or very useful.
Reaching the most affected – Based on a survey at the beginning of October, 13% of the adult population in Gaza had heard the program and 6% listened on a regular basis with 97% saying it was useful information. In the West Bank, 7% of the adult population was listening on a regular basis with 86% saying it was useful and 73% saying it was unique.
Building media capacity – The Bridges to Gaza reporters became a trusted source of information in both Gaza and the West Bank and requests for training on the methodology of verification and production approaches came from several media outlets, most importantly from the Palestinian Broadcasting Corporation.