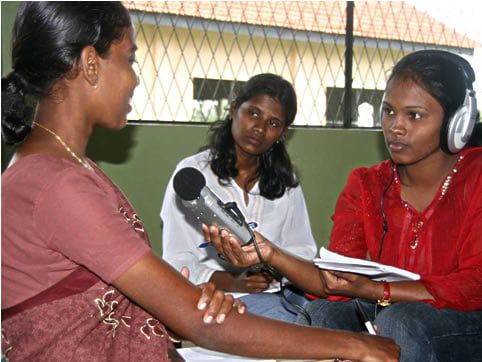 For 12 months, through July 2007, over 300,000 civilians were displaced by conflict in Sri Lanka. Many of them were living in desperate conditions in internally displaced persons' (IDP) camps, or with host families. The ability of IDPs to access much-needed aid was greatly constrained by a severe lack of information about relief efforts. Internews' Lifeline strategy was to produce and disseminate material using a range of platforms. Activities took place in close collaboration with key humanitarian aid organizations. The project provided a forum for feedback from beneficiaries about the effectiveness of aid delivered, and their understanding and expectations of the aid process, which will in turn inform future humanitarian efforts. Internews provided also more than 100 practicing and aspiring journalists in the South and East with training and access to radio production facilities and equipment through resource centers known as "media houses." This project was funded by the Office of U.S. Foreign Disaster Assistance (OFDA).
"[Lifeline] is an extremely valuable service because our failure is often due to lack of information and lack of flow of information on both directions (…) Good information and accurate information are absolutely premium. What you can do is to continue providing that kind of impartial information; that is the real contribution."

UN Under-Secretary-General for Humanitarian Affairs and Emergency Relief Coordinator, Sir John Holmes, March 2009
IMPACT
Improved Access to Information – Internews distributed more than 5,000 radiosto IDP families living in IDP camps in the eastern Trincomalee and Batticaloa in partnership with Save the Children and the Norwegian Refugee Council.
Humanitarian Information – The Independent evaluation report confirmed that Lifeline was "fulfilling its mandate to bring useful and relevant information to IDPs and communities in the north and east filling a critical information gap existing until then."
Building trust – And that "Lifeline established itself as a reliable media source on humanitarian and social issues in the Tamil-speaking community that was able to address these unique situations, speaking to all relevant actors involved and producing, with their testimonies, news, information, features interviews, radio dramas and Public Service Announcements aimed at offering useful information for IDPs and resettled communities".
Humanitarian Feedback – All stakeholders met during the review done by the independent evaluation team were unanimous in their views regarding the quality, relevance and appropriateness of the contents of the Lifeline program.
---
RELATED LINKS: