In nearly two decades on the front lines of humanitarian and health crises, Internews has seen how a single rumor can derail a response effort, costing time, resources, dignity, and ultimately, lives.
Rooted in Trust (RiT) is a pandemic information response plan countering the unprecedented scale and speed of the spread of rumors and misinformation about COVID-19.
In its second phase, Rooted in Trust (RiT 2.0) continues to strengthen the local and global capacity of humanitarians, media, and health communicators to ensure their COVID-19 information work is shaped by and responsive to the needs of the vulnerable communities already affected by humanitarian crises across these 10 countries.
What is RiT?
Rooted in Trust is a global pandemic information response program countering the unprecedented spread of rumors and misinformation related to COVID-19. We work alongside more than 28 media, health, and humanitarian organizations to identify harmful misinformation and support their role as trusted information providers in their communities.
We aim to ensure communities have access to accurate, timely, and actionable information about COVID-19 and COVID-19 vaccines, delivered in the languages and formats they prefer, to support well-informed decision-making.
Countries & Impact
This project works in Afghanistan, Lebanon, Mali, Colombia, Sudan, Brazil, the Democratic Republic of Congo, Iraq, South Sudan, and Zimbabwe. Rooted in Trust is a project of the Internews Network, made possible by the support of the American People through the United States Agency for International Development (USAID) Bureau for Humanitarian Assistance.
Since 2020, Rooted in Trust has tracked more than 23,000 rumors about the virus across 17+ languages, reaching over 81 million people with accurate and relevant information. The project has produced a total of over 130 rumor analysis bulletins, 500 radio broadcasts, and 480 other media stories to connect communities directly with timely and accurate COVID-19 information.
---
Rooted in Trust's Website
Rooted in Trust's new website is the hub for more information about RiT, Information Ecosystem Assessment research and rumor products from each country, global resources, multimedia content, and events.
---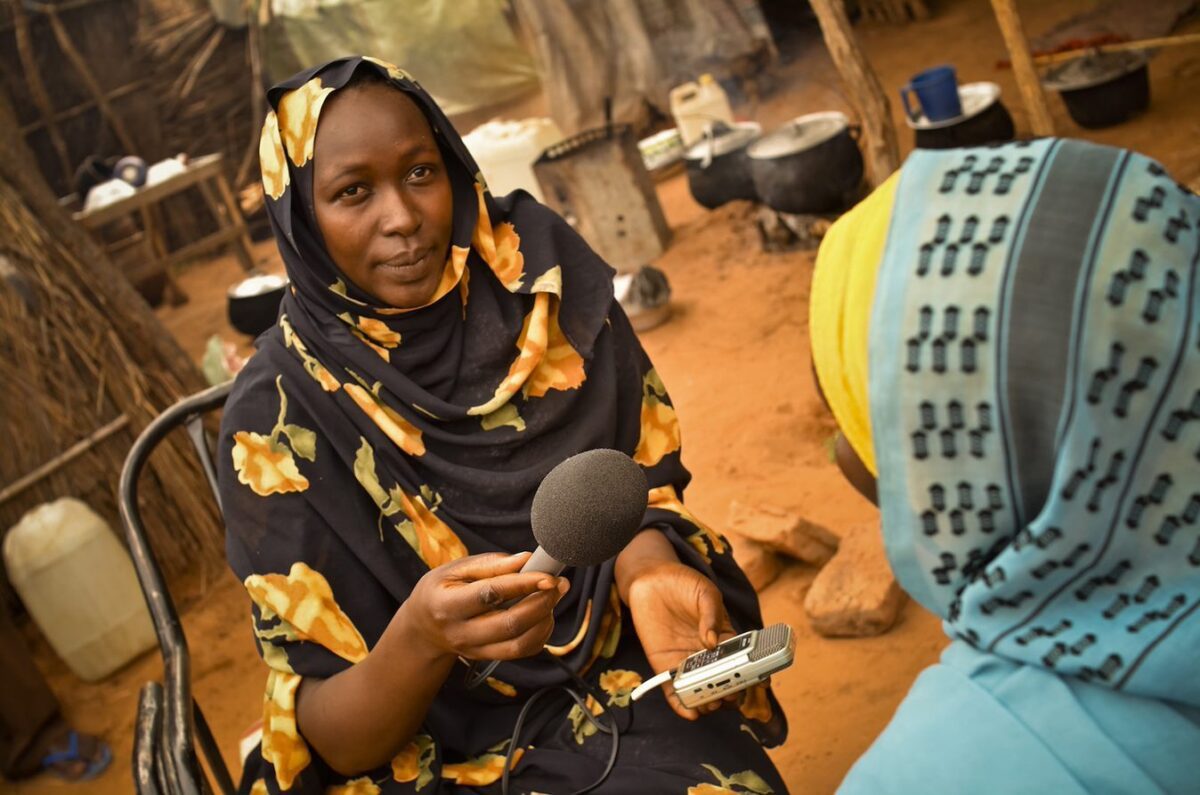 Information Ecosystem Assessments
Internews' unique, human-centered approach designed to understand the dynamics of transmission, production, and consumption of information in a given environment.
---
Global Team Updates
The Rooted in Trust Global Team is a central hub of experts in risk communication, data analysis, health and science reporting, and research in information ecosystems. This team creates tools and resources and undertakes research to contribute to regional and global responses to the infodemic.
---
Explore Rooted in Trust's Work By Country
Afghanistan

In Afghanistan, Rooted in Trust is working to address pandemic misinformation across the country with vulnerable communities that have been impacted by decades of war, exacerbated recently by drought, the COVID-19 pandemic and the economic crisis facing the country since a change in political leadership in August 2021. Women, children, people with disabilities, and ethnic minorities, continue to be amongst the most vulnerable and have less access to reliable information than the wider population. Rooted in Trust Afghanistan is working hard to respond to information needs in these communities.
Brazil

In Brazil, Rooted in Trust is working to address the impacts of pandemic-related misinformation with local partners, IEB and Iepé, in the States of Pará, Amapá, and Roraima, where some of the most vulnerable Indigenous and Quilombola communities reside.
Colombia

In Colombia, Rooted in Trust is working with Caribe Afirmativo and Sinergias to respond to pandemic-related misinformation in the Pacific Coast and Colombian Amazon Basin in the Departments of Caqueta, Choco, Putumayo, and Vaupes with indigenous, afro Colombians, and LGBTIQ+ groups.
Democratic Republic of the Congo (DRC)

In the Democratic Republic of Congo, Rooted in Trust will focus on displaced people, women, and youth engaged in cross-border petty trade in the eastern part of the country, particularly in the provinces of Ituri, North Kivu, South Kivu, and Tanganyika, in order to provide information and communication responses that will enable community members to make informed decisions about their health.
Haiti

In Haiti, Rooted in Trust is working to address the impacts of pandemic related information across the country with vulnerable communities.
Iraq

Over 670,000 internally displaced people IDPs are living in 25 camps across Iraqi Kurdistan region. Most of the IDPs in northern provinces are Sunni Arabs, Ezidis, and Christians. Rooted in Trust Iraq is working to address health information issues in the IDP camps in Erbil and Duhok governorates, where these communities reside.
Lebanon

Following the information ecosystem assessment done in Lebanon in 2021 entitled "Peeling the Onion: a multi-layered infodemic and its impact on trust for Syrians in Lebanon," the Internews Rooted in Trust project focuses primarily on Syrian refugees residing in the Bekaa and Akkar governorates Lebanon to acknowledge and unpack the unique experiences for Syrians at a time when information is heavily impacted by Lebanon's various compounding crises.
Madagascar

In Madagascar, Rooted in Trust is working to address the impacts of pandemic related information across the country with vulnerable communities and low litterated communities. The RiT 2.0 project is implemented in 6 regions: Androy, Anosy, Analamanga, Vakinakaratra, Haute Matsiatra and Vatovavy.

The project focuses on listening and collecting rumors around COVID-19 and issues of public health, vaccination and the COVID-19 response. Those are addressed in a periodic rumor bulletin in a way that places communities and individuals at the center of concerns and information needs. Through this listening, the project seeks to give more trustworthy information to communities, the media and humanitarians so that they can make decisions that will benefit them.
Mali

Rooted in Trust Mali is working to address COVID-19 misinformation with internally displaced persons and host communities in the regions of Timbuktu, Mopti, Sikasso, Ségou, Gao, and in the District of Bamako. These areas have a high concentration of IDPs and/or represent preferred routes for displaced people.
South Sudan

Due to the gaps in offline activities and lack of social media response activities in Central Equatoria, Eastern Equatoria, Upper Nile, Unity State, Jonglei, Greater Pibor Administrative Area, and Lakes State, Rooted in Trust South Sudan address misinformation issues through data-driven products like the Lugara Media Factsheets, Lugara Community Factsheets, Lugara Humanitarian Bulletins, and the Social Media Flashcards.
Sudan

The Sudan Rooted in Trust (RiT) project aims to address and dispel misinformation on COVID-19 and the vaccines. It focuses on understanding conversations taking place within communities primarily affected by displacement and armed conflict in Khartoum, Al-Gedaref, Red Sea, Kassala, East Darfur, Central Darfur, South Darfur, West Darfur, North Darfur, South Kordofan, and Blue Nile States.
Yemen

In Yemen, Rooted in Trust is working to address the impacts of pandemic related information across the country with vulnerable communities.
Zimbabwe

Rooted in Trust Zimbabwe focuses on vulnerable communities, particularly women and youth, in the provinces of Matabeleland North, Matabeleland South, Midlands, Masvingo, and Bulawayo to address the impacts of pandemic-related misinformation.