[See below for separate Module and Annex files for download]
Individuals are constantly making decisions about the risks and benefits of accessing services, and access to information is no different. People affected by crises need to have safe and meaningful access to accurate information to know and exercise their rights and entitlements and participate in decisions that affect them.
As a result of denial of access to information, communities affected by crisis can be deprived of services and foster negative coping mechanisms. This can exacerbate other protection risks including gender-based violence, discrimination, trafficking in persons, or restriction of movements. Despite the recognition of the centrality of information needs for people affected by crises, the lack of a common, systematic, and structured approach among humanitarian actors and other information actors results in information gaps or practices that create or exacerbate protection risks for the affected communities, humanitarian workers, and other information providers.
A man could film an attack on his neighborhood in the hope of justice, a youth community group could publicly share a social media post that provides the location of a shelter for women and children, a member of a minority group could enquire about safe roads to leave a contested area, a family might decide to remain in a disaster-prone area based on information received by a trusted source. All those interactions within an information ecosystem could have a positive impact on those individuals, helping them remain safe or supporting them to claim their rights. However, these interactions could also generate new protection risks, or exacerbate existing ones. Some information can be sensitive when shared and could lead to the man or the people filmed being targeted. If digital literacy is low, the youth group could inadvertently reveal the location of the shelter to perpetrators, putting the women and children living there at greater risk. Or by sharing unverified or out of date information, could encourage women to take refuge in an unsafe place. Members of a minority group may unknowingly reveal identifying information to a hostile party when discussing safe routes for movement. A family may choose to stay in the path of danger and ignore official emergency warnings based on information from a trusted, but ultimately unreliable, source.
To address information-related protection risks, we need to understand what the threats are, who are the most vulnerable to those threats, and what capacities exist to reduce the likelihood of those threats. These Guidelines provide knowledge and tools to identify protection risks related to information, and, most importantly, to engage the community to identify solutions to mitigate those risks.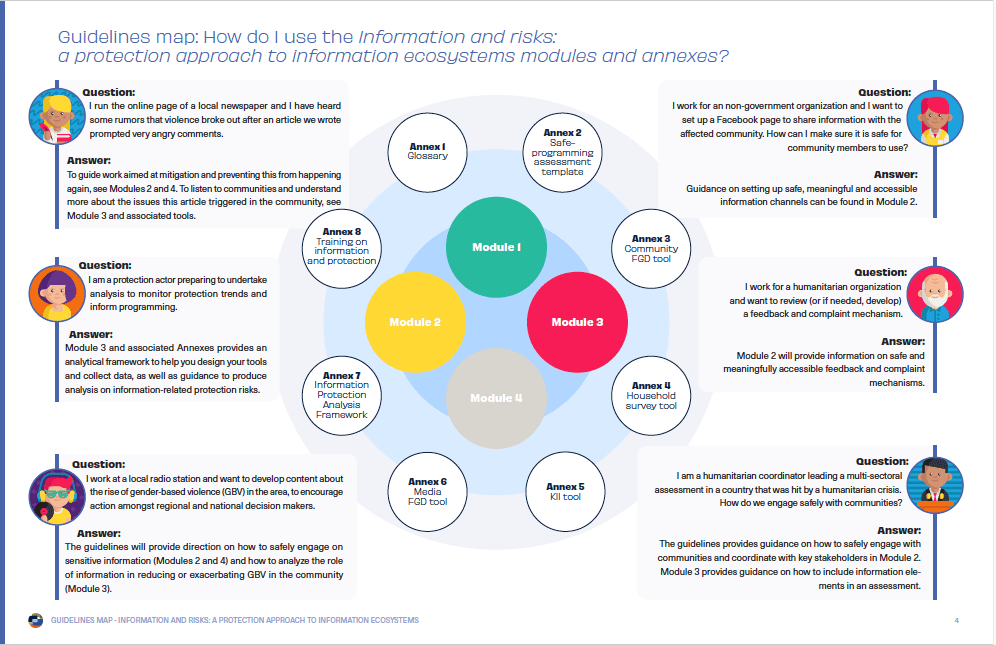 The Information and Risks: A Protection Approach to Information Ecosystems guidelines contain four Modules and eight Annexes containing useful tools. Though each Module can be relevant for a range of audiences, the description below gives an idea of who the Modules are particularly targeted to:
Module 1: Getting started: who, why, and how to be involved in building a safer information ecosystem
This module is for everyone interested in understanding how to increase safe and meaningful access to information. Module 1 introduces key concepts and outlines the specific guidance provided in Modules 2-4 and how to use the tools provided in Annex 1-8. We recommend starting with Module 1 when using these guidelines.
Module 2: How to contribute to safer information ecosystems by adapting ways of working
This module is also relevant to anyone working in humanitarian and development contexts interested in understanding how to increase safe and meaningful access to information. It provides guidance on why and how we should always look at safety when engaging with the affected community, risks we should consider when providing information using online platforms, and why coordination between information actors in a humanitarian crisis is essential.
Module 3: Reducing information-related protection risks: an analytical framework
This module is for people seeking to undertake a protection analysis of information ecosystems.
Module 4: Reducing harm: a guide for media and journalists in emergencies
This Module is designed for journalists, media workers, and content creators working in a humanitarian context with vulnerable communities. The Module aims to support those directly reporting on people impacted by crisis by interviewing, photographing, or filming and provides recommendations to ensure media practices do not contribute to the protection risks the community faces.
Annexes: